Potential Biden Administration Defense Pick Outlines Pentagon Priorities for Next Decade
Michele Flournoy, former Obama Pentagon appointee, on cost savings and competing with China.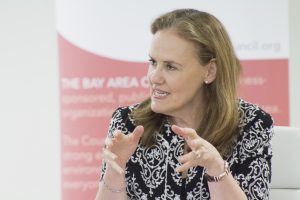 In an interview this week, former senior U.S. defense official Michele Flournoy discussed the new priorities and tradeoffs that she believed the Pentagon would need to make over the next decade to maintain a competitive edge over an increasingly capable China in the face of difficult political and budgetary tradeoffs at home.
During the Obama administration Flournoy served as the Undersecretary of Defense for Policy, the number three position in the Pentagon. She was widely presumed to be Hillary Clinton's pick to lead the Pentagon if she had won election in 2016. Despite her long affiliation with the Democratic Party, President Donald Trump's first defense secretary, former general James Mattis, approached her to be his deputy secretary, the Pentagon's number two position. She declined over moral objections to Trump's policies. She is similarly assumed to be among the top potential picks to be Defense Secretary under Joe Biden if he defeats Donald Trump in November's general election.
The Pentagon's primary challenge in the coming decade will be to manage what she calls the "iron triangle" of tradeoffs, between investing in additional forces, modernization, and ensuring current operational readiness. At the same time, rapidly changing technology and the evolving capabilities of potential adversaries means that "if we do nothing differently, our ability to deter will erode," and vital U.S. interests will be at risk. Those interests are under greatest pressure in the Pacific, where an economically powerful China is tailoring its military to fend off the United States and increasingly uses its clout to coerce its neighbors.
The Trump administration is sometimes credited for its strategic focus on China, but much of the Pentagon's ongoing efforts to counter China operationally and technologically began during the Obama administration under the strategic direction of Flournoy and alumni of an influential defense think tank she co-founded serving throughout the administration. This included beginning to shift the United States' defense priorities away from the Middle East towards the Pacific and boosting the development of new warfighting ideas and technologies like hypersonic weapons.
While the U.S. Marine Corps recently decided to get rid of all of its tanks to fund new technologies and capabilities, Flournoy does not foresee broad divestment of major legacy weapon systems to keep investing in new technology to counter China. Instead of eliminating, for example, aircraft carriers or whole types of aircraft, the Pentagon is likely to buy fewer of them and invest the savings in technologies to enhance the effectiveness of those units that remain.
Her assessment of the Trump administration's strategy towards China is blunt. Asked if it was working, she replied "Right now? No." She criticized the administration's narrow focus, in practice, on trade and tariff issues and pursuing policies mostly bilaterally, instead of building broad coalitions of partners and allies.
She recognizes the risks and threats China poses. In an essay earlier this summer, she captured attention with the proposal that being able to "credibly threaten to sink all of China's military vessels, submarines, and merchant ships in the South China Sea within 72 hours" would help deter China from attempting a fait accompli in the region.
Still, she rejects terms like primacy when discussing the military balance that the United States should pursue in relation to China. Instead she believes that the U.S. military needs only "enough of an edge" to deter China from threatening vital U.S. interests in the region – something that she believes need to be articulated more clearly – either by being able to thwart their effort, or making it too costly to be worthwhile.
For that reason, she is keen to find cost savings in the United States' nuclear weapons arsenal, which the Trump administration has proposed modernizing and expanding at enormous expense. She believes that instead of focusing on a nuclear competition with China, savings need to be invested in conventional deterrence and capabilities for competing in the low intensity "gray zone," where most of the strategic interaction between the two countries is likely to take place.
But she isn't myopically focused on China's military challenge and recognizes that to solve critical, global threats such as future pandemics and climate change, "we have to deal with China."