Secretary Pompeo's Visit to Hanoi: What To Expect
The last-minute stop in Vietnam is designed to consolidate recent strategic gains as both nations stare down a more assertive China.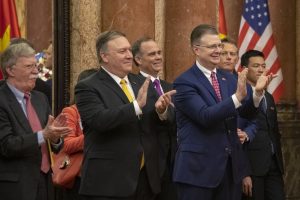 U.S. Secretary of State Mike Pompeo is scheduled to arrive in Vietnam on the evening of October 29 for an official visit that will last until the following afternoon. The short trip, made at the invitation of Vietnamese Foreign Minister Pham Binh Minh, appears to result from a last-minute decision. Hanoi was originally not included in Pompeo's Asian tour, which included stops in India, Sri Lanka, Maldives and Indonesia. Nevertheless, the visit is another manifestation of the strengthening ties between the two countries amidst the increasing strategic tensions between the U.S. and China.
According to the Vietnamese government, the official reason for Pompeo's visit is to celebrate the 25th anniversary of diplomatic normalization in 1995. However, given the prevailing theme of Pompeo's regional tour as well as the shared interests of both countries, it is expected that the two sides will discuss measures to further deepen their economic and strategic ties and promote bilateral cooperation in line with their shared vision of a free and open Indo-Pacific.
Economically, despite America's withdrawal from the Trans-Pacific Partnership in 2017, the two countries have become increasingly important partners over the past four years, especially in terms of trade. According to Vietnam's official statistics, bilateral trade turnover reached $75.7 billion in 2019, with Vietnam's exports to the U.S. amounting to $61.3 billion. The U.S. remains Vietnam's largest export market, accounting for 23.2 percent of its total exports.
The main sticking point in bilateral economic ties is Vietnam's large trade surplus with the U.S., which has prompted Washington to impose punitive tariffs on a number of Vietnamese products and launch an investigation into possible currency manipulation by Vietnam. During Pompeo's visit, the two sides will undoubtedly discuss this issue. Minh is expected to explain to Pompeo that Vietnam did not engage in currency manipulation, as Prime Minister Nguyen Xuan Phuc said earlier this week, while promising to import more from the U.S. in order to improve the bilateral trade balance.
Strategically, the two countries' shared perception of the threat posed by China's growing power, especially in the South China Sea, has driven them closer together in recent years. The itinerary of Pompeo's tour also suggests that the U.S. is trying to build up a network of regional allies and partners to support Washington's implementation of its "Free and Open Indo-Pacific" (FOIP) strategy. India, Sri Lanka, the Maldives, Indonesia and Vietnam are all important countries in the region in strategic terms. Having good ties with them will enable the U.S. to maintain its strategic preponderance in the region and curb China's expanding regional influence. In Jakarta, for example, Pompeo is reportedly set to "affirm the two countries' vision of a free and open Indo-Pacific." He is likely to do the same with his Vietnamese counterpart in Hanoi.
Given Vietnam's strategic location, its growing capabilities and its longstanding rivalry with China in the South China Sea, the U.S. clearly considers Vietnam as a suitable enlistee into its network of regional allies and partners. Washington and its partners in the Quad (Japan, Australia and India) may wish to strengthen strategic ties with Vietnam and other "like-minded" regional countries to build up a "Quad-plus" grouping, in which the Quad play the key role in checking China's strategic ambitions while the "plus members" provide support whenever and wherever possible.
Last week, Japan's Prime Minister Suga Yoshihide chose Vietnam to be the destination for his first overseas trip. While in Hanoi, Suga stated that Vietnam was "crucial to achieving our vision of 'the Free and Open Indo-Pacific,' and our valuable partner." During the visit, the two sides also agreed to step up defense and security cooperation and reached a basic agreement allowing Japan to export defense equipment and technology to Vietnam. This indicates that the U.S. and Japan may be coordinating their approach to Vietnam with the view to recruiting Hanoi into a putative "Quad plus" arrangement. Although Vietnam is wary of China's reactions, unofficially joining the "Quad plus" and participating in selected cooperative endeavors with its members, either on a minilateral or bilateral basis, will be important for Hanoi's efforts to balance against China's pressures in the South China Sea.
A possible issue of concern for Hanoi is the prospect of President Donald Trump losing the election next week. In that case, some uncertainties may arise regarding future U.S. engagement with the region in general and with Vietnam in particular. Even in that case, however, most analysts believe that while the Biden administration may introduce some changes to U.S. policy toward Southeast Asia, such changes will mostly be a matter of style rather than substance. The bipartisan consensus that China poses the most serious global threat to the U.S. ensures that the FOIP strategy, as well as American efforts to build up the Quad and an affiliated network of allies and partners, will most likely be maintained. Similarly, Vietnam-U.S. relations will likely continue to improve no matter who wins the White House.
That said, working together to further promote bilateral cooperation and to "lock in" the recent progress in their strategic ties will still be important for the two governments to hedge against future uncertainties. Pompeo's visit to Hanoi today is a timely step in that direction.
Dr Le Hong Hiep is Fellow at the ISEAS–Yusof Ishak Institute.