Toothless and Terrified: The State of Pakistan's Media
Journalism in Pakistan has never been easy, but the current environment is particularly dangerous.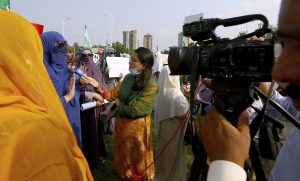 Imran Khan owes much of his political success to unprecedented coverage by the media in Pakistan and his party's ability to tap into the politicking world on social media. This love affair, however, didn't last long. Since making inroads to the corridors of power, Khan's biggest allies have become his bête noire.
When in opposition, the cricketer-turned-politician marveled at reporting targeting his predecessors and championed a free media. He changed his mind when the roles were reversed.
In a recent interview, Khan sought evidence of media curbs. As if on cue, the following week saw a financial regulatory agency employee, Sajid Gondal, go "missing" after his name surfaced in a report alleging corruption against the prime minister's aide Lt. Gen. (retd) Asim Bajwa. Then there were police complaints against journalists Bilal Farooqi, Asad Toor and Absar Alam for criticizing "state institutions" in social media posts.
The premier claims that local media in Pakistan enjoy more freedom than their counterparts in Britain. The reality on the ground tells a different story. From September 2018 through to January 2020, Freedom Network reported that seven journalists and one blogger were killed, six were abducted, and 15 were slapped with legal cases, among a total of 135 "violations against media practitioners."
Khan chaired at least 62 federal cabinet meetings in the same period, but not once did the matter of journalists' safety make it to the agenda, Freedom Network added.
The incumbent government's attempts to "regulate" speech, ranging from hate campaigns on social media to financially squeezing media houses and police complaints to the "disappearances" of dissidents, have resulted in extensive self-censorship by journalists and editors.
Historically, journalism in Pakistan has never been easy. From Zia ul Haq's infamous vetting of newspapers to Nawaz Sharif tapping the phone calls of editors, journalists have always faced attacks. But it is the inconsistent policies, the growing list of topics deemed "sensitive," and the misuse of the cybercrime law that make the current environment particularly dangerous.
Blurred Lines
In a move seen as aiming to restrain political opposition, the Pakistan Electronic Media Regulatory Authority (Pemra) has barred channels from televising the speeches of proclaimed offenders, thereby preventing the telecast of former Prime Minister Nawaz Sharif's addresses railing against the Khan government. That came in direct contradiction of its decision to allow the airing of an interview with former dictator and fugitive Gen. (retd) Pervez Musharraf last year.
The authority also banned media coverage of a gang-rape in Lahore, which triggered a debate on women's safety in Pakistan after the top cop investigating the case blamed the victim for traveling alone at night without a male companion.
From political opponents to gang-rapes, the restrictions have baffled newsrooms into self-censorship.
Amnesty International South Asia Director Omar Waraich says the red lines have progressively narrowed, to the point where journalists "are constantly wary of what could offend the authorities and land them in trouble for merely doing their job."
An accepted part of public culture, political satire, too, is ruffling feathers more than it should.
"Yeh Company Nahi Chalegi," an anthology of previously published columns by Sohail Warraich, recently irked authorities for its title (meaning "this company will not run") and its cover, which featured a caricature of Khan sitting on the floor close to Army Chief Gen. Qamar Javed Bajwa's chair. "Normally, caricatures are drawn, and taken in a lighter vein and this was precisely the spirit behind this one as well," Sohail told BBC Urdu. He agreed to change the cover.
More than a decade after its release, Mohammad Hanif's comic novel "A Case of Exploding Mangoes" fell into a controversy over its Urdu edition. Cartoonist Sabir Nazar was let go by Samaa TV while Khalid Hussain was fired by The Nation following a backlash over their caricatural depictions of the incumbent administration.
"The authorities just don't have a sense of humor now," says Waraich. "Government officials have become so sensitive that they can't even take a joke. And in the process, they are destroying one of Pakistan's finest traditions, which is political satire."
Multifront War
Journalist Shahzeb Jillani says the space for public interest stories has shrunk. "Be it editorial decisions or hiring and firing of talent, the media bosses feel obligated to submit to diktats of the country's most powerful institution or risk retribution," he says.
Zia's idea of retribution was direct: imprisonments to discourage dissent. Today, attacks are manifold and come from several different fronts.
By slashing the government's media spending and withholding advertisements, the government has hit media houses where it hurts the most: the bottom line. Dawn Media Group has complained of disruptions in newspaper distribution, while Jang Media Group laments that its news channels' frequencies are routinely changed without notice.
The snowball effect has led to downsizing and pay cuts across media houses and closures of publications such as Herald and news channels like Waqt News. The Karachi Union of Journalists estimates that over 3,000 media workers lost their jobs in 2019.
Then there is the obvious censorship: the bleeps during television interviews, and columns being pulled. "There has been pressure from the authorities on critical journalists who have been forced out of their jobs," says Waraich.
And then some journalists simply go "missing." In July, journalist Matiullah Jan was allegedly abducted from outside his wife's workplace in Rawalpindi and remained missing for over 12 hours. Last month, Bilal Farooqi was taken from his home in Karachi. Hours later he was released from a police station. Just last week Geo News reporter Ali Imran Syed disappeared for 22 hours.
Senior journalist Mazhar Abbas reminisces that journalists never disappeared during Zia's era. "They were openly detained and sentenced," he says. "Now, journalists go missing, leaving their family, friends, and colleagues in agony."
"There is constant pressure. Journalists are on the radar and their professional and personal activities monitored," he adds.
Digital rights activist Fareiha Aziz shares this concern: "People were subjected to torture and all kinds of things [under Zia], but the fact is that you knew who took them. Now there is a phone call or someone barges into your home. Everything and anything can happen – state and non-state."
"It is astonishing how the Pakistani media has gone from being one of the liveliest and free in its history to becoming one of the most subdued and controlled," says Waraich.
Jillani says those critical of the armed forces' role in politics have been told to fall in line. "Many did fall in line – some enthusiastically while others begrudgingly."
The "falling in line" paved the way for "positive reporting." "The threat here is that journalism is turning into propaganda. The point of journalism is to be in the public interest, independent of the government, and hold them accountable," says Waraich. "If journalists aren't allowed to do that then there is no space for journalism."
Criminalizing Speech
Those who didn't toe the mark turned to social media – a bastion of dissent in Pakistan. Authorities have struck back with Pakistan Electronic Crimes Act 2016 (PECA).
"The current scenario is acutely repressing with both legal and extra-legal tools in play," says Aziz.
There have been many attempts to regulate speech, but PECA stands out because of the sections that criminalize speech and grant authorities unchecked powers to curtail and persecute it. The law is laced with ambiguity and has been criticized for violating Articles 4, 10-A, 14 and 19 of the constitution.
Recently, the Federal Investigation Agency (FIA) reportedly received 49 complaints against journalists and activists over social media posts. "I think it is to target a few journalists," says Abbas. "A warning for them to be careful or they may be detained or picked up."
"There is absolutely no room for dissent. You can get nominated in an FIR [first information report] based on one tweet," explains Aziz. "We're seeing the misuse of Section 20 and 37 primarily."
For a non-cognizable, bailable and compoundable offense, Section 20 needs the FIA to obtain permission from the court to initiate an inquiry. A quick look at the police complaints filed under the section shows that the agency has routinely added cognizable sections to PECA, the Pakistan Penal Code and the Anti-Terrorism Act.
The section, which requires the aggrieved person who has been defamed to complain, has been used against citizens, journalists, activists and political workers accused of criticizing "state institutions."
"What does it mean to not criticize the army?" asks Abbas. "No one criticizes the army. It the armed forces' political role that comes under scrutiny."
Last year, Jillani was accused of "spreading hate" and "causing panic" in society by criticizing "state institutions." Quashing the complaint, the Islamabad High Court noted that "the scope of Section 20 PECA is restricted to the natural person … defined in the Black Law Dictionary as 'a living human being who is capable of having rights and performing their duties concurrently.'"
Similarly, Section 37 allows the Pakistan Telecommunication Authority to act as the custodian of speech and information. Aziz says the powers exercised under the section stifle dissent and deny due process to those against whom action has been taken.
"Criminalizing speech with potentially heavy fines or imprisonment has had a chilling effect. A few trials or convictions are enough to make people fear consequences and retreat," says Waraich. "The law is vague and overboard in its clauses. It can be abused to target journalists even when they are legitimately doing journalism."
Coming Home to Roost
Ironically, among the law's most prominent detractors today were the ones who legislated it.
PECA may be being misused under Khan's government, but his party strongly opposed the law when it was drafted. Dr. Arif Alvi and Shireen Mazari, now the president and human rights minister, respectively, pointed out that the language in the law was too vague. Syed Ali Raza Abidi, a former lawmaker who was assassinated in 2018, also warned the law would be misused.
Despite strong opposition from rights groups and civil society, the law was pushed through the lower house of the parliament by the PML-N while the PPP stamped its approval in the Senate.
"The PML-N was autocratic and undemocratic in terms of bulldozing the bill," says Aziz. "The opposition were good allies in the National Assembly, but things were wrapped up abruptly in the Senate. It is a collective letdown."
Ironically, three years later, a case was registered against Sharif and other party members for "conspiring" against the country and state institutions under PECA.
Now that the PTI is in power, Aziz says, "the problematic part is that they are not striving to repeal" PECA. "Statements by the government or the opposition are not good enough when you are in the Parliament, people expect more."
"Very few governments can tolerate freedom of speech," says Abbas. "They adore the freedom of speech when in opposition but look to curtail it while sitting on treasury benches."
Abbas says he has never seen a government respect freedom of expression. "Every regime tries to suppress it – it is just a matter of how much," he adds.