Understanding the Plague of Violence and Impunity on Negros Island
There persists on Negros a climate of violence and impunity supported by, but beyond the control of, the Duterte administration.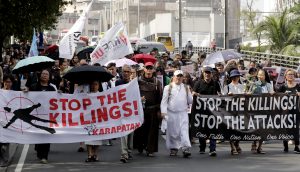 As the number deaths from COVID-19 rises in the Philippines, homicide victims on the island of Negros are also piling up in numbers that have yet to be fully accounted for. Most victims were shot to death by unknown gunmen in or near their homes, but others were found stabbed, bound, and with their throats slit. Although 2020 has not witnessed massacres similar to those targeting farmers in 2019, there persists on Negros a climate of violence and impunity supported by, but beyond the control of, the Duterte administration. International observers rightly lay the blame for extrajudicial killings in the Philippines at the feet of President Rodrigo Duterte, but the killings in Negros are symptomatic of an administration incapable of containing the violence it cultivates. 
The Duterte administration is notorious for denouncing political opponents and critics as communist terrorists, while security forces including paramilitaries are able to take advantage of de facto impunity in Negros by coercing, detaining, or killing the accused. This practice, known as red-tagging, recently led to the high-profile murder of human rights activist Zara Alvarez on August 17 in, Barangay Mandalagan, Bacolod City. Alvarez was a paralegal and research/advocacy officer for the Negros-based offices of human rights organization Karapatan. She was branded as a member of the Communist Party of the Philippines and New People's Army, becoming one of 600 people listed in 2018 as communist terrorists by the Duterte administration. After her murder, Lt. Gen. Antonio Parlade maintained that Alvarez was a rebel, stating "You claim that Zara Alvarez is an activist? She is NOT."
Whereas the murder of Alvarez was a high-profile case that provoked national and international responses, it was by no means exceptional; the numerous, often serial targeted killings of ordinary Negrenese is a fact of life on the island. From May 5-13, seven people were killed in shooting incidents, while another 10 were killed in separate incidents from June 12-17. These and other cases are different from the murders carried out by armed robbers, the buy-bust operations of Duterte's War on Drugs, and the cyclical violence of counterinsurgency efforts against the New People's Army. These murders, by contrast, offer few clues as to the identity and motivations of the killers. In some cases, particularly those wherein the victims were activists, journalists, and farmers, security forces including paramilitary groups are accused by human rights groups of perpetrating the killings. Authorities almost always deny these claims, as in they have most recently in the case of a Negrenese farmer whose body was discovered in a ravine.
The Philippine National Police (PNP) faces widespread accusations of corruption, a fact often acknowledged by President Duterte, and the potential involvement of security forces in incidents of political violence looms large over many unsolved murders. As elsewhere in the country, electoral violence is a persistent feature of local politics in Negros, and frequently targets municipal or barangay officials. Among those murdered in Negros in recent months was a former vice mayor in Pamplona, the back to back slaying of a village chief and councilman in Dumaguete city, and a councilman shot to death in Nagbinlod. This summer, tensions surrounding Governor Roel Degamo's controversial bid for a fourth term in office resulted in the interlinked murders of a radio journalist and a security contractor, which in turn called the integrity of local government and police into question.
On May 5, 2020, Dumaguete City radio broadcaster Cornelio Pepino, popularly known as Rex Cornelio, was murdered by unknown gunmen. Pepino was a long-time critic of Degamo, and had been unsuccessfully sued by the governor for libel in 2014. One week after Pepino's murder, Rodel Barillo, an owner of a regional security agency was killed in Guihulngan City just hours before police could serve a warrant for his arrest. The gun used to kill Pepino was found in Barillo's home, and the car Barillo allegedly used to tail Pepino was a government vehicle registered to the Negros Oriental Provincial Assessor's Office, leading authorities to suspect that his death was a part of a conspiracy. The houses of the governor and one of his police aides were searched by investigators for any potential linkages to the Pepino and Barillo killings, but nothing was found. 
As these investigations were being carried out, Degamo claimed that three men apprehended in Caticlan port on June 29 were hired killers on a mission to assassinate him. Degamo believes that the assassination attempt was plotted by his political opposition, who seek to prevent him from running for a fourth term in office. While COVID-related needs were cited for the decision, the subsequent decision of the PNP to recall the police escorts of politicians in Negros Oriental was almost certainly a bid by the police to curtail further violence by removing personnel who may have been involved in any potential conspiracies.
The recall of police escorts from Negros Oriental was also an indicator that violence in the province and the rest of the island is beyond the power of the national government to control. Indeed, regional law enforcement also suffers from severe structural weaknesses that impede investigation into anonymous killings. The continuous reshuffling of police personnel frustrates investigations into homicide cases, and case files are frequently taken by departing officers, leaving local precincts without copies. Moreover, the Central Visayas police chiefs average around one year in their position, leaving the Central Visayas region without consistent police leadership. Most recently, Central Visayas police chief Brig. Gen. Valeriano de Leon was sacked after four months on the job due to a failure to perform in February 2020. Similarly, Valeriano de Leon's replacement, Brig. Gen. Albert Ignatius Ferro is expected to be reassigned to Southern Luzon. Due to these institutional shortcomings, a backlog of hundreds of unsolved murder and homicide cases in Negros Oriental from 2016-2020 remains to be resolved. 
With the goal of lending interagency support to investigations into alleged extra-judicial killings, the Department of Justice and the Commission on Human Rights signed a data-sharing agreement on September 2. The agreement will be difficult to implement, however, due to the noted unwillingness of the PNP to share information on killings in Negros with other agencies including those aforementioned. Moreover, the protections from scrutiny enjoyed by state security forces under the newly passed Anti-Terrorism Act and the political support of the Duterte administration for state security forces will severely curtail the ability of the interagency to influence the PNP or the military. Even investigations conducted independently of the PNP will have difficulty overcoming the climate of fear gripping the people of Negros, which silences potential witnesses to killings for fear of reprisal. Under these prevailing conditions and despite the best efforts of advocates and reformers within and outside of government, the killings that plague Negros are unlikely to abate in the years to come. 
Luke Lischin is an assistant research fellow at the National War College.