COVID-19 Recovery Dominates Weekend of Asian Summits
Recovery from the pandemic and its economic effects has become an arena for strategic competition in Southeast Asia.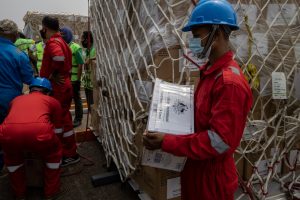 As expected, economic recovery from the coronavirus pandemic dominated proceedings during the weekend's flourish of Asian summitry, with nations pledging closer cooperation to head off the worst global recession in living memory.
The impact of COVID-19 was most immediately obvious in the fact that the Association of Southeast Asian Nations (ASEAN) summit was taking place online for the first time, leading to the replacement of ASEAN's goofy group handshakes and photo-ops for boxy collages of video feeds.
The scope of the COVID-19 challenge was well articulated by United Nations Secretary-General Antonio Guterres in a video message to the East Asia Summit (EAS), which closed out the string of meetings on November 15.
Despite Asia's relatively successful handling of the virus, Guterres told the meeting that it had infected at least 14 million people and killed more than 250,000 in the region. "The economic and social crises triggered by COVID-19 have added to the challenges of the immediate health crisis. Millions of informal workers are jobless or have lost much of their income," he said. "The global community needs to tackle this challenge with compassion and solidarity."
Due to COVID-19, the World Bank's most recent economic outlook predicts, Asia is likely to witness a rapidly growing class of "new COVID poor," with up to 38 million people set to remain stuck or be pushed back into poverty by the end of 2020.
To forestall this slump, World Bank President David Malpass told the EAS that the institution was on track to commit a record $160 billion over 15 months, including grants and concessional financing, including for Asia and the Pacific.
As the summits came to a close on November 15, ASEAN cooperation and coordination was the watchword, as the 10 member states took stock of the arsenal of COVID-19-related bodies and mechanisms that it has established this year under Vietnam's chairmanship of the 10-member bloc. These include the COVID-19 ASEAN Response Fund, the ASEAN Regional Reserve of Medical Supplies, and the ASEAN Regional Center on Public Health Emergencies and Emerging Diseases. ASEAN has also adopted the ASEAN Comprehensive Recovery Framework, designed to guide and coordinate the transition to a post-pandemic world.
During the weekend's meetings, Southeast Asian nations and their partners also discussed setting up resuming regular flights and even setting a regional travel bubble in order to spearhead the economic recovery. "Eventually, we look forward to resuming safe and smooth travel within the region. This will strengthen our people-to-people ties and give our economies a much needed boost," Singapore's Prime Minister Lee Hsien Loong said during the virtual 23rd ASEAN Plus Three Summit that included leaders from China, Japan, and South Korea.
COVID-19 also dominated the clutch of "ASEAN plus" meetings that took place alongside the main ASEAN Summit, demonstrating the extent to which recovery efforts have become an arena of strategic competition between China and its rivals for influence in the region.
Among the most active was Australia, which announced a A$550 million injection of aid to Southeast Asia, including hefty dollops of coronavirus aid, during the ASEAN-Australia meeting on November 14. This included A$21 million for the ASEAN Regional Center on Public Health Emergencies and Emerging Diseases, and A$70 million for recovery efforts, part of Canberra's broader push to provide an alternative to Beijing's vigorous "vaccine diplomacy" in the region.
"COVID has changed much, as we know. But ASEAN remains united as always and Australia's commitment to a region of sovereign, independent states, resilient to coercion, remains absolutely steadfast," Prime Minster Scott Morrison told the meeting, in a thinly-veiled reference to China's growing influence.
This came just a week after Canberra announced a $1 billion standby loan to aid COVID-19 recovery in Indonesia and an announcement of a further half-billion on an "advance purchase" of COVID-19 vaccines to help important neighbors in Southeast Asia and the Pacific.
In a separate meeting on November 14, leaders from the Japan, China, and South Korea all pledged to work together to improve the region's economic resilience and help stave off a protracted recession. "Facing a possible second wave as winter is setting in, we can work together to mitigate the pandemic and to reopen the economy," said Chinese Premier Li Keqiang. Together, Japan, China, and South Korea have so far contributed more than $60 million to COVID-19 ASEAN Response Fund.
Similarly, U.S. National Security Advisor told a separate summit with ASEAN states that Washington had contributed $87 million to combat the coronavirus in Southeast Asia, including providing ventilators and personal protective equipment, adding, "The United States has your back and we know you have ours."
COVID-19 and its strategic implications even provided the subtext of the weekend's biggest news story, the signing of the mammoth Regional Comprehensive Trade Partnership (RCEP) trade deal, which unites ASEAN, China, Japan, South Korea, Australia, and New Zealand into one of the world's largest trade blocs. Following the signing ceremony on November 15, Vietnamese Prime Minister Nguyen Xuan Phuc hailed the new trade deal as important in "revitalizing the supply chains disrupted by COVID-19 and assisting the post-pandemic recovery."
All told, the weekend's meetings demonstrate the extent to which coronavirus recovery now permeates the region's diplomatic agenda. As long as the pandemic and its effects last, it will thus continue to be a primary arena of strategic competition between China and its rivals for power in the Indo-Pacific.