How Arnab Goswami Came to Embody Everything that Ails Indian Media
The fire-breathing television anchor's arrest and release earlier this month throws spotlight on the unhealthy nexus between politicians and journalists in India.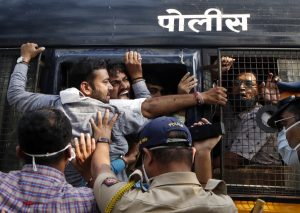 The arrest and release of Arnab Goswami, one of India's most prominent journalists, in the first half of November, has provoked considerable discussion across the country on freedom of the press, the nexus between political power and media houses, and the bewildering prioritization of the Supreme Court, which sits at the apex of the Indian judiciary.
Goswami — editor-in-chief of Republic Media Network and the self-proclaimed numero uno of Indian news television – is a polarizing figure. He is hailed by his admirers as a scourge of the entitled and the powerful — who, as it turns out, invariably tend to be opponents of the ruling Bharatiya Janata Party (BJP) as the party's supporters see them — and castigated by his critics as someone who has relinquished his conscience in becoming a primetime mouthpiece for the BJP and Prime Minister Narendra Modi.
Known for his loud and confrontational style that converts television newsrooms into cauldrons filled with verbal fire, Goswami has come to represent a significant shift in India's media culture, embodying the corruption of the fourth estate in the world's largest democracy.
When Goswami was arrested on November 4 on charges of abetment to suicide, many in India's public sphere saw it as timely comeuppance, even though the case in question had nothing to do with Goswami's journalism. Having previously gone on air expressing his disdain for the due process of law, Goswami was suddenly reduced to pleading for justice, desperately claiming how he perceived his life to be in danger at the time of his arrest.
On November 11, Goswami was released on interim bail, owing to an intervention by the Supreme Court of India. While there is little dispute over whether Goswami merited early bail, questions have been raised as to why Goswami's case was taken up by the highest court in the land and not left to be settled by lower courts, as is the norm in such instances.
Moreover, with the Supreme Court appearing to use Goswami's arrest as an opportunity to reassert its commitment to "protect freedom." it is natural to ask why the Court had not done something similar when in the not-so-distant past a spate of journalists and activists had been prosecuted on the flimsiest of charges and under the most dangerous of laws, including India's Unlawful Activities (Prevention) Act (UAPA) that allows the police to detain individuals effectively without evidence.
The fact that Goswami received special treatment from India's top court is clear, which leads to the inevitable conjecture of what role Goswami's journalistic agenda played in securing such special treatment. Over the past 18 months or so, the Indian judiciary, and especially the Supreme Court, has developed a reputation for endorsing and resonating the views of the BJP, with one sitting Supreme Court justice publicly describing Narendra Modi as a "versatile genius."
Whatever may be the political motivations behind the Indian judiciary's treatment of Goswami, it is obvious that the political establishment of the BJP does not have any hesitation in throwing their substantial heft behind the news anchor. In the immediate aftermath of Goswami's arrest, just about every cabinet minister in the Narendra Modi government took to social media to decry what they saw as political vendetta on part of the non-BJP state government of Maharashtra, under whose jurisdiction Goswami's Republic TV operates in Mumbai and with whom Goswami has forged a hostile relationship.
Goswami, interestingly, had not always been a BJP favorite. In the lead up to the 2014 general elections, which eventually saw the BJP wrest power from the Indian National Congress (INC), Goswami conducted a rigorous interview with then-prime ministerial candidate Narendra Modi. At the time, Goswami was with a different media network, and attentive viewers can perceive how Goswami's line of questioning was in tandem with unearthing answers that were expected to be of interest to the electorate. Regardless of his personal proclivities, the 2014 interview by Goswami was not meant to make Modi feel comfortable or provide a platform for the wily leader to double down on his campaign messaging.
In stark contrast, when Goswami interviewed Modi for Republic TV some five years later (with the latter now prime minister), the line of questioning and the tone underwent a drastic transformation. Gone was the forthright, at times aggressive, grilling by the interviewer, replaced by a meek acquiescence to everything Modi trotted out. This was an interview that underlined how Goswami had morphed from a relatively neutral journalist to someone who no longer cared about holding truth to power or asking relevant questions of the elected head of the government.
The same pusillanimity is evident in Goswami's interview of Home Minister Amit Shah in 2019, again a complete change of manner, matter, and method from an interview of the same in 2015, when the savvy politician wielded much less power in the BJP government.
What explains Goswami's volte face? Notwithstanding his explosive style, why did he surrender the normative principles of journalism that had once made him popular in the eyes of those who refuse to categorize him as a journalist today?
While the personal choices of Goswami are open to speculation, it is worthwhile reflecting how structural issues in Indian journalism may have incentivized Goswami's radical professional overhaul.
Unlike its Western counterparts, Indian journalism is disproportionately reliant on advertising revenue over subscription fees for its financial viability. In broadcast journalism, due to the plummeting price of cable television as well as the availability of cheap mobile data for online streaming over the last five years, the reliance on corporate money for advertising revenue has become even more pronounced. This has resulted in mainstream news television channels going all out to generate the maximum Television Rating Points (TRPs) so as to invite more companies to advertise on their networks.
The obsession around TRPs has given rise to multiple instances of data fudging and corruption, as TRPs remain the primary criterion according to which advertisements are distributed. In order to garner these TRPs, and by extension eyeballs, news channels have resorted to reductive and rancorous journalism that champions noise over nuance and tension over argumentation, converting news into a form of entertainment where facts play second fiddle to fulminating anchors posing as guardians of public opinion.
In becoming the prototype of this firebrand journalism, Goswami has left no stone unturned. Whether peddling crude jingoism during the revocation of Article 370 in Jammu and Kashmir, inventing communal fault lines where none existed around a lynching incident, incessantly labelling students and activists as "anti-national," or relentlessly hounding a young female Bollywood actor without an iota of solid proof, Goswami has become an expert at turning his debates into a soap opera, where he carries out his own parallel trial on the biggest stories of the day. He alone is judge, jury, and executioner, operating without temperance, accountability, and often, basic causality that underpins logical reasoning.
Such has been the toxicity of Goswami and Republic TV that some of their employees have gone public in expressing their contempt for the journalistic practices of the organization en route to quitting, explaining how the channel desperately tries to sensationalize every single aspect of their coverage.
Inspired (or threatened) by Goswami, news anchors across India's English and vernacular channels have adopted his model, producing a plethora of journalistic content that is simply not what any responsible press can be proud of.
Fortunately, the corruption of India's television media has not yet spilled over into the online space, where platforms like Newslaundry and independent journalists like Barkha Dutt, Faye D'Souza, among select others, still function according to the core ethics of reportage.
Goswami, meanwhile, is back on his primetime news show after a brief, enforced break. On his release, Goswami, channeling his inner revolutionary, screamed nationalistic slogans, rallied his colleagues in a typically over-the-top comeback address, and promised to continue his pathbreaking journalism.
This translates into an indefinite extension of the corruption of India's mainstream media, where Goswami leads a cohort of broadcast journalists that does not believe in serving the public anymore, for their main task is to echo a permanent sense of outrage and polarization, conflating political loyalties with commercial interests.
For those hoping that Goswami's arrest might have forced him to rethink his approach, or better still, speak up for those Indian journalists who do not enjoy primetime limelight but remain languishing in jails across the country for daring to disseminate the truth, there has been nothing but a familiar sense of disappointment.
Recently, the Indian government announced that its Information and Broadcasting Ministry will now regulate all online media and digital content producers, which includes journalistic ones.
The online resistance that has emerged to Goswami's brand of journalism may soon be endangered, paving the way for Indian media to hit a nadir that is virtually unrivaled in countries still considered to be democracies.
In the Indian media's race to the bottom, Arnab Goswami should be guaranteed to come out on top.
Priyam Marik is an Indian freelance journalist currently based in the United Kingdom who writes on politics, culture, and sport, and recently completed his postgraduate degree in journalism from the University of Sussex.