President Trump To Attend APEC Summit, Official Says
The announcement came as Chinese President Xi Jinping claimed the mantle of free trade and economic openness.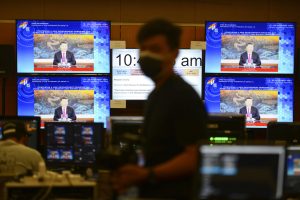 President Donald Trump plans to represent the United States at a virtual Asia-Pacific summit on November 20, a week after failing to attend a similar high-level meeting of Asian leaders.
Trump's participation in the Asia-Pacific Economic Cooperation (APEC) forum, which is being hosted virtually by Malaysia, will mark his first participation in the event since 2017. As an unnamed U.S. official confirmed pithily to Reuters, "POTUS is doing APEC." Chinese leader Xi Jinping will also participate in the meeting, as will leaders from 19 other Asia-Pacific nations.
Trump had been due to attend last year's APEC meeting, before it was canceled by host nation Chile following violent street protests. At the 2018 meeting in Papua New Guinea, the U.S. was represented by Vice President Mike Pence.
Providing he shows up – Trump is strongly inclined to last-minute changes of plan – the president's attendance at the APEC Economic Leaders' Meeting likely marks his last flourish on the international stage as president, following his defeat by Democrat Joe Biden at the presidential election on November 3. Trump is currently engaged in a quixotic attempt to overturn the result of the election, prompting reasonable doubts as to whether he would be willing or able to take part.
Adding further doubt was Trump's failure to attend a series of high-level virtual summits with his Asian counterparts last week, including the East Asia Summit and a special meeting as part of the 37th Association of Southeast Asian Nations (ASEAN) Summit. Instead of Trump, Vice President Pence, or Secretary of State Mike Pompeo, Washington was represented by National Security Adviser Robert O'Brien, who also attended last year's meetings.
While the Trump administration has declared Southeast Asia a central part of its Free and Open Indo-Pacific strategy, this was the third year in a row that Trump failed to show up for the meetings, reinforcing long-standing concerns about Washington's reliability as a regional partner.
The low-level American representation was further underlined by the signing of the Regional Comprehensive Economic Partnership, a free trade agreement that includes the 10 ASEAN nations, Japan, China, South Korea, Australia, and New Zealand – but not the U.S.
The creation of the RCEP leaves the U.S. sitting outside Asia's two main free trade pacts. While the Obama administration coordinated the painstaking negotiation of the Trans-Pacific Partnership (TPP) trade agreement, Trump withdrew from the pact days after taking office in 2017.
Should he attend, Trump could use the summit to lay into China one last time, following a term in office that has seen a drastic deterioration of relations between the two superpowers.
For his own part, a week after the signing of RCEP, Xi attempted to underline China's commitment to openness. During a speech to the APEC CEO Dialogues meeting on November 19, Xi  once again presented China as an advocate of open trade and multilateral trading arrangements, drawing an implied contrast with the Trump administration's unilateral "America First" agenda.
"We will not reverse course or run against the historical trend by decoupling, or forming a small circle to keep others out," Xi said. "Openness enables a country to move forward, while seclusion holds it back."
For his own part, Malaysia's Prime Minister Muhyiddin Yassin, hosting his first major summit since wangling his way into office early this year, will hope that he can avoid a repeat of the 2018 APEC summit. On that occasion, leaders failed to agree on a joint communique for the first time since 1993, due to trade disputes between the U.S. and China.
Other than that, the APEC agenda is likely to be dominated by the issue of the coronavirus pandemic, which continues to rage, having infected 55 million people globally, and caused some 1.33 million deaths so far.
Given the economic prominence of the Asia-Pacific region, the policies adopted by its key nations will play an outsized role in the global fight against COVID-19. According to a statement issued by the APEC Secretariat, its nations represent 40 percent of the population, half of global trade, and 60 percent of world GDP.
In his opening speech to the APEC CEO Dialogues meeting, Muhyiddin said that the bloc now needed to view its traditional commitment to free and open trade "through a pair of COVID-19 lenses."
"While the core pillars that inform APEC work will likely remain the same, there is now a real and specific necessity to ensure a delicate balance between our health priorities and economic needs," he said.