Radical Leader Khadim Hussain Rizvi is Dead – But His Ideology Will Live On in Pakistan
Leader of a right-wing party with pull, Rizvi's death will not diminish extremist politics in Pakistan.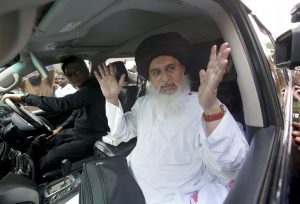 Khadim Hussain Rizvi, the head of the Tehreek-i-Labaik Pakistan (TLP),a group that has been the face of right-wing agitation for some years in Pakistan and often brought the country's capital to a standstill due to its anti-blasphemy rallies, died on November 19.
The reasons for Rizi's death are unknown. Reportedly, he had been suffering from fever for several days. In any case, the demise of Rizi will have a lasting impact on Pakistan's political landscape.
In Pakistan, Rizvi's party has been perceived by most as a force to be reckoned with over the last few years. For his followers, Rizvi was a charismatic leader who brought electoral relevancy to a religious group that has not been known for its street politics in Pakistan. When it comes to right-wing politics in Pakistan, Rizvi competed with several groups and leaders and virtually stole the limelight.
No other right-wing group in Pakistan has challenged the state the way Rizvi's group has been able to do at will. From securing resignations of ministers to shutting down cities and forcing the state into rethinking various policies, Rizvi's politics of agitation achieved notable gains. A few days before his death, he was in the capital, demanding the expulsion of France's ambassador to Pakistan over the issue of controversial cartoons depicting the prophet Mohammad. The government had no option but to sign an agreement with Rizvi that promised legislative changes to fulfill his demands, and also freed TLP workers arrested during clashes with the security agencies.
His party has always been accused of getting support from various state institutions. While Rizvi denied that his party was working on someone's agenda, he often talked about revealing the names of officials who asked him to march to Islamabad for the 2017 sit-in against former Prime Minister Nawaz Sharif's government. In any case, that doesn't mean that the TLP's support base doesn't exist. In the 2018 general election, the TLP was able to muster more than 2 million votes nationwide and also won two provincial assembly seats in Sindh. In Punjab, Rizvi's party fielded more candidates than the Pakistan's Peoples Party (PPP) and emerged as one of the most organized political parties in the province. Moreover, the number of its National Assembly candidates was even more than those fielded by a bigger religio-political parties' amalgam, the  Muttahida Majlis-i-Amal (MMA).
Rizvi's death is going to create a huge challenge for the TLP's second tier of leadership. It is important to note here that before Rizvi's ascendance to power, there were serious differences over the question of leadership. Rizvi was able to sideline several other potential candidates and consolidated power over the last few years. His death will ensure a fight among several groups within the party for the leadership of the group. There has not been any other leader who even comes close to Rizvi's persona. Thus, the succession process is expected to be tense and may divide the TLP into several groups. Rizvi's son may be appointed as the leader of the party to head off any potential leadership battles.
In any case, the TLP's support base across the country is genuine and will not go away with the death of Rizvi. "A leader's death, however, instrumental or charismatic he may have been, is not enough to do away with an extremist organization. TLP's ideology has strong roots in Pakistan, and many buyers," said scholar Madiha Afzal on Twitter.
For the foreseeable future, we may not see a lot of activity from the TLP at the political end, but the party should be expected to return to the streets soon, and perhaps with increased support. If the party falters during the post-Rizvi transition phase, we may see a different group or leader emerging from the ashes.