Why International Sanctions on Hong Kong May Not Work as Expected
The moves announced so far are mostly symbolic – and far from enough to change Beijing's calculus.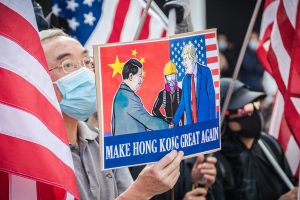 After the passage of the National Security Law (NSL) in Hong Kong, there were diverse reactions from the international community. Probably for both ideological and geopolitical reasons, the United States' response was relatively prompt and strong, including passing several acts in the Congress and imposing targeted sanctions on individuals in both Beijing and Hong Kong. These punitive measures helped to demonstrate Washington's resolve to protect the democracy and freedom of Hong Kong as it has vowed to do, but seem to have had little practical impact.
Why? There are a number of reasons. For example, the bills and acts passed in the U.S. Congress and signed by President Donald Trump have largely been targeting companies or individuals accused of "undermining Hong Kong's autonomy and restricting the freedom of expression or assembly of the citizens of Hong Kong," or doing business with companies or individuals involved in those activities in Hong Kong. But only specific individuals, like some high-ranking officials in Beijing and Hong Kong, are on the list of targeted entities, and the most direct inconvenience even these people face, in practical terms, might be something like the limited usage of certain credit cards. Among those companies that might be affected by U.S. sanctions so far, quite a number are transnational corporations that are able to constantly consult with their professional legal teams in order to avoid potential and careless violations. Besides, diversifying their market resources has always been something on their agenda, or at least the backup plan.
Meanwhile, a number of experts and observers in academia, media, and professional fields have claimed that U.S. and international sanctions on Hong Kong over the passage of the NSL have limited use. The truth is that the United States, even as the strongest country in the world, has only limited power in Hong Kong. Walter Lohman, director of the Heritage Foundation's Asian Studies Center, pointed out in an opinion article for the Daily Caller in July that "it's not clear protesters in Hong Kong ever understood the limited impact American power could have on Beijing's calculations."
While many had worried that forcing Hong Kong off the dollar peg could be a "nuclear" level act, an analysis by Bloomberg in early July claimed that the Hong Kong Monetary Authority holds $445.9 billion in foreign exchange reserves to defend the peg should it need to. By quoting several experts and professionals, this piece also pointed out that forcing Hong Kong off its dollar peg would not only destabilize U.S. dollar pegs elsewhere, but also drive a selloff in U.S. equity markets. Another piece by Bloomberg in late August further predicted that as a digital renminbi trial starts in Hong Kong, digital RMB transactions from Hong Kong can go global, bypassing both the dollar and the heavy fees of correspondent banking channels, which are under American surveillance and control. In this scenario, Hong Kong's existing currency peg will become a liability.
There are, of course, other more practical and micro-level economic and legal sanctions, but Beijing would not have made its decisive move to pass the NSL without full considerations and calculations of all possible reactions by the international community, especially the United States and other Western countries. As American Enterprise Institute Senior Fellow Danielle Pletka put in early July, "China appears to have rightly calculated that other than a few angry statements and some irritating economic punishments, the world would do nothing in the face of its aggression."
In respect to the policy responses the United States seeks on the Hong Kong issue, a report released by the U.S. Congressional Research Service in early August also claimed that "Given the statements released by China's Central Government and the HKSAR government, punitive measures directed at the PRC and HKSAR governments may not elicit the responses Congress seeks." Let's take the suspension of the U.S.-Hong Kong Tax Treaty as another example. The trade volume that this tax treaty covers is just not that significant. Barbara C. Matthews, nonresident senior fellow with the Atlantic Council, explained in September that even "suspending the tax treaty is a technical but significant move… but given the fact that the bilateral trading relationship between the United States and Hong Kong is just not that big… reintroducing a tax on revenue may not generate the preferred incentives even when it generates political attention." Yes, there are impacts, but they are relatively moderate.
Kurt W. Tong, the former U.S. consul general to Hong Kong, explained in a commentary in late August that "The Trump administration's steps thus far have had only a minor impact on the practicalities of U.S.-Hong Kong relations, along with a more tangible – but still relatively moderate – negative impact on foreign business views of the Hong Kong business environment. There has been no discernible impact on Chinese policy."
It is important to note that – rather than the United States or any other major Western countries that have taken punitive actions on Hong Kong – it is mainland China that has been the biggest trade partner for Hong Kong for many years, and it will remain so in the future. This might have given Beijing the substantial confidence needed to introduce the NSL with a robust political will – not to mention the fact that Hong Kong is a part of China's sovereign territory.
What about the United Kingdom's moves? London's move to expand access to British National Overseas (BNO) status policy might be disruptive to Hong Kong, but it depends on how many BNO holders from Hong Kong London can take in and how fast this policy can be fully implemented, particularly without attracting significant domestic repercussions or oppositions. In late October, the Guardian indicated that official estimates predict over 1 million people could come to the U.K. from Hong Kong within five years. The question is: Are the British generous and, more importantly, brave enough to just open the gate and accept millions of new immigrants? The immigration issue, after all, has long been troublesome for many governments in the West, including the U.K. We may expect that a certain number of skilled and professional immigrants or even top talents with BNO documents from Hong Kong might be able to move in more easily, but this policy and the subsequent specific regulations announced by the British government indicate that seeing the new BNO policy merely as a punishment for Beijing and a gift for Hong Kong people would be naïve.
As for formal sanctions over the Hong Kong issue, British Foreign Minister Dominic Raab recently said that Britain is "carefully considering further designations under the Global Human Rights (GHR) regime." There has been a joint statement and suspension of the extradition treaty with Hong Kong, but (unlike the U.S. under its very unilateral president), the U.K. and the EU have been relatively cautious on the question of sanctions against Beijing and Hong Kong. The lure of the Chinese market may be decisive. In 1999, China was the U.K.'s 26th largest export market; it became the sixth largest in 2019, and is still rising. For practical reasons, the British government may not want to bother too much with the Hong Kong issue.
Possibly significant sanction measures on Beijing and Hong Kong would require a joint, collective, and decisive move on the basis of long-term strategy among all major Western countries. Unfortunately, the pandemic and various domestic and international problems and issues seem to have put many other plans to a halt.