A Global Town Hall Welcomes America Back
Despite the reversals of the Trump era, a flurry of online diplomacy served as a reminder that the U.S. is welcome in Southeast Asia.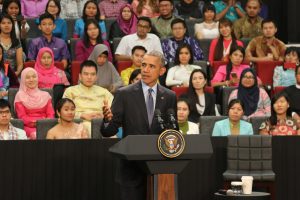 On November 20, 8,300 people in 83 countries attended a virtual Global Town Hall to watch and hear 66 speakers in multiple countries discuss "Rebuilding from the Covid-19 World." Organized in Jakarta by the Foreign Policy Community of Indonesia (FPCI), the event ran 15 consecutive hours.
Few would choose virtual diplomacy over the in-person kind, other things being equal. When speakers are confined to flat boxes on small screens watched by strangers, the disincentives to candor and creativity are too high—not to mention the necessarily disadvantageous clashing of time zones. Gone are the clues and nuances of physical proximity, the creative chats in coffee breaks, the security from digitally prying eyes and ears afforded by a conversational stroll outdoors. But the technology of virtual discourse is here to stay, at least until such time as direct brain-to-brain or bot-to-bot communication is innovated and programmed on a planetary scale.
Viewed in this cautionary light, the November town hall was distinctive and promising. It was organized not in the world of industrialized democracies where the ubiquity of electronic gatherings has already prompted webinar fatigue.  Nor was it sponsored by the United Front Department of the Communist Party of China or by Russia's Internet Research Agency to propagandize for Beijing or Moscow. Indonesia's virtual Global Town Hall was the brainchild of Dr. Dino Patti Djalal, a public figure well known in and outside his country for having founded and led the FPCI. (Although I know him, I played no role in the event or its preparation.)
The Community's mission is to encourage "healthy internationalism" in Indonesia; "resist xenophobia"; "bring foreign policy to the grassroots"; and serve as "a dynamic meeting point" where Indonesians can interact on foreign affairs with each other and with foreigners "as equals."
The Global Town Hall lived up to these promises in the size of its audience, the length and scope of its program, and the diversity of its many panels and speakers. Topics discussed during the marathon ranged from narrow to vast—from vaccines against Covid-19 to broad concepts and challenges such as the Indo-Pacific and climate change; development and democracy; nationalism and populism; emerging leaders and world order.
The conference was designed to call for new beginnings in a post-pandemic world.  One session debated the need for a "great social reset." Another considered the contours of a no less urgent "geo-political reset."  A third looked for "the light at the end of [a] tunnel" of global contagion and conflict, while a fourth pictured "the worst economic recession of our time" as "the edge of a cliff." Just as Djalal and his team had intended, the sense of a global turning point calling for creative responses was palpable throughout.
The pandemic is not only planet-wide.  It is an all-of-society problem that cannot be reduced to adjustments in foreign policy. Accordingly, the town hall's speakers were not only from different countries but from different walks of life as well.  Impressively, they included, alongside the foreign ministers of Australia, China, the European Union, India, Indonesia, Russia, and South Africa, influencers and analysts from think tanks, international organizations, and universities around the world.
The absence of someone from the Trump administration did not create a vacuum filled by China. On the contrary, the five speakers from the PRC were outnumbered three-to-one by the 15 Americans who spoke.  Yet the program was not stacked against Beijing.  Brainstorming in public is not China's forte. In any conference that invites originality, creativity, and diversity, China is structurally disadvantaged by its authoritarian system, which limits what people are willing to say. Why invite speakers who are limited to thinking and speaking inside the box traced by a one-party line?
Only one Chinese think tank was among the town hall's 44 sponsors and partners—the China Institute of International Studies (CIIS), an adjunct of China's foreign ministry. Beijing actively promotes Chinese centers of research and opinion as no less deserving of praise and influence than their counterparts in democratic countries. But that campaign for global legitimacy is not helped by the oxymoronic status of free thinking and speaking in an unfree society.
A case in point is the Pangoal Institution, an ostensibly non-governmental think tank in Beijing. On its website, it upholds "objectiveness, openness, inclusiveness,"  and "innovation." Yet in 2018, its president warned China's think tanks to shun "the Western model" of what a think tank should be; eschew "so-called 'independence'"; and adhere instead "to the leadership of the [Chinese Communist Party] and socialism with Chinese characteristics." The risk of not channeling the groupthink required by the CPC was implied, as was the need to think "Xi Jinping Thought," a guideline added to the CPC's constitution in 2017.
China's handicap in free speech and candor was also implicitly displayed at the very end of the conference, in its 12th and final panel. Harvard's Joseph Nye and a balanced set of Washington-based analysts freely and critically discussed a range of sensitive issues in foreign and domestic policy including the jeopardized transition to a Joe Biden presidency. The event was coordinated with the Center for Strategic and International Studies, one of three American think tanks chosen by FPCI to partner in holding the town hall.
Even more telling than the remarks the Americans made at that final panel, however, was its title, chosen by Djalal and the FPCI, which amounted to a collective sigh of relief after Donald Trump: "Welcome Back, America!"  The welcome suggested that the challenge of "Rebuilding from the Covid-19 World" posed by the Global Town Hall could not be met without the United States fully on board, as if, once on board, Joe Biden would do the right thing.
In November 2019, by a two-to-one margin, elite respondents in Southeast Asia named China over the U.S. as the outside power with the most "political and strategic influence" in their region. But of those who picked China, merely 15 percent welcomed Chinese influence, a fraction of the 53 percent of U.S.-choosers who welcomed American influence.
Soft power is perishable. Goodwill can be transient. But the pop-up Global Town Hall put together so creatively by Djalal and his colleagues in Indonesia, apart from its value as an experiment in worldwide policy discourse, delivered an encouraging reminder: America is welcome. The anti-multilateral jingoism of Donald Trump has failed to destroy the willingness of Djalal, his colleagues, and policy influentials elsewhere in Southeast Asia to work with a United States that can once again, openly and self-critically, interact with others to achieve common goals.
Donald K. Emmerson heads the Southeast Asia Program at the Shorenstein Asia-Pacific Research Center in Stanford University. His latest publication is "The Deer and the Dragon: Southeast Asia and China in the 21st Century" (ed., 2020).