Amid Corruption and COVID-19, Jokowi Shakes Up Indonesia's Cabinet
The reshuffle included the replacement of the controversial Health Minister Terawan Agus Putranto.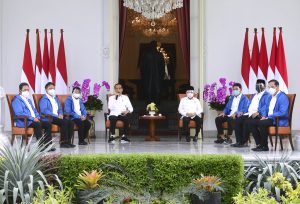 Indonesian President Joko Widodo has announced a significant reshuffle of his cabinet, in a bid to help his country recover from the coronavirus pandemic, which has plunged the country into its first recession in more than two decades.
The president, known commonly as Jokowi, announced on December 22 that six ministers would be replaced, including those holding the portfolios of health, trade, and tourism.
Four ministers were fired and two others were rotated to more important positions, ending weeks of speculation about possible changes to the cabinet line-up. As Jokowi wrote on Facebook, "Hopefully these six new ministers will bring new enthusiasm and new hope, for us, for the people, and for the nation."
Among those who lost their posts were Health Minister Terawan Agus Putranto, who was cashiered for leading the country's shambolic pandemic response.
Terawan, a military radiologist and former personal doctor to Jokowi's late mother, has been heavily criticized for his mishandling of the pandemic. Indonesia has the largest COVID-19 caseload in Southeast Asia and, within Asia is second only to India's 10 million confirmed cases. As of December 22, Indonesia had recorded 678,125 confirmed infections and 20,257 deaths from the disease.
In some ways, it is surprising that it has taken so long for Jokowi to replace Terawan. In February, the minister declared said that Indonesia was protected from the virus because its 260 million people "prayed a lot" and said the country "owed it to God" that it had avoided the disease so far.
The following month, when the first two cases were officially declared in the country – the beginning of Indonesia's long first wave if infections – he said that the virus would "heal by itself" and blamed the media for "causing panic" among the Indonesian public.
Things got so bad that in October, a coalition of civil society groups, academics, and social organizations started an online petition urging Jokowi to "dismiss Terawan from his position as health minister and replace him with someone more competent."
Terawan's replacement is Budi Gunadi Sadikin, the current Vice Minister of State-Owned Enterprises. The former head of Bank Mandiri, Indonesia's biggest bank by assets, Budi also chairs a task force set up by the government to drag the country out of its pandemic-induced recession.
While Budi's appointment has attracted criticism, given his lack of health care experience, his economic background suggests that Jokowi, with vaccines due to arrive in Indonesia in 2021, is prioritizing economic recovery.
The pandemic has pushed Indonesia's economy into recession since the rupture of the Asian financial crisis in 1998, which ended the 32-year reign of President Suharto. The economy contracted at a 3.5 percent annual pace in July-September, after shrinking by 5.32 percent pace in the previous quarter.
The reshuffle also replaced two ministers arrested recently for corruption. Maritime Affairs and Fisheries Minister Edhy Prabowo, who was arrested by Indonesia's Corruption Eradication Commission last month for allegedly taking bribes related to the export of lobster larvae, and resigned his post shortly after, was replaced by Sakti Wahyu Trenggono, who had served as the vice defense minister.
Jokowi also chose the mayor of Indonesia's second-largest city Surabaya to become the social affairs minister, replacing Juliari Batubara, who was detained by Indonesia's anti-corruption commission this month. He has been accused of taking bribes related to the government's COVID-19 aid distribution.
Jokowi also appointed former Jakarta deputy governor and losing vice presidential candidate Sandiaga Uno as tourism and creative economy minister, replacing Wishnutama Kusubandio. Finally, he named Yaqut Cholil Qoumas as the new religion affairs minister, while Muhammad Lutfi, the current ambassador to the United States, has been tapped to serve as trade minister, a role that he previously filled under the administration of President Susilo Bambang Yudhoyono.