Biden Must Aid India's Quest for Multilateral Reforms
For New Delhi, comprehensive reforms of global institutions are a key foreign policy priority. Washington should help.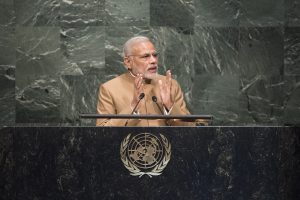 With Joe Biden set to take over as the United States president in January 2021, there is debate about whether India's relations with the U.S. will grow or deteriorate under a Biden administration as compared to the administration of President Donald Trump. While analyses of strategic and economic factors have their own merits and perspectives, it would also be important to consider how institutional factors could feature in India-U.S. relations under Biden.
Relations between Washington and New Delhi have grown over the past two decades and Trump's term has been no different. But the fundamental difference between Trump's and Modi's worldview is their approach to institutional mechanisms. While these differences did not affect India-U.S. relations with Trump at the helm, it is important to see if Biden's policies toward institutions are in alignment with India's point of view.
Trump's presidency was characterized by him challenging various global and multilateral institutions. Trump's term in office started with the U.S. pulling out of the Trans-Pacific Partnership (TPP) and the Paris Climate Accord. Trump's stress on "America First" as a guiding principle of American foreign policy has led him to question the functioning and utility of different organizations and their relevance to U.S. national interest. At various points over the past four years, Trump has taken a confrontational approach towards the United Nations, the European Union, and NATO. Trump's justification for his stand is that the U.S. does not derive any benefit from funding these organizations and agreements. Earlier this year, Trump pulled out of the World Health Organization, accusing it as functioning under China's influence.
In contrast to Trump, Prime Minister Modi is a vocal supporter of multilateralism and institutional mechanisms in world politics. The establishment of a multilateral order in place of a bipolar one has been Modi's main diplomatic proposition. Although the strategic threat from China is obvious, for a long time Modi's stance had been to avoid targeting China directly. India is a part of several multilateral organizations such as the BRICS, the G-20, the SCO, and the BIMSTEC, to name a few. It is also a strong supporter of the Paris Climate Accord.
While this Indian position has been reflected in the country working closely with global institutions in order to protect the interests of all stakeholders, Trump's perspective is that Washington's interests have been compromised in multilateral setups.
Biden is expected to take a conciliatory approach towards global institutions, as opposed to Trump's confrontational stance. In doing this he is likely to end the U.S. isolationism; he has already given indications of resetting Washington's engagement with the U.N. Biden has laid out a vision for foreign policy in which he talks about his commitment to taking corrective measures to Trump's policies, including strengthening NATO and re-joining the Paris Climate Accord.
While engagement with institutions is a positive step, at present Biden's foreign policy priorities appear to be undoing several steps taken by Trump. One area on which Biden must consider working closely with India is that of institutional reform. Modi has been vocal about reforming global institutions to suit the contemporary geopolitical situation. During his virtual speech at the U.N. General Assembly in September, Modi said that the U.N. faces a crisis of confidence if it does not undertake comprehensive reform. Modi also called for a reformed multilateralism to reflect today's realities and give voice to all stakeholders.
Biden's vision for foreign policy stresses the strengthening of democracy at home and abroad. This vision should be aligned with India's proposition of a rules-based order, which also implies multilateral reforms that reflect a fairer representation for India and other emerging powers in global institutions.
India's relations with the U.S. grew under Trump, despite him taking a contradictory approach to India on issues such as trade. India and the U.S. have also differed upon their individual perspectives of the world order. Trump had tried to project the existing world order as bipolar – between the U.S. and China – either at bilateral level or even through the institutions. Modi has approached the situation in a conciliatory manner in supporting multilateralism.
Nevertheless, Trump's tenure was considered good for India due to his confrontational approach toward China and support for India. It was also during Trump's presidency that India responded positively to the Quad and began directly challenging China. During Trump's time if office, India witnessed a further shift in its foreign policy toward closer alignment with the U.S. in the strategic arena. Now under Biden, the U.S. should look to engage with India to strengthen and reform institutional mechanisms which would help bilateral relations grow even further.
Niranjan Marjani is a political analyst and researcher based in Vadodara, India. Follow him on Twitter: @NiranjanMarjani