Cambodian Opposition Figures Once Again Promise to Return
Leaders of Cambodia's disbanded opposition party hope to call international attention to the country's political situation.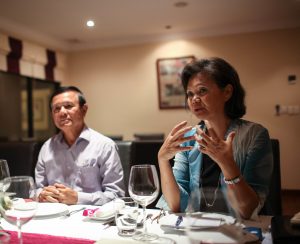 Once again, senior members of the dissolved Cambodia National Rescue Party (CNRP) have announced their plan to return from self-imposed exile next month to face criminal charges in court.
In a statement on December 1, the party announced that former CNRP Deputy President Mu Sochua will lead a delegation of party leaders back to the country on January 4.
The leaders are among around 130 opposition supporters and other dissidents who are due to be tried early next year on a range of bogus and inflated charges, including treason.
Last week, the Phnom Penh Municipal Court opened hearings into the two cases, but quickly adjourned, saying it would split the large number of defendants into two groups. The first group will appear in court on January 14 and the second on March 4.
The CNRP statement said that the decision for the leaders to return was made by the party's exiled permanent committee late last month. "The meeting decided that the leaders and activists of the CNRP who have their names in the Phnom Penh Municipal Court summons, and now living in exile, will return to Cambodia," said the statement.
Mu Sochua, who holds dual Cambodian and American citizenship and now lives in the United States, is among the most prominent of those who have been charged.
Most of the CNRP's senior leadership fled Cambodia after the court-ordered disbanding of the CNRP in November 2017, part of a sweeping crackdown that also saw the arrest of party leader Kem Sokha (again, treason) and crackdowns on civil society, land rights activists, and the independent press.
This crackdown has since hardened into a form of permanent authoritarian rule. The abolition of the CNRP, which made significant gains at elections in 2013, left Hun Sen's Cambodian People's Party (CPP) free to run virtually unopposed at elections in 2018. As a result, the party was able, Saddam Hussein-style, to win all 125 seats in the National Assembly.
This is second time that senior members of the party have attempted to reinsert themselves back into Cambodian politics by returning to the country. In November of last year, former CNRP leader and long-time Hun Sen rival Sam Rainsy promised to return to the country. But he was blocked after the Cambodian government threatened to refuse permission to land for any airlines carrying the opposition leader.
Sam Rainsy's earlier attempts to return also came to nothing in the face of government threats. Rainsy has been in exile since 2016 in order to avoid serving a prison sentence for a defamation conviction he insists was politically motivated.
Many of the cases against those CNRP activists currently facing trial involve planning for Sam Rainsy's abortive return, which the CPP government claims was an attempt to foment a "color revolution" aimed at toppling it from power. Interestingly Sam Rainsy will not accompany the CNRP leaders in their attempted return, although he has spent much of this year pledging that he would fly back to Cambodia to confront Hun Sen. When asked why she would lead the officials back to the country rather that Rainsy, Mu Sochua told Radio Free Asia's Khmer Service that "women are gentler and more flexible and less confrontational than men."
Given the combination of government pressures and COVID-19-related travel restrictions, the Cambodian leaders' return is unlikely to succeed. But as with Sam Rainsy's last failed return, this in some ways beside the point, given that the CNRP leaders' main aim is to call international attention to the political situation inside Cambodia, and leverage Western pressure to bring about change.
A spokesperson for the Cambodian police told local media that the leaders would not be blocked from returning, although he pledged that those with outstanding arrest warrants would be arrested promptly on arrival – if they get that far.