COVID-19 Underscores the Benefits of South Korea's Artificial Intelligence Push
South Korea's government is banking on AI as part of its post-COVID recovery.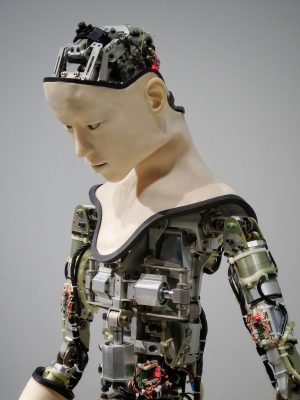 The novel coronavirus is the most significant public health and economic risk that the world has faced in nearly a century. It has infected more than 65 million people and killed more than 1.5 million. The economic damage from the disruption is expected to be the worst decline in global GDP since the Great Depression. Facing a new public health and economic crisis South Korea utilized lessons from its recent experience dealing with the MERS outbreak of 2015, but also integrated artificial intelligence (AI) into its response to the COVID-19 outbreak.
In early January the coronavirus was largely contained to China. The first case outside of China, in Thailand, would not be reported until January 13. Japan reported its first case on January 15. With the virus spreading, the South Korean firm Seegene decided to develop a COVID-19 test kit using AI. By utilizing AI Seegene was able to reduce the development time from a few months to three weeks and provide a reliable test with weeks of the first case being reported in South Korea.
Subsequently South Korean firms used AI during the pandemic to search for treatments for COVID-19, improve diagnosis, and monitor those who are in quarantine. South Korean biogenetics firms Theragen Etex and Synteka Bio are using AI to expedite the search for promising treatments for COVID-19, while Lunit, a medical solutions company, developed an AI system to read chest x-rays to help diagnose COVID-19. Other firms have developed similar AI technologies to help with diagnosis or determining the risk of infection in multiuse facilities.
SK Telecom has adapted an AI system designed for senior care, Nugu, for remote monitoring of individuals with COVID-19 systems in quarantine. Known as "Nugu Carecall," the same system can monitor isolated seniors for words that could suggest the need for a visit by a health care professional and also quiz seniors to test their memory and cognitive functions. KT has a similar system that allows seniors to make appointments and engage in other activities. There are concerns, however, about how the data from AI systems designed to monitor human will be used.
Initial AI Efforts Under the Moon Administration
While AI is playing a role in dealing with COVID-19, this increasingly significant technology is also an important part of the Moon administration's plans for South Korea's economic future. The Moon administration identified AI early on as one of three strategic areas for government investment to promote innovative growth – along with data and the hydrogen economy – and has a larger vision for AI to improve the personal happiness of South Koreans.
As part of the Moon administration's AI drive, it established the Presidential Committee on the Fourth Industrial Revolution in 2017 to consider policy on AI and data. In 2018, the committee announced an AI R&D Strategy that called for South Korea to invest 2.2 trillion won over five years to support the development of AI technology and the establishment of six AI graduate schools to train the talent needed for South Korea to be competitive in AI.
In 2019, the South Korean government announced new plans to bolster South Korea's manufacturing in key AI areas with the development of a Manufacturing Renaissance Strategy and a System Semiconductor Strategy. The Manufacturing Renaissance Strategy aims to build 2,000 AI based factories as part of a broader manufacturing reform process.
The System Semiconductor Strategy is more ambitious. It sets the goal of achieving 10 percent of the world's fabless chip market and becoming the top country for semiconductor foundries by 2030. Currently, only one South Korean firm is among the world's top 50 fabless firms. To meet these goals the government plans to align its strategy with Samsung's investments in the foundry business, invest nearly $860 million in R&D for AI semiconductors, and put up $86 million for the creation of a fund to support the development of fabless firms.
More broadly, all of these initiatives are part of South Korea's DNA initiative – data, network, and AI – to advance the South Korean economy for the 21st century.
South Korea's National Strategy for Artificial Intelligence
Shortly before the outbreak of COVID-19 the Moon administration released a National Strategy for Artificial Intelligence. The strategy calls for South Korea to create an AI oriented government that "provide high quality services, starting with those areas that can directly impact the people's lives such as the environment, disasters, safety and national defense, so that the public can sense the changes."
The National Strategy for Artificial Intelligence sets out 100 different tasks for the government across three areas by 2030 – AI competitiveness, the full scale utilization of AI, and developing a people-centered approach to AI. Each of these areas has subgoals.
In the area of competitiveness, South Korea aims to raise its digital competitiveness to third in the world, achieve 95 percent competitiveness in AI, significantly expand supply and access to big data, and achieve a top five regulatory environment for AI.
For the full scale utilization of AI South Korea set the goal of improving its AI talent pool with a focus on helping South Koreans to utilize AI beginning in elementary and middle school to create lifelong AI learning. It has also set the goal of improving its level of value added in manufacturing to 30 percent from its current 25.5 percent, as outlined in its Manufacturing Renaissance Strategy, and expanding AI across all sectors of the economy – including upgrading the way government works and how it delivers services.
South Korea also hopes to utilize AI to improve the lives of it citizens. The national strategy aims to make South Korea a top 10 country in terms of quality of life and top five in terms of life satisfaction among OECD countries, while also contributing globally to establishing norms for the ethical use of AI.
The national strategy would invest $858 million in the development of AI semiconductors, while the national budget for AI was initially increased 50 percent for 2020. That has been supplemented by the Digital New Deal, which is designed to help South Korea build its economy for the post-COVID period. Under the Digital New Deal South Korea will invest $11 billion to improve its DNA over the next three years.
The economic benefits of South Korea's AI strategy could be significant. AI is expected to add $15.7 trillion to the global economy by 2030 and, if successful, South Korea's national strategy should add up to $390 billion to its current $1.64 trillion GDP over the same period.
South Korean Firms Move into AI
To improve their international competitiveness South Korean firms have begun to group into two coalitions to pool their resources. One is led by KT includes LG Uplus and LG electronics, while the other includes Samsung Electronics and Kakao and is led by SK Telecom.
The SK Telecom group is focusing on their expertise in voice assistants such as Samsung's Bixby, SK Telecom's NUGU, and Kakao's Hey Kakao service. The KT-led group plans on sharing technology more broadly and collaborating on AI solutions to pandemics that would build on KT's global pandemic prevention platform.
Samsung, the leading telecommunications firm in South Korea, began focusing more intensely on AI in 2017 and has the largest number of AI patents of any company worldwide according to OxFirst.  It views AI as an important component of its future and is looking to integrate AI across its products and services. This includes applications such as using AI to upscale low resolution content on televisions for 8K viewing. Samsung is also looking to expand beyond its dominance in the area of memory semiconductors into automotive and AI semiconductors.
Earlier this year, Samsung moved into the world of simulated humans with its NEON project. The goal is to create believable companions, spokespeople, TV anchors, and other services in the virtual world. Samsung isn't the only South Korean company working on the development of simulated humans. South Korean broadcaster MBN recently debuted a virtual anchor, or AI-caster, based on anchor Kim Ju-ha to use during emergencies.
SK Telecom recently developed an enhanced AI semiconductor for cloud computing, an area where its competitors Naver and Kakao are also working to expand. Kakao is looking to utilize AI in homes, cars, B2B services, and is working with Bank of Korea to enhance the central bank's AI capabilities.
Challenges for South Korea's AI Future
Despite being one of the world's leading tech economies, South Korea is now only putting in place the pieces to be competitive in AI. It ranks eighth in the world for AI, but lags in areas such as talent, operating environment and commercial ventures. None of the chaebol, South Korea's large conglomerates, is currently seen as among the firms shaping the future of AI despite Samsung's AI patent lead, while South Korea lags in growing areas such a digital voice assistants. It also remains outside the top ten for investment in AI.
While the chaebol such as Samsung are well placed to invest and develop innovative AI applications despite broader gaps in South Korea's AI ecosystem, South Korea is lacking in AI startups. According to CBInsights, no South Korean firm made its list of the world's top 100 AI startups.
Developing startups in general has been a problem for South Korea. The OECD has noted that most are small firms in low productivity areas that fail to scale up, while government support has tended to focus more on helping SMEs survive than increasing productivity.
Some of this is beginning to change. Seoul for the first time entered Startup Genome's startup ecosystem rankings at number 20. No other South Korean regions' startup ecosystems are globally ranked. Compared to global competition Seoul tends to lag in areas such as talent and connectedness. In terms of talent, it tends to score low in the areas of quality and the ability to scale talent.
To address this issue the South Korean government established the AI Open Innovation Hub to provide SMEs and startups access to algorithms, data, and high powered computing, but in the context of South Korea's startup ecosystem challenges remain.
The challenges, however, extend deeper in terms of talent. Studies have shown that a lack of gender diversity in the development of AI can result in gender biases. While South Korea has improved significantly its hiring for AI research in the last year, a lack of gender diversity will need to be addressed. According to a 2017 UNESCO study only 18 percent of South Korean AI researchers are female and in 2019 only 12 percent of South Korean conference papers on AI were authored by women. The National Strategy for Artificial Intelligence in time should help South Korea address the broader talent gap it faces with other countries, but the government and South Korean corporations will need to work to ensure that the talent that is developed is as diverse as possible.
The Moon administration is right to focus on AI. As with any emerging technology it can be vulnerable to being overhyped, but it is clear that AI has an important role to play in the future of developed economies like South Korea. However, to be successful South Korea will need to continue to invest resources, develop talent, improve the ecosystem for startups, and work to avoid the biases that can seep into AI when it is programed without a deep and diverse pool of engineers.