Displaced, Stranded, Unprotected: ASEAN's Migrant Workers
The case for greater cooperation in the protection of ASEAN's migrant workers.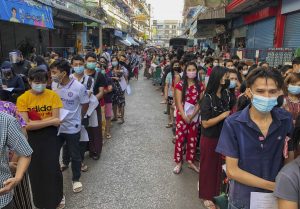 Since March, the pandemic has severely disrupted travel across the ASEAN region. In an effort to contain the spread of the COVID-19 virus, governments in many regions including ASEAN countries implemented a wide range of travel restriction measures. Travel restriction coincided with millions of migrants losing their jobs in their host countries. The sheer scale of the population movements quickly hit the news and social media and exposed the vulnerability of ASEAN's millions of migrant workers and the weaknesses of the systems in place to send, support, and receive them.  
With movement restrictions from March to May, it was estimated that 150,000 migrant workers from Myanmar, 50,000 from Cambodia, and 60,000 from Laos returned home after losing their jobs in Thailand. Similarly, about 40,000 migrant workers from Thailand and 12,000 from Indonesia went back home from Malaysia. More than half a million overseas Filipino workers have been displaced from their jobs as of October. Of these, over 300,000 have returned home. Many endured months of being stranded in their country of work, and many more lost their jobs but were unable to return to their home countries immediately. Given high levels of irregular migration in the region, lack of documentation prevented many migrants from accessing assistance overseas.
Migrant workers going back to home countries also face bleak employment prospects due to COVID-19's impact to the jobs market. The concentration of migrant workers in low-skill contact-intensive and informal sector jobs, the large share of women in these informal sector jobs, and the substantial share in irregular status contribute to their increased vulnerability to poverty and hardship.
A Specific ASEAN Challenge…
Before the pandemic, the United Nations estimated there were about 10 million international migrants in ASEAN countries, of which close to 7 million were intra-ASEAN migrants. In contrast to common perceptions, this means the majority of the region's migrants are from within the region.   There are, of course, also millions more migrant workers from ASEAN in other parts of the world. 
Migrant workers make important economic contributions in many ASEAN countries, both sending and receiving. Migrant workers made up 24 percent of total workers in Brunei Darussalam, 15 percent in Malaysia, 37 percent in Singapore, and 11 percent  in Thailand in 2017, according to the International Labor Organization. Remittances to ASEAN (excluding Singapore and Brunei Darussalam) totaled $75 billion in 2018 and served as an important lifeline to many households in the region's migrant-sending countries.
The scale of migration from the region makes the challenge of managing the impact on migrant workers and their families as well as economies quite a specific ASEAN challenge in responding to the pandemic. 
…and an Opportunity for a Coordinated Regional response 
A recent Rapid Assessment of Livelihoods across ASEAN, undertaken by the ASEAN Secretariat and to which we contributed, looked at the national and regional policy landscape and those areas that need to be prioritized as the region looks to "build back better" post-COVID. The vulnerabilities faced by migrant workers – returned or displaced – featured strongly in this report. 
The assessment, which was undertaken with support from The Rockefeller Foundation and Australia's Department of Foreign Affairs and Trade, documented some positive examples of national-level efforts, largely in sending countries for their own migrant workers. Thailand and the Philippines have provided one-off cash transfers to their affected migrant workers and also supported their return home by chartering flights.
In some cases, receiving countries have also extended support to migrant workers. Thailand, for example, has issued an extension of permission to stay and work to migrant workers from Myanmar and Cambodia, and additionally has given migrant workers in the formal sector entitlement to unemployment insurance and severance pay, subject to number of contributions made and length of employment. Singapore has provided counselling and bore the costs of COVID-19 testing and treatment for migrant workers. Malaysia provided subsidies to employers for COVID-19 screening of migrant workers.
While these are useful efforts at a national level, a more systematic response is needed. Ultimately this is an issue that crosses borders and requires regional efforts as well. 
In fact, the scale of intra-ASEAN migration flows offers an opportunity for greater cross-country cooperation to establish a regional system to facilitate the return home and avoid the stranding of newly unemployed migrant workers, should a similar crisis happen in the future. The system should address cross-border challenges through policy alignment and intergovernmental collaboration platforms. 
Such a system should also enhance social protection across borders for a highly mobile population. In the absence of coordination between national legislations, migrant workers face the risk of losing their social protection rights in their home country; they are also seldom covered by social insurance provisions or safety nets in the destination country. Migrant workers should ideally have access to emergency social assistance measures in the receiving country, especially if they cannot return to their own countries. This will have health and economic benefits not just for the migrant workers but also the host country. 
In addition, the region could explore the option of multilateral or bilateral social insurance agreements that coordinate the schemes of two or more countries to provide equality of treatment, and access to, preservation, and/or portability of social insurance entitlements. The feasibility of such agreements would depend on the maturity of the social insurance system. For instance, the Philippines' Overseas Worker Program already provides partial social protection coverage to migrant Filipino workers. While there was widespread understanding of the potential benefits of portability to the region as a whole in pre-COVID times, the pandemic has underscored how important it is both to manage the current situation and to mitigate against future shocks. 
It has become widely recognized that migrant workers make a significant economic contribution both to their home countries and their countries of employment. It is time they be provided social protection commensurate to their economic contributions.
Geoffrey Ducanes is an associate professor in the Department of Economics, Ateneo De Manila University, the Philippines.
Puja Dutta is a social protection expert.
Nicola Nixon is director of governance at The Asia Foundation.