Eight Years, and Still No Answers on Lao Activist's Disappearance
Sombath Somphone's 2012 abduction heralded an alarming trend of "disappearances" in mainland Southeast Asian countries.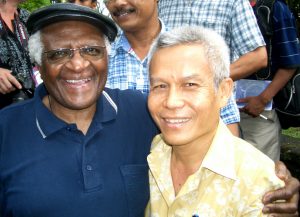 Eight years ago this week, the Lao civil society organizer Sombath Somphone was driving home in his rusty jeep when he was stopped by police on the outskirts of the country's capital Vientiane. He was never seen again.
The Lao government has denied any responsibility for Sombath's disappearance, then and now. But his abduction, captured by surveillance cameras and later posted on YouTube, bore all the signs of a forced disappearance.
Sombath, 60 years old at the time of his abduction, was an award-winning activist who ran Laos's first and most prominent civil society organization.
Unfortunately, eight years of international pressure on the country's communist government have brought Sombath's family, friends, colleagues, and admirers no closer to answers on his disappearance.
"To date, Lao officials have given me no updates or answers about Sombath. They don't meet with me, and they just say that they don't have any information," Sombath's wife Ng Shui Meng told Radio Free Asia this week. "And we have continued to suffer through all these years."
For most of his career, the U.S.-educated agriculture specialist, born into a poor farming family in central Laos in 1952, had avoided any involvement in politics. The NGO he founded focused instead on improving the lives of poor farmers.
But before his abduction, Sombath had begun to encroach onto sensitive ground, challenging the massive deals that had offered land to wealthy foreign investors – many from China – in exchange for investment capital. These "land for capital" agreements have left swept thousands of rural people off their land with little in the way of compensation.
A few months before his disappearance, Sombath helped organize the Asia-Europe People's Forum, a civil society conclave that some hailed as a sign of an incipient political opening. In her book "Laos, the Silent Repression," Anne-Sophie Gindroz, a former Swiss humanitarian worker in Laos, quotes the civil society leader as saying, "The ultimate goal of development cannot be limited to GDP growth, but has to be reflected in the people's well-being."
Sombath wasn't the first civil society figure to disappear without a trace in Laos. Five years earlier, Somphone Khantisouk, an outspoken critic of Chinese-sponsored agricultural projects in northern Laos, had similarly dropped off the face of the earth. By one count, more than 20 Lao citizens have been assassinated in Thailand, seemingly for political reasons, including a Buddhist monk and a member of the former Lao royal family. The government has also arrested bloggers and social media influencers who have expressed critical opinions about its rule.
But his case was indicative of the unrelenting attempts by the ruling Lao People's Revolutionary Party (LPRP) to pre-empt the emergence of any social force – however innocuous – that threatens to dislodge the Party from its constitutionally mandated role as the "nucleus" of the Lao state.
In so doing, the LPRP has relied upon the passive support of China, which in recent years has seen a surge of private and state-backed investment into the landlocked nation of 7 million. After Sombath's disappearance, the United States and other Western governments called for an investigation. China stayed silent, and the money continued to pour in.
In comments to Radio Free Asia, Philip Alston, a former United Nations special rapporteur on extreme poverty and human rights, described the Lao government's persistent refusal to undertake any meaningful investigation "a disgrace." The country "has used the strategy of disappearing its opponents in order to instill deep fear and to deter any criticism," he told the outlet.
Since then, there has been a worrying increase in "disappearances" in mainland Southeast Asia. In recent years, a number of exiled Thai dissidents have also disappeared in mysterious circumstances, including in Cambodia and Laos. The most recent case was that of the Thai dissident Wanchalearm Satsaksit, abducted in broad daylight earlier this year from in front of his apartment complex in the Cambodian capital Phnom Penh. He has now been missing for more than five months – and counting.