How Changing US Administrations Shape Mongolia-US Relations
The U.S. approach to Mongolia has historically been heavily shaped by different administrations.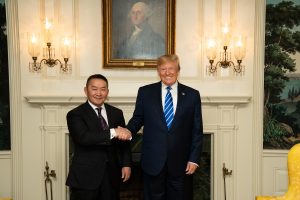 In 33 years of diplomatic relations between Mongolia and the United States, U.S. presidential foreign policy decision-making has shaped overarching bilateral ties. During President Donald Trump's administration, the United States became Mongolia's fifth strategic partner, fortifying greater economic cooperation. What lies ahead for the relationship under President-elect Joe Biden?
As early as the 1960s, during President John F. Kennedy's administration, the premier of the Mongolian People's Republic (MPR), Yumjaagiin Tsedenbal, made three attempts to have Mongolia join the United Nations. But due to the contingencies with Russia, China, and other non-communist allies in the Pacific, the U.S. government refused Mongolia's membership to the U.N. Although these attempts failed, the premier's perseverance illustrated Mongolia's sovereign foreign policy despite heavy Soviet influence. In 1961, Kennedy indicated to Chiang Kai-shek, the leader of the Republic of China (which then held a seat in the U.N.), that the United States would not prevent Mongolia from joining the United Nations. Finally, on October 27, 1961, with Kennedy's support, Mongolia became a fully-fledged member of the U.N. Mongolia's U.N. membership became a stepping-stone for Mongolia and the United States to establish official diplomatic relations in the years to come.
In 1987, during the Ronald Reagan administration, Mongolia and the United States established official diplomatic relations, and Richard Llewellyn Williams was appointed the first U.S. ambassador to Ulaanbaatar (1988-1990.) President Reagan's strong support for non-communist regimes had reinvigorated Washington's interest in Mongolia. Indeed in 1990, the fall of the Soviet Union inspired Mongolia's political intellectuals, academics, and the people to topple the long-reigning government. Mongolia's peaceful transition to democracy and new constitution rejuvenated the nation's sovereign governance and foreign policy.
In 2005, George W. Bush became the first sitting U.S. president to visit Mongolia, accompanied by First Lady Laura Bush, Secretary of State Condoleezza Rice, and Ambassador Pamela Slutz. This very trip marked the beginning of the U.S.-Mongolia comprehensive partnership – in part because Mongolia was already supporting the U.S. troops in Iraq and Afghanistan in diverse roles. To the Bush administration, to have Mongolia as a comprehensive partner amid Russia and China – growing strategic competitors for the United States – was important. For Mongolia, having the U.S. as a third neighbor and a comprehensive partner showed Mongolia's remarkable balancing capabilities and its sovereign foreign policy. It's important to Mongolia to be an active global player to avoid encirclement. The comprehensive partnership reached by Bush and then-President of Mongolia Enkhbayar Nambar included the Millennium Challenge Compact, which continues to help Mongolia with emerging issues such as sustainable water supply.
When President Barack Obama took office in 2008, world politics, economy, trade, and emerging markets were concentrated in the Asia-Pacific. The Obama administration's "pivot to Asia" strategy aimed to strengthen the already existing bilateral relations and alliances while promoting multilateral regional economic integration such as the Trans-Pacific Partnership (TPP.) During then-President Tsakhiagiin Elbegdorj's working visit to the United States in 2011, Obama supported Mongolia's increasing role in international affairs – from regional security issues to peacekeeping in the Middle East and North Africa (MENA.) Although the Bush-era Six-Party Talks on North Korea's denuclearization had failed, Mongolia remained as a potential mediator via the Ulaanbaatar Dialogue Initiative on Northeast Asian Security. During Obama's administration, Mongolia and the U.S. forged stronger defense ties, while U.S. aid to Mongolia reached $268 million in 2014.
The dawn of the Donald J. Trump administration in 2016 brought changes in U.S. foreign policy and no exception to Mongolia-U.S. relations. The Trump administration's Indo-Pacific Strategy aimed to boost economic and security ties between allies and partners in the region. In 2019, during Mongolian President Khaltmaagiin Battulga's state visit to Washington, the U.S. became Mongolia's fifth strategic partner – particularly forging stronger economic and trade ties, which had been lagging for some time. Mongolia's third neighbor foreign policy towards the United States has sought fruitful economic cooperation, and the Mongolia-U.S. strategic partnership aims to diversify Mongolia's mining-dependent economy, increase its workforce, and reinvigorate free trade. On the other hand, while the strategic partnership implies economic cooperation, U.S. aid to Mongolia has dropped significantly during the Trump administration, from $46 million in 2018 to $12 million in 2020.
Moreover, the end of Trump-era governance mirrored a vital aspect of Mongol politics. The outcome of the U.S. presidential election – in which Trump refused to concede defeat, raising baseless claims of voter fraud – sparked a noticeable controversy in Mongolian public opinion. Trump-era disinformation has spread to Mongolia, too, causing a division and sparking conspiracy theories about the American election as well as Mongolia's upcoming presidential election.
Still, overall the strategic agreement forged under Battulga and Trump is a strong indication of the stable, good relations that have been established and continued throughout different administrations.
Throughout history, American presidential foreign policy decision-making has shaped Mongolia-U.S. bilateral relations. As different administrations occupy the White House, policy toward Mongolia – a small but a significant player in East Asia – has to be crafted with mutual trust, respect, and assurance. Mongolia's unique geopolitical positioning certainly earns it a place in the U.S. grand strategy, while the United States continues to play a key role in Mongolia's foreign policy endeavors. Now it's the turn of the incoming Biden administration to reveal an agenda for the newly established strategic partnership.
Bolor Lkhaajav received an M.A. in Asia-Pacific Studies from the University of San Francisco. She is currently writing a book on Mongolia's foreign policy. Bolor is a Co-host of 77 Nation Podcast based in Washington, D.C.