How US Sanctions Are Pushing Iran, Venezuela, and North Korea Closer Together 
U.S. policymakers should consider how to adapt sanctions implementation to undercut the hostile coalition of sanctioned nations.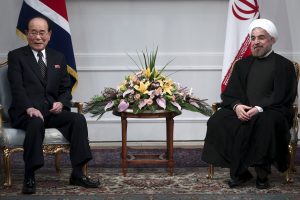 Three of the most heavily sanctioned states – Iran, North Korea, and Venezuela – are strengthening their strategic partnerships as U.S. sanctions continue to squeeze their finances. In recent years, this emerging coalition has sought enhanced military, intelligence, economic, and cybercrime collaboration in evading U.S. sanctions. With sophistication and growth, these countries could become more adept at evading sanctions and expanding military capabilities that threaten U.S. national security. Moreover, sanctions-induced humanitarian repercussions incur immense reputational costs for the United States and can bolster anti-American rhetoric, which legitimizes the regimes to their populations. American policymakers should consider how to adapt sanctions implementation to undercut the hostile coalition of sanctioned nations and their growing ability to harm U.S. security interests and threaten the safety of our allies.
U.S. policy vis-a-vis Iran has not effectively deterred Iran-North Korean collaboration in weapons development, a trend that is true with and without the Iran nuclear deal, the Joint Comprehensive Plan of Action (JCPOA). The two autocratic states always had shared distrust in American foreign policy, and were pushed closer together once the Trump administration withdrew from the JCPOA and ramped up sanctions. North Korean diplomat Ri Yong Ho remarked during a visit to Iran in 2018 that U.S. policy on Iran makes it "untrustworthy and unreliable," and that Iran and North Korea had "always had close views" on many issues. This enmity toward the United States at the highest level manifests in almost every aspect of North Korean-Iranian interaction.
First, Tehran and Pyongyang collaborate over arms development and sales, which provide the groundwork for future partnerships. Iran's nuclear program relies heavily on North Korean know-how, and North Korean arms sales to Iran buoy Pyongyang's otherwise depleting foreign currency reserves. Second, North Korea also makes energy purchases from Iran, as evidence suggests transshipments of Iranian oil from China to North Korea. Although the desire for self-sufficiency could eventually undermine this relationship of mutual reliance, the two authoritarian fellows would have to collaborate with one another to mitigate the selection pressures from heavy U.S. sanctions. It is also notable that the two states may collaborate over cyber offense and defense capabilities and could share intelligence that harms the interests of U.S. allies. In turn, that could bind the two states closer together as they face harsher U.S. sanctions.
As the United States government continues to impose harsh economic sanctions and calls for government regime change, Venezuela has reinforced its diplomatic ties with Iran and North Korea. Although U.S. sanctions on Venezuela and Iran have effectively lowered their independent export revenues, they inadvertently encouraged greater economic collaboration between the two countries amidst rising anti-American sentiment. Earlier this year, Iran challenged the Trump administration's maximum pressure campaign with a fleet of fuel tankers inbound to Venezuela, carrying 1.53 million barrels of gasoline and refining components – a clear violation of U.S. sanctions. Additionally, Iran continues to make good use of its observer status within the Bolivarian Alliance for the Americas (ALBA) to strengthen existing trade links with Venezuela and violate U.S. economic sanctions. Iran recently opened its first supermarket in Caracas, which U.S. Acting Assistant Secretary of State Michael Kozak considered to be an "alliance of pariah states." These bilateral commercial investments lay the foundation for future collaborative efforts to evade U.S. sanctions and strengthen strategic partnerships detrimental to U.S. national security.
Although North Korea cannot replace China's monetary role in supporting Venezuela due to its own economic fragility, it can provide Venezuela with advanced military technology and institutional knowledge needed to further exploit U.S. sanctions to its benefit. In March 2020, U.N. experts warned that Maduro loyalist, Diosdad Cabello, may have brokered an illegal military and technological deal with North Korea during his visit to Pyongyang in September 2019. A month later, Venezuela established its first embassy in Pyongyang and congratulated Cabello for reaching "tremendous agreements" in agriculture, technology, and finance with North Korea. Moreover, North Korean foreign ministers committed to providing "comprehensive assistance and support to the government of Venezuela" during the opening ceremony. Prior to 2019, Caracas conducted diplomatic correspondence with Pyongyang through its embassy in Beijing. Therefore, Nicolas Maduro's decision to pursue direct diplomatic engagement with North Korea through his own embassy indicates a reprioritization of the Venezuela-North Korea relationship and a possible hedge against the United States. Although the details of the deal are unknown, North Korea's history of providing fellow authoritarian regimes in Iran and Syria with nuclear, ballistic, and chemical weapons technology suggests that Venezuela could also become a future customer.
The incoming Biden administration will soon have the opportunity to decouple this emerging threat by reconstructing U.S. economic statecraft. Kim Jong Un has remained unprecedentedly quiet following the results of the U.S. presidential election, while Maduro expressed interest in restarting dialogue with President-elect Joe Biden. The Biden administration can utilize food aid relief to improve relations with these countries without legitimizing their dictatorial regimes through bilateral summits and head-of-state engagements. Additionally, providing pandemic-based sanctions relief and food aid will help alleviate COVID-19 related health problems further destabilizing North Korea, Venezuela, and Iran. This could also ultimately lower their total reliance on China and Russia for fiscal survival during the pandemic. While the Biden administration should not seek to revitalize the economies of U.S. adversaries, it should recognize that continuing to apply a maximum pressure sanctions campaign will only worsen the suffering of ordinary people and encourage greater economic entanglement with revisionist powers like China and Russia.
Jason Bartlett and Emily Jin are research assistants in the Energy, Economics, and Security Program at the Center for a New American Security (CNAS).