Indonesia Quietly Advances Economic, Cultural Ties with Taiwan
Despite the country's growing dependence on China, connections with Taiwan have persisted – even grown.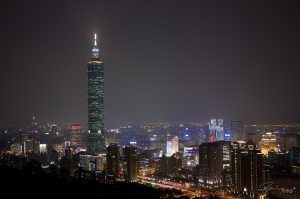 In the last few years, the relationship between Indonesia and China has grown significantly in various fields. It has even been argued that Jakarta has become increasingly dependent on Beijing, both economically and politically.
However, what is less often reported is that the growing China-Indonesia ties have coincided with the closer relationship between Indonesia and Taiwan. Until today, relations between China and Taiwan are complex and tense: the former claims the latter to be a breakaway province which it has vowed to retake, by force if necessary, while the latter says it is clearly much more than a province, arguing that it is a sovereign state. Taiwan's close ties with the United States also complicates the issue. This, of course, creates a dilemma for many countries that have relations of one kind or another with both China and Taiwan.
Nonetheless, despite its growing ties with Beijing, Indonesia has managed to maintain its ties with Taiwan. Late last year, for instance, Hidayat Nur Wahid, the deputy speaker of Indonesia's People's Consultative Assembly, received a delegation from the Taipei Economic and Trade Office (TETO). The meeting was only one of the many examples of the growing ties between Indonesia and Taiwan. In the past several years, both countries have developed their relationship not only in political and economic fields, but also in the realm of soft power.
On the economic front, Taiwan's total foreign direct investments as of 2019 stood at more than $400 million, making Taiwan the 14th largest investor in Indonesia. At the same time, Indonesia has also become one of Taiwan's largest trading partners. Indonesia's imports from Taiwan increased from $3.2 billion in 2016 to $3.6 billion in 2018.
This economic cooperation has been made possible by institutional frameworks such as TETO, which has been established in Indonesia since 2015. Likewise, Indonesia also has a trade office in Taipei to facilitate its cooperation with Taiwan.
Along with trade and investments, Indonesia and Taiwan relations have also been dominated by the movement of domestic workers from Indonesia.
The ties between Jakarta and Taipei, however, are not limited to the economic sphere. Rather, cultural interactions have also grown in recent years and have become the supporting pillars that have allowed economic relations to flourish.
Education has been the focus of Indonesia's cultural cooperation with Taiwan. Since 2004, Taiwan has offered "Taiwan Scholarships" for Indonesians to pursue education in Taiwan and to learn Mandarin Chinese. As of 2018, the number of Indonesian students in Taiwan had reached 11,812. This figure makes Indonesia the country with the fourth-highest number of students in Taiwan, behind Malaysia and Japan.
In addition to scholarships, academic agreements between the two countries have also grown. Based on data reported from the Taiwanese education department, during the period 2000-16, Taiwan signed about 256 memorandums of understanding with Indonesia involving inter-university education agencies.
In 2011, Taiwan also established the Taiwan Education Center in Surabaya to help promote the Taiwanese education system in Indonesia. There are several universities and institutions in Indonesia that collaborate directly with TETO, including Paramadina University, the University of Indonesia, President University, The Habibie Center, and the Indonesian Institute of Sciences.
This direct collaboration was seen in 2011 when TETO helped organize the collaboration between the University of Indonesia's Faculty of Social and Political Sciences and Sun Yat Sen National University, in an international meeting entitled "The Ideology of San Min Chu I and the Foundation of Pancasila: A Shared Vision," which at that time was held in Indonesia.
In addition, the Taiwan Higher Education Fair has been organized in Indonesia by the Jakarta Taiwan Education Center, which was founded in 2015 together with the Association of Taiwan Alumni in Indonesia (ICATI), to attract Indonesian students to study in Taiwan. In fact, ICATI has played a much bigger role. Apart from the Taiwan education fair, the association also organizes the Mandarin summer camp program and the annual visit of Indonesian high school principals to Taiwan.
Besides growing educational exchanges, the cultural ties between Taipei and Jakarta have been paralleled by the increasing penetration of Taiwanese entertainment in Indonesia.
Taiwanese entertainment first entered the archipelago during the 1990s and early 2000s. "The New Legend of Madame White Snake," a 1993 Taiwan television series intended by the Taiwanese government to help disseminate the island's culture, was broadcast by Surya Citra Televisi Indonesia, one of Indonesia's private television stations.
In 2001, a Taiwanese drama, "Meteor Garden," became popular among Indonesia teenagers. The following year, the drama was broadcast regularly on Indosiar. There are many other Taiwan television shows that have gained popularity in Indonesia since, including "My MVP Valentine" in 2002 and "My Secret Garden" in 2003. Today, with the advent of Netflix, more Taiwanese shows are available for an Indonesian audience.
In addition, Taiwanese performing arts and Taiwan-related cultural events such as the Taiwan Excellence Happy Run are frequently organized in Indonesia, while Indonesia has also held a number of cultural exhibitions in Taiwan. Last year, for instance, a Batik & Jumputan Festival was arranged at Taiwan National Museum. The previous year, the Nusantara Cultural Festival was also held by the New Taipei City Government and the Indonesian Economic and Trade Office in Taipei.
Tourism is also an important sphere in Indonesia-Taiwan relations. In 2019, 207,490 Taiwanese tourists visited Indonesia, an increase of 1.26 percent from the previous year. The rise in tourism over the past decade is inseparable from the increased frequency of flights from Taipei to Indonesian cities. Today, there are about 100 flights between Taipei and Indonesia.
It is also estimated that in 2019, 230,000 Indonesian tourists visited Taiwan. This growing number can also be attributed to the opening of the Taiwan Tourism Information in Jakarta, the easy visa process for Indonesians, and Taiwan's offer of halal tourism.
As Taiwan and Jakarta see the importance of one another, it can be expected that the relationship will continue to advance in the near future. However, Indonesia's close ties with China and its support of the "One China Policy" will likely make Indonesia tread with caution in extending its cooperation with Taiwan into the political realm.
Muhammad Zulfikar Rakhmat is currently a lecturer at the Universitas Islam Indonesia. His research and teaching focuses on the politics of international cooperation, with specific interest in China-Indonesia-Middle East relations.
Fuad Tingai is a student majoring in International Relations at Universitas Islam Indonesia.