The Pandemic Drags On. But What About Infrastructure?
Australia can't, and shouldn't, compete directly with China on the funding of hard infrastructure.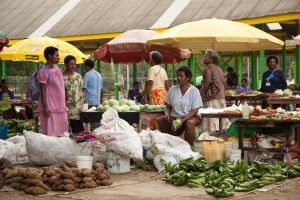 Looking back on 2016, Australian academic Tim Winter observed that "it seemed as though the world was united by infrastructure, or to be more precise, its possibilities for future making."
By 2017, however, the Australian government's Foreign Policy White Paper was pointing out that rather than knitting the world together, the infrastructure financing race would begin to destabilize the Indo-Pacific. It argued that the region was already beginning to see "increased competition over regional economic integration, including in the financing of infrastructure projects."
By 2018, stories in the Australian media had begun to highlight the risk China posed to Australia's interests in the Pacific via its Belt and Road Initiative (BRI), and in 2019, Australia launched its response, the Pacific Step-Up. Consisting of a number of linked initiatives, the centerpiece of this Step-Up was the Australian Infrastructure Financing Facility for the Pacific (AIFFP).
Citing an Asian Development Bank estimate that the Pacific needs more than $30 billion in infrastructure investment by 2030, the AIFFP issued a call for Australian and international businesses, state-owned enterprises, and sovereign governments to come forward with projects to finance. The AIFFP pledged to select the best of these projects for loans, grants, or both, in key sectors such as telecommunications, energy, transport, and water, in addition to other priority infrastructure.
At time of writing the AIFFP had approved five projects, including a telecommunications cable in Timor Leste and a hydropower transmission system in the Solomon Islands.
Yet the Pacific Step-Up does not seem to be impressing observers.
Last year, writing for the University of Western Sydney's Whitlam Institute, the Australian academic Tess Newton-Cain pointed out that the Step-Up is understood by many Pacific observers as lacking "balance" and "equality" even while it demonstrates a disinterest in "listening" to Pacific views. In turn, Allan Behm, once an adviser to shadow foreign minister Penny Wong and now international affairs spokesperson for the Australia Institute, has called it a "thin disguise to contain China's influence in region" following "years of neglect and aid cuts."
Indeed, in its attempts to reckon with China's growing influence, Australia should avoid fueling a counterproductive dynamic in which donors compete to finance regional development programs, each with a separate set of aims, priorities, and methods. There is little value in prioritizing this competition over the feedback of Pacific communities, whose leaders have been pushing Australia on climate action for years now. In any case, recent reports appear to suggest that the BRI is a development financing project.
Meanwhile, over the course of 2020, the COVID-19 pandemic has done enormous damage to public health outcomes and household budgets across the Indo-Pacific as a whole, including Southeast Asia, a region Australia has trained itself to think of as too wealthy for investment in development. Yet this is also where the World Bank has estimated that up to 38 million people could either remain in poverty or fall back into poverty, this year alone.
As 2020 draws to a close, this is a good time for Australia to revise its regional development priorities so that recovery, protection, and well-being are at the top of the list, even where it wishes to continue investing in large-scale infrastructure, for example through the AIFFP. A few indications suggest that it is beginning to do so. In October, for example, Australia announced it would increase its investment in Southeast Asia from its previously historic low, by offering 500 million Australian dollars for vaccines in Southeast Asia and the Pacific, along with infrastructure advice in the Mekong region. China's presence still looms, but Australia's agenda has expanded to include the rest of the Indo-Pacific, as we insist on calling it, despite the Pacific alone consuming so much of our attention in recent years.
Since then, additional developments have also pointed to positive change, setting out a direction beyond Australia's current "Partnerships for Recovery" plan, which outlines its response to COVID-19's immediate exigencies. For example, Australia has agreed to lend $1 billion to Indonesia, offering concessional interest rates and an extended repayment window, to invest in its health and social protection systems. This is an important step towards recognizing that the COVID-19 recession is having a profound impact not only on our sense of security and prosperity, but on our neighbors' too, in Southeast Asia as well as the Pacific.
Australia now has an opportunity to place both regions within a new development strategy aimed not at competing with China on hard infrastructure but at supporting and expanding the social infrastructure that can allow our neighbors to build back better from the present crisis. This approach can also assist them to manage the impacts of climate change, while increasing their resilience to great power competition.
By "social" infrastructure, I mean the high-quality health and education systems that all our neighbors, across Southeast Asia and the Pacific, should enjoy. I also mean climate-proofed community halls, maternity wards, vaccination clinics, and primary schools. The idea also extends to developing national and universal social protection systems, including child benefit schemes, to protect jobs and wages, and nutritious foods, and protect the elderly and disabled when their families can no longer earn. They can also supplement customary and community-based forms of mutual support that have survived many crises across the region, but can only do so much when economic options collapse. Social protection systems are critical to addressing child poverty and building children's human capital while also building the forms of state capacity that enable developing nations to focus more attention on children and their needs.
Many nations in the Pacific have no social protection systems at all, and Australia could do well to offer them the technical and financial assistance required to establish them. It could also fund and advocate for more multilateral investment to help start them up, use its AIFFP and its partnerships with other donor nations, and call for debt relief to free up the fiscal space for more national resources to be devoted to financing these schemes over the long run. Nations in Southeast Asia began establishing social protection schemes as part of their response to the Asian Financial Crisis of the late 1990s, yet many of these schemes are narrowly targeted, or lack the resources to make a difference in poorer regions, or in sectors characterized by informal work.
Announcing a program of investment in expanding such forms of social infrastructure across the Indo-Pacific could demonstrate that Australia is interested not only in regional competition, but also in our neighbors' health, prosperity, and well-being.
Dr Amrita Malhi is Senior Adviser Geoeconomics for Save the Children Australia. She is also a Visiting Fellow in the Coral Bell School of Asia Pacific Affairs at The Australian National University.