US Government Officially Labels Vietnam a Currency Manipulator
The unprecedented designation threatens to generate frictions with an important U.S. partner in Southeast Asia.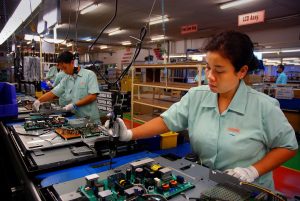 The U.S. Department of the Treasury has labeled Vietnam a currency manipulator, accusing it of improperly intervening in foreign exchange markets to advantage its own exports.
Despite bandying about the accusation for some time, this marks the first time that the U.S. government has officially applied that label to the country, a designation that will now require it to enter into negotiations with the U.S. government and the International Monetary Fund to address the situation.
In its semi-annual report to Congress, released on December 16, the Treasury Department said that Vietnam "conducted large-scale and protracted intervention, much more than in previous periods, to prevent appreciation of the dong." The report covers activity from July 2019 to June 2020.
While the report also scrutinized the exchange rate policy of other major U.S. trading partners, only Vietnam and Switzerland were deemed to have exceeded the criteria used to identify what the department views as potentially unfair currency practices that could harm U.S. workers.
As the New York Times points out, this is the third time that the Trump administration has taken the unusual step of labeling a country a currency manipulator. It applied the label to China in 2019, in the midst of the "trade war" between the two countries, but later dropped the designation. The U.S. also slapped the label on China in 1994.
In the case of Vietnam, Washington has been circling around making this designation for some time. President Donald Trump has repeatedly spoken darkly of Vietnam's allegedly unfair trade practices, and in January, Vietnam was one of 10 nations placed on a watch list for currency manipulation.
In October, the Trump administration initiated an investigation of Vietnam under Section 301 of the 1974 Trade Act. This was intended to determine whether Vietnam has undervalued its dong currency in order to make its products unfairly cheap abroad, and to probe the country's its importation and use of timber that was illegally harvested and traded.
This came after the U.S. Department of Treasury concluded in August that Vietnam had manipulated its currency in at least one case involving the export of light vehicle tires, on which U.S. tariffs were imposed in November. It was the first time the Commerce Department had considered the value of a foreign currency in that type of trade case.
For its own part, the Vietnamese government has denied the accusations. In October, Prime Minister Nguyen Xuan Phuc called on President Trump to take "a more objective assessment of the reality in Vietnam." Following the announcement, the State Bank of Vietnam said it would work with U.S. authorities to ensure a "harmonious and fair" resolution to the dispute. "Vietnam's foreign exchange rate policy has for years been managed in a way to contain inflation, ensure macro stability and not to create unfair trade advantage," the central bank said in a statement.
The main American gripe is Vietnam's large and growing trade surplus with the United States. Vietnam is America's 13th largest trading partner, and currently has the fourth-highest trade surplus with the U.S. this year, after China, Mexico, and Switzerland.
But the Trump administration's obsession with Vietnam's trade surplus stands to complicate the pursuit of important shared interests. To start with, it is counterproductive on its own terms. Vietnam's growing trade surplus with the U.S. is an unintended consequence of another Trump administration policy: the wall of tariffs that it has erected in its trade war with China, which, as intended, have forced many manufacturers to shift their production bases to other countries, including Vietnam. As a result, since Trump took office in 2017, Vietnam's trade surplus with the U.S. has risen steadily, from $38.3 billion in 2017 to $39.4 billion in 2018 to $55.7 billion last year, according to U.S. Treasury data. This year, it is on track to reach a record $65 billion.
The Trump administration has evinced a tendency to treat trade surpluses as a result of unfair foreign trade practices, while ignoring the crucial factor of U.S. consumer demand. Throwing up tariffs on imports does little to address the fact that the American consumer economy is increasingly dependent on cheap goods from Asian countries – a demand that has only increased since the COVID-19 pandemic. These cheap imports have to come from somewhere, so using tariffs to address trade deficits is tantamount to a game of whack-a-mole that simply displaces surpluses from one country to another.
This is all the more true given the unfeasibility of on-shoring the production of cheap consumer goods that have been the compensating inducement to decades of stagnating real wages and upward distributions of wealth in the U.S. economy.
As I've written before, the move – and the protracted negotiations that are set to follow – also threatens to inject frictions into Washington's important strategic convegence with Hanoi, which has been mostly driven by shared concerns about China's increasing wealth and behavior in Southeast Asia.
In an interview with the Reuters news agency, John Goyer, the U.S. Chamber of Commerce's executive director for Southeast Asia, hinted that punitive tariff action would be strategically self-defeating. "It would send a bad message to Vietnam and it would have a real and consequential impact on the bilateral relationship," Goyer said. "Rash tariff action will be damaging to the overall relationship." This week, the U.S. Chamber also argued, contrary to Treasury's claims, that Vietnam did not meet the department's three-part test for evaluating whether a trading partner is engaging in currency manipulation.
With the Trump administration now heading for the exits, much of this may end up being moot. But for now, it looms as another classic example of how the administration has set about alienating the very allies and partners that it claims to need in order to confront and contain Chinese ambitions. Given the importance of the dawning U.S. relationship with Vietnam, it would not be surprising to see the accusations of currency manipulation quietly shelved by the incoming Biden administration.