Déjà Vu All Over Again in Pakistan
Pakistan's opposition alliance accuses the ruling party of being close to India and Israel, as its movement show signs of petering out.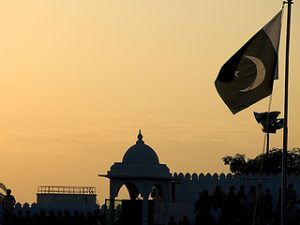 Two days ago, a number of political parties which represent the Pakistan Democratic Movement (PDM) protested outside the Election Commission of Pakistan, alleging that the ruling party, Pakistan Tehreek-e-Insaf (PTI), had received funding from India and Israel.
This is not the first time that the PDM has tried to involve the PTI's alleged links with Israel and alleged funding from India in their protest campaigns.
However, what is unfortunate is that PDM leadership's attempt to accuse PTI of acting at Israel's and India's behest in their rallies reflect political opportunism in its worst form. If there was any indication that PDM stood for the cause of democracy, it should be gone now.
The leader of the Pakistan Muslim League Nawaz (PMLN), Maryam Nawaz, accused Prime Minister Imran Khan of receiving money from people in Israel and India, by saying "Do you know who funded him from India? Bharatiya Janata Party member Inder Dosanjh. And the Israeli who funded him was Barry C. Schneps."
"When you receive funds from BJP members, then why would [you] not pray for Modi to win [the elections]? Why would Kashmir not be thrown in Modi's lap then?" Maryam said. "When you take money from someone, you have to do their bidding," she questioned.
On January 21, Jamiat Ulema-e-Fazl (JUIF) organized a so-called million march against Israel in Karachi. Addressing the rally, JUIF's chief Fazlur Rehman, who also heads the PDM said that PTI's government will not allowed to accept Israel. Rehman felt the need to organize this march even after Khan's clear suggestion that Pakistan cannot recognize Israel as long as the issue of Palestine is not resolved in some form.
Rehman has also announced its decision to organize a protest in Rawalpindi on February 5 against the PTI's alleged sellout of Kashmir to India. "We are going to Pindi on Feb 5. We will have a big gathering regarding a protest on the sell-out of Kashmir and solidarity with Kashmiris," he said.
It is astonishing that PDM's leadership's entire politics is now focused on countering the recent evidence of its own rapprochement toward both countries. A former leader of Rehman's party recently admitted to visiting Israel during the PMLN government's tenure. Rehman's political opportunism is well known and established in Pakistan.
Embarrassing WikiLeaks disclosures in that past showed that Rehman, who takes pride in being a fierce critic of the United States' policies in the region, lobbied then U.S. ambassador to Pakistan in 2007 to help him become prime minister. "Seeking USG's approval in the event he became Prime Minister, Rehman urged that Washington not to crown Pakistan People's Party leader Benazir Bhutto prematurely," a cable filed by former Ambassador Anne W. Patterson noted. Rehman indicated to the U.S. Ambassador that his "still significant" number of votes were "up for sale" even if his party's voter support drops in the election. In 2008, Rehman was elected chairman of the Kashmir Committee of the National Assembly of Pakistan, and enjoyed financial perks equaling to the post of a federal minister for years without making any significant contribution to the issue.
Equally, PMLN's political opportunism is also an open secret. In 2014, then Prime Minister Nawaz Sharif was happy to attend Indian Prime Minister Narendra Modi's swearing-in ceremony. Now, however, Nawaz and his daughter are reprimanding Khan and the PTI government for simply implementing the country's foreign policy. In fact, during PTI's last two years in power, Pakistan has gained considerable momentum vis-à-vis its Kashmir policy and its believed to be not reactive anymore. The matter of the fact is, neither Nawaz nor Rehman could have done anything to avert Modi's August 2019 decision to effectively revoke Article 370 of the Indian constitution which guaranteed special autonomous status to Jammu and Kashmir.
Analyzing the PDM's tactic to invoke India and Israel's names to target the government, scholar of Pakistan's politics Michael Kugelman tweeted: "Pakistan's opposition alliance is showing signs of strain. There are clear internal tensions, and today's rally was a purely parochial affair that boiled down to playing the India/Israel cards against the government."
It is unfortunate that PDM's leadership has come down to relying on Israel-India rhetoric to gain gain support for their rallies. There is nothing new in taking such an approach in Pakistan. However, such an approach comes after hopes that PDM's leadership was vaguely committed to fighting for the supremacy of the constitution — which also involved pushing all state institutions to work within their constitutional domains.
As it appears, PDM's leadership had no plans in this regard and their only backup plan to salvage their own reputation was to amp up the Israel-India rhetoric.