Framing the Khmer Rouge
Cambodia has long been presented to the world through the viewfinders of foreign photographers – but that's slowly starting to change.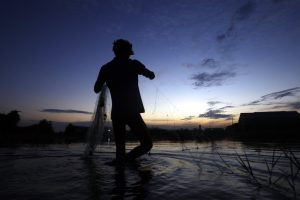 In Cambodia, the Khmer Rouge have left deep and lasting scars on the land, the people, and the culture. The ultra-communist government killed nearly 2 million people between 1975 and 1979, including most of the country's intellectuals and artists. As a result, those who initially documented these lasting effects were foreign photographers, but this has slowly begun to change, with Cambodian photographers producing increasingly singular work, often in spite of the lack of access to resources and formal education. How has this change come about? And why is it significant?
The Early Years: Cambodia Through a Foreign Lens
For all its impact on Cambodia and its people, the Khmer Rouge regime has overwhelmingly been framed by images taken by international photojournalists. Seminal work, such as Roland Neveu's "The Fall of Phnom Penh," captured the entrance of the Khmer Rouge's black-clad soldiers into the capital Phnom Penh on April 17, 1975. And there was John Burgess, who found himself on assignment in 1980 with the Washington Post. His images show the rebirth of Phnom Penh, offering a snapshot of the country's resilience after four years of hell.
Nic Dunlop's book "The Lost Executioner" stands out in its evolution beyond the image. The book chronicles the rise and fall of Comrade Duch, the notorious head of the Khmer Rouge prison S-21. Dunlop weaves a historical account with his own journey to find Duch, who melted back into the Cambodian countryside after the fall of the regime in January 1979. His search for Duch was aided by a photograph of the elusive official, which he showed to individuals as a prompt to conversation. As an image maker, Dunlop's use of this portrait as a catalyst to his investigation, rather than a narrow focus on the frame, offers a poignant example of the limitations of photography to convey complex historical narratives.
In 1989, about 10 years after the fall of the Khmer Rouge, John Vink entered the country on his first assignment for the French newspaper Liberation. Vink would end up dedicating 16 years to living and working in Cambodia. Vink's work, rooted in an unfaltering drive, has seen him publish a range of books, such as "Quest for Land," which covers his in-depth reportage on land rights issues. Indeed, much of his work has been about the question of land, which can be traced back to the Khmer Rouge abolition of land titles and now related to Cambodia's politics. "I think every aspect I covered after that in Cambodia can somehow be related to those issues," Vink says.
The Rise of the Cambodian Photographer
Vink is also well-known for the support he has given to the development of young Cambodian photographers like Vandy Rattana, whose work "Bomb Ponds" show the scars of the land resulting from the illegal bombing of Cambodia during the Vietnam War.
Rattana is one of the new generation of Cambodian photographers, some of whom have banded together in emerging collectives, such as the multidisciplinary Sa Sa Arts, which offers photography courses alongside more established institutions such as the international Angkor Photo Festival. Despite not receiving the benefits of formal training in photography, this young generation has found alternative ways to address through their work the complex issues facing contemporary Cambodia.
One major contrast with foreign photojournalists is that their work is not centered in documentary. Instead, it skips with ease across and beyond photography. Unbound by genre or codes of production, their work feels more immediate.
For example, Lim Sokchanlina responds to a range of questions in both his practice and teaching of photography. His deep interest in how people live and work, and how political decisions change their environment, have fed into the production of his recent work "National Road Number 5," an extended series of photographs of houses which have been cut in half to clear the way for a road-widening project. Lina is acutely aware of what has been lost and notes the impact of the Khmer Rouge on Cambodian image making. "It's still important to talk about the Khmer Rouge through photography," he says. "It's part of who we are and where we come from. I say it through my work but not directly, it's far behind the stories but not disconnected."
The Limitations of Education
Education is a significant part of the development of photography in Cambodia. In 2019, when I launched "Buried," a collaboration with a Cambodian-American family and their archive of photos taken before and after the Khmer Rouge period, Lina spoke to me about the legacies of the regime's deleterious effect on education. "Our arts education was killed," he says today. "We have a fine art school in Phnom Penh, but it's very formal and traditional. They use photography as a reference to paint from; photography is not taught as a medium itself."
Cambodia offers several opportunities to study photography, including the Angkor Photo Festival, which started in 2005. Festival director Jessica Lim sees the significance of education being driven by participants in the workshops:
Our evolution has been undoubtedly strongly influenced by the demand of the people we serve and this is through an emphasis on storytelling, but without the formal structures of documentary. When I first joined in 2010, 70 percent of the work being made at the festival's workshops was quite heavily focused on reportage, but now it's shifted. We support the photographers through rigorous advice and questioning about themselves, their approach, what they want to express. We give them the space to experiment with storytelling, and a lot of it is about the process. We work with the philosophy of not being consumers of photography but meaningful creators and embrace the idea of individuals being the artists they want to be.
Angkor's workshops are clearly working, with photographers such as Kim Hak, whose ongoing series "Alive" has received both national and international recognition, as well as Neak Sophal, who attracted attention through his compelling and collaborative approach to portraiture.
And then there is the aforementioned Sa Sa Arts, which was founded in 2008. The collective runs three education programs, including one in photography. Lina teaches the majority, with additional contributions from both Cambodian and international photographers.
"It's important that we share knowledge, I teach you what I learn and we all learn from each other," he says. "I ask people from a range of artists and makers, so we see how those who are interested in Cambodia and how they reflect on Cambodia."
Trapped Within Ideas
Lina notes that there here has been a recent decline in the number of international photographers coming to Cambodia. He also mentions a great similarity among Cambodia-based foreign photographers and their views of the country. For example, many get trapped in depicting the reality of poverty. "But this is not all there is to Cambodia. I don't see this reality of poverty as Cambodia," he says. "You need to look at the range of work to gain context on Cambodia."
Lina's argument is compelling, but there's no level playing field between Cambodian and foreign photographers. Maybe in part this is what makes the work of Cambodian photographers so intriguing.
While Vink's and Dunlop's works stand as examples of an evolving practice, these approaches are lacking in the prevailing tropes of most international image makers in Cambodia.
"It's more difficult in the current atmosphere for Cambodians to publicize work which could be critical, the expat photographers fill in the slot and run away with the few assignments that are available," Vink says. "Many of the expat photographers I know do give back to the Cambodian photographers. But still, I feel the expat and Cambodian photographers are functioning in two parallel bubbles."
The situation is further complicated by the repetition of visual tropes, as Lina notes.
The discussion of the Khmer Rouge is still important, but the approaches to the subject have been limited. An example of this is Slawek Pliszka's self-published "S21," a book of grainy black and white photographs of the Tuol Sleng prison museum, the killing fields of Choeung Ek, portraits of Khmer Rouge victims, and piles of clothes from the mass graves. To some, it perpetuates the victimhood of the portraits, which were taken by Khmer Rouge photographer Nhem En.
There has been much debate on the use and recontextualization of the S21 portraits, such as the "Killing Fields" book by Chris Riley and Douglas Niven, which published En's images and has received much criticism. Pliszka's work appears to lack the contextual knowledge of what has come before him, and current debates in photography, specifically about the representation of the Khmer Rouge era.
Nic Dunlop reinforces this point. "Time and again, Western photographers fell back on the same visual tropes; the mug shots from Tuol Sleng, the stacks of skulls from Choeung Ek, and portraits of survivors. This was understandable for 'parachute' photographers on deadlines. But this approach didn't invite new ways of thinking about the Khmer Rouge period," he says.
Cambodia's Complexities
Making work in and about Cambodia is a complex process which often places a photographer on the fringes, feeling their way through space, history, and memory. Stepping outside Cambodia has always been important for the evolution of my work, as is long-term dialogue, which can occur in any space. But being defined by genre and purely commercial activity does not add to the debate. The current state of representation from international photographers residing in Cambodia is lacking, and an imbalance of possibilities for education, together with the increased ability of international photographers to easily move in and out of the country (at least before COVID-19), has placed local photographers at a disadvantage.
That being said, the ability to speak beyond and around the subject has meant that work like Lina's is visually more engaging and a more intelligent representation of what is taking place beneath the surface of a country that, for all its problems, has come a long way since the nightmare of the Khmer Rouge. It also offers a wake-up call, one which could evolve through asking the most basic of questions for Western photographers working in Cambodia, and, indeed, other foreign countries: what is the function of my practice?
Charles Fox is a photographer whose practice centers on Southeast Asia. He currently lectures in Photography at Nottingham Trent University.