Indonesia to Release Suspected Bali Bombing Mastermind
The release of Abu Bakar Bashir coincides with a stiffening of the country's stance against hardline Islamic groups.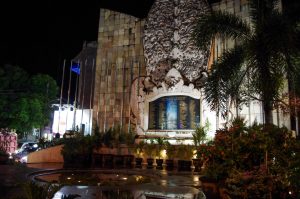 Yesterday, Indonesia announced that it would release the radical cleric Abu Bakar Bashir, a radical cleric affiliated with the al Qaeda-linked Jemaah Islamiyah (JI) network.
Bashir, who is widely believed to have masterminded the 2002 Bali bombings in addition to other terrorist attacks, will walk free on January 8 after the completion of his present prison term.
Among Indonesia's most notorious extremists, the stooped 82-year-old was arrested in 2010 for his links to militant training camps in Aceh province on the island of Sumatra. A government spokesperson announced that Bashir was being released "in accordance with the expiration date and the end of his term."
A diffuse network with cells in Indonesia, Singapore, Malaysia, and the Philippines, JI is accused of orchestrating the 2002 bombings of nightclubs in Bali, which killed more than 200 people and a 2003 attack on the J.W. Marriott hotel in Jakarta that killed 12 people. Last month, a senior JI operative believed to have made bombs for both attacks was arrested along with 22 other suspected militants.
In January 2019, President Joko "Jokowi" Widodo considered offering Bashir an early release on humanitarian grounds, due to his advanced age and ill-health, but it failed to eventuate after the cleric reportedly declined to pledge his allegiance to the Indonesian pluralistic state ideology of Pancasila.
Back then, the news of Bashir's possible release prompted anger in Australia, which lost 88 of its citizens to the Bali bombings. This week's release is likely to do the same. Shortly after the news broke, Australian Foreign Minister Marise Payne issued a statement acknowledging that Bashir's release would be "deeply distressing to the families and friends of the 88 Australians killed in 2002 and the four killed in 2005 in Bali, as well as the many who were injured in these horrific terrorist attacks."
She called on Jakarta to ensure that Bashir and other released extremists would be prevented from involving themselves in further attacks: "Our Embassy in Jakarta has made clear our concerns that such individuals be prevented from further inciting others to carry out future attacks against innocent civilians," Payne said.
It remains unclear what effect Bashir's release will have on Indonesia's extremist movement. In recent weeks, Jokowi's administration has taken steps to blunt the impact of radical Islamic groups, banning the pugnacious Islamic Defenders Front and promising to safeguard the rights of Islamic minority sects that are often the target of conservatives and extremists.
In an interview with the Reuters news agency, security analyst Ridlwan Habib said that Bashir's stature had weakened since his imprisonment a decade ago, but that extremists may try to fasten onto his name in order to boost their credibility. "Bashir is a senior figure in Indonesia's jihadist movement," he said, "and it's not impossible that his big name could be used."