Should Vietnam Embrace Middle Power Status?
What does it mean to be a middle power? And is Vietnam one already?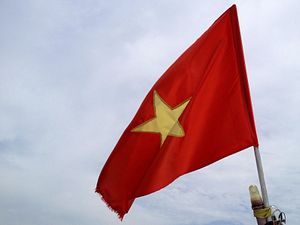 Scholars are calling for Vietnam to see itself as a middle power and to behave like a true middle power to accommodate its growing role in regional settings. But is Vietnam already a middle power or just one in the making?
While there remains a range of perspectives on defining the typical features a middle power should possess, I suggest looking into Cooper's middle power notion, with positional, geographic, normative, and behavioral approaches. A comprehensive probe into Vietnam's normative and pragmatic power would provide a critical answer to its current status.
Vietnam satisfies the status condition of being situated in between large developed and large developing countries. With more than 97 million people, Vietnam ranks 15th out of 251 countries and territories by population. The young and vibrant population — mostly living in bustling metropolises like Ho Chi Minh City, Hanoi, and the central coastal city Da Nang — has constituted the emergence of Vietnam as a "next top model of growth," with a psyche of being hungry for success. Vietnam's economic resiliency, with real GDP growth of 7 percent in 2019, has accounted for "its deep integration with the global economy." Via embracing trade liberalization, domestic reforms, and heavy public investments, Vietnam has become one of the top five economic freedom gainers in the Asia-Pacific region, ranking 21st among 42 regional countries. The country's economic rise as the fastest-growing digital economy in the Asia-Pacific has made it a prime alternative manufacturing hub in Asia. According to the 2020 Lowy Institute Asia Power Index, Vietnam ranked 12th of 26 regional nations for comprehensive power and 11th in military capability. It was hailed as "a middle power in Asia."
A geographic approach offers a strategic and long-term evaluation of Vietnam's geopolitical status. Besides sitting next to northern giant China, Vietnam is located at the heart of Southeast Asia, facing the South China Sea with a coastline of more than 3,260 km and ringed by regional countries. Vietnam occupies an important strategic location, with a bridging role for continental and maritime Southeast Asian countries. Unlike the lingering tense relations between China and Taiwan and tumultuous inter-Korean relations, after the 1975 reunification, Vietnam has been quite successful in walking a delicate balance between the United States and China while seeking closer ties with like-minded countries. The emergence of the Indo-Pacific region offers more room for Vietnam to maneuver as its strategic location facilitates the interests of regional powers, like Japan, South Korea, India, and Australia, which have been striving to deepen their engagement with ASEAN. Now Vietnam seems to seek a favorable equilibrium amid regional great power rivalry and political uncertainties.
Vietnam's diplomatic discourse has showcased its virtuous and trustworthy commitment to regional security and economic cooperation. Vietnam has established a network of 30 strategic and comprehensive partners, aiming to enhance ties and deepen engagement with its partners via proper frameworks. Vietnam has successfully pursued economic integration by joining the Comprehensive and Progressive Agreement for Trans-Pacific Partnership (CPTPP) and demonstrating its proactive participation and strong commitment toward regional free trade integration. Vietnam's 2019 National Defense White Paper showcased its advocacy of mutual understanding and strategic trust with countries globally, laying stress on the "Four Noes" principle, i.e. no military alliance, no affiliation with one country to act against another, no foreign military base on Vietnamese soil to counteract other countries, no using force or threatening to use force in international relations. Regarding the South China Sea issue, Vietnam has emphasized respect for norms and principles in line with international law and dispute-solving mechanisms via dialogue and peaceful means. In October 2020, Vietnam further asserted it would welcome nations' stance on the South China Sea with good faith and a sense of responsibility for the 1982 United Nations Convention on the Law of the Sea.
A behavioral approach suggests that Vietnam has endeavored and pursued multilateralism in solving regional and global issues, which is tantamount to adopting "good international citizenship" as the guiding star for its diplomacy. At the Ninth Party Congress in 2001, Vietnam officially adopted a motto of diversification and multilateralization of foreign relations, aiming to become a friend and a reliable partner with all nations in the world community. Vietnam's regional profile has been elevated due to its significant contributions to regional peace, like playing a proactive role in hosting the second Trump-Kim summit in February 2019 and leveraging its ASEAN chairmanship in 2020 to promote ASEAN's centrality amid the COVID-19 pandemic with decisive leadership while providing invaluable experience to countries worldwide with its COVID-19 success story so far. Vietnam has left strong imprints in vital U.N. agencies, such as the United Nations Security Council (UNSC), the U.N. Human Rights Council, and the U.N. Economic and Social Council, while serving as a non-permanent member of the UNSC for the 2020-2021 tenure. Additionally, Vietnam has demonstrated its responsibility to the international community by dispatching peacekeepers to fulfill U.N. missions. Vietnam has so far dispatched about 200 peacekeepers to the Central African Republic and South Sudan to join the fight against COVID-19 while undertaking their U.N. peacekeeping mission in the country.
According to this multidimensional approach, Vietnam is undertaking certain middle power roles while it has not identified itself as such. Vietnam seems to remain categorically reluctant and circumspect about assuming middle power status in its public statements and official guiding records, like the party documents for National Congresses and the Defense White Paper.
Vietnam is scheduled to launch the 13th National Congress in January 2021 to elect its leaders and to set the socio-economic agenda over the next 10 years. Vietnam's foreign relations and forthcoming policies will also be of vital consideration. The time is ripe for Vietnam to undertake a new power-ranking position as this all-in political event offers an excellent chance to reassess and accommodate Vietnam's foreign policy behavior capability.
Should the next administration in Vietnam be serious about further promoting the country's influence regionally and internationally, its leaders should embrace the notion of a middle power in the official documentation published in Vietnamese, English, and other languages. The primary source documents can be guiding documents, foreign statements, joint statements, and diplomatic speeches. 
The second aspect of promoting Vietnam's middle power diplomacy is framing itself as a responsible and trustworthy emerging nation via adopting a principle-based order, multilateralism, and inclusiveness in its foreign policy. Vietnam's middle power status may suit the current logic of power diffusion and diversification and lay out a practical framework to bring out foreign policy congruent with its interests and reputation.
Huynh Tam Sang is a lecturer of the faculty of international relations and research fellow of the Center for International Studies at the University of Social Sciences and Humanities, Vietnam National University, Ho Chi Minh City.