Sizing Up South Korea's Coming Aircraft Carriers
The development will undoubtedly have an effect on naval planning in Northeast Asia.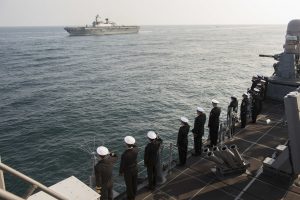 A model of South Korea's next generation aircraft carrier has arrived, and it suggests a much larger, more capable ship than most analysts had initially envisioned.
The Republic of Korea Navy's (ROKN) decision to push forward with aircraft carriers was made over the past 18 months, and was initially expected to produce ships in the 30,000 ton range, somewhat larger than the Japanese Izumos. Hyundai Heavy Industries worked with the British firm Babcock on the design of the 40,000-ish ton ships, resulting in a design substantially larger than the original projection. As David Axe reports, the model made available for the vessel strongly resembles a somewhat smaller version of the British Queen Elizabeth-class carriers, featuring two superstructure islands. The mock up shows the ship carrying some 20 F-35 "Panther" fighters, with space for half a dozen or so helicopters. 
As Axe points out, aircraft carriers would hardly be irrelevant in a conflict between North and South Korea, as they would provide the ROKN with mobile platforms for striking targets in the North that would be less susceptible to ballistic missile and artillery attack than fixed airfields. Perhaps more importantly, however, the ships would give South Korea a long-range expeditionary capability, especially given the expected size and sophistication of their air complement. 
The construction of the ships will put the ROKN in the F-35B club, which currently includes the U.S. Navy, the British Royal Navy, and the Italian Marina Militare. It is extremely likely that the Japanese Maritime Self-Defense Force will join the club before the ROKN, as the F-35B will fly off the decks of the refurbished JS Izumo and JS Kaga as soon as they re-enter service. Other navies that may adopt the F-35B include the Spanish, Turkish, and Australian navies, although acquisition of the STOVL version of the Panther is controversial or legally problematic in all three cases. Given the inclination of so many states to build modestly sized aircraft carriers without catapults, it seems likely that the dominance of the F-35B in the naval aviation marketplace will endure for some time. 
Finally, the development of such large and capable ships will undoubtedly have an effect on naval planning in Northeast Asia. While North Korea is exceedingly unlikely to contemplate building aircraft carriers, the new ROKN ships may motivate additional construction in China and Japan. With respect to the latter in particular, the size of the Korean ships may well inspire the Japanese to contemplate the construction of aircraft carriers competitive in size with those of China, or even the United States, especially as Japan faces no effective limit in the extent of its naval construction ambitions.