Vietnam Leadership Transition Will Not Loosen the Party's Grip
The past five years have seen a sharp increase in both the number of arrests of dissidents, and the severity of the sentences imposed on them.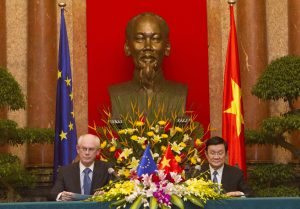 The crackdown on dissidents in Vietnam has substantially worsened in the past five years under the leadership of Nguyen Phu Trong, the general secretary of the country's ruling Communist Party. Eyes are on the Party's upcoming National Congress to see how the leadership transition may impact the regime's handling of political dissent.
The 88 Project monitors the situation of political activists in Vietnam. Our data on both the number of arrests and the length of sentences shows a clear worsening trend in the regime's punishment of independent voices since Nguyen Phu Trong consolidated power at the last Congress in 2016. His reputation as a political "hard-liner" has again been confirmed on the human rights front. Not only is the number of arrests higher, as we have documented; the length of the prison sentences imposed on dissidents has also increased.
Our Database of Persecuted Activists in Vietnam documents 256 activists currently in prison as of January 2021. By comparison, in July 2016, Amnesty International's list of Vietnamese prisoners of conscience included only 86 names.
The number of peaceful political activists arrested has increased significantly since 2016, with 18 activists arrested in 2016, 44 in 2017, and 148 in 2018 (notably higher because of the crackdown against public protesters in June 2018). That was followed by 42 arrests in 2019 and at least 31 in 2020.
By comparison, from 2011 to 2015, there were often less than 10 arrests per year, except in 2012 when there were 37 arrests due to the crackdown on the An Dan Dai Dao Buddhist sect (22 arrests).
In addition to the rising number of arrests, the prison sentences imposed on dissidents have also become more severe. Under national security charges such as "propaganda against the socialist state" or "subversion," dissidents have recently more frequently been convicted and sentenced to more than 10 years in prison, in some cases up to 20 years. Since 2016, Vietnamese courts have handed down one 20-year sentence, three 15-19-year prison sentences, 34 sentences of 10-14 years, and 56 sentences of 5-9 years.
Advocates and practitioners of religious freedom have often received relatively heavy sentences. Vietnam has handed down three life sentences: two in 2020 to ethnic and religious minorities Lau A Lenh and Sung A Sinh, and one in 2013 to Phan Van Thu, leader of the Buddhist sect An Dan Dai Dao. All were convicted under subversion charges (Article 79 of the 1999 Criminal Code, now Article 109 of the 2015 Criminal Code).
By comparison, prior to 2016, dissidents often received less than five years in prison. Sentences of more than 10 years in prison were rare. The only few notable exceptions include Tran Huynh Duy Thuc, who received 16 years in prison in 2010 for allegedly challenging the authority of Communist Party member judges during his trial, members of the An Dan Dai Dao Buddhist sect in 2013, and several cases involving ethnic minorities.
The sentences imposed on the same activist for identical charges have also gotten much longer. For example, Tran Anh Kim was arrested in 2009 and sentenced to five years in prison under Art. 79 for subversion. He was arrested again in 2015 under the same charge for the same type of activism, and was sentenced to 15 years in prison in December 2016.
2019 and 2020 saw the arrests of several high-profile dissidents, especially the arrests of highly-respected journalist Pham Doan Trang and Pham Chi Dung, president of the Independent Journalists Association of Vietnam. Just a couple of weeks before the Party Congress, Pham Chi Dung was sentenced to 15 years in prison on January 5, 2021, a heavy sentence that stays true to the worsening trend in the sentencing of dissidents in the past five years.
Observers have expressed some hope that a transfer of the Communist Party's leadership into the hands of Prime Minister Nguyen Xuan Phuc might lead to a relative loosening of the grip on dissenting voices. If Nguyen Phu Trong remains in power or succeeds in installing a trusted protégé, the crackdown trend will likely continue. Time will tell.
One thing is certain, however: the one-party regime will continue to rule Vietnam and the crackdown on dissidents will persist. The difference, if there's any, will just be a matter of degree.
Hundreds of political prisoners who were heavily convicted under the reign of Nguyen Phu Trong will remain behind bars for 10 or many more years to come, under harsh prison conditions. They need continuing attention and our support.
Huong Nguyen is Co-Director of The 88 Project, a non-profit organization that works to promote freedom of expression in Vietnam.