Chinese Official Denies 'Prior Knowledge' of Myanmar Coup
There is little reason to doubt Beijing's claim that the coup and ensuing crisis is "not what China wants to see."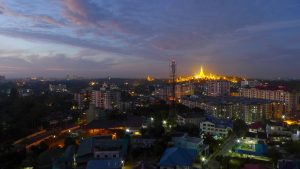 The Chinese government was caught unawares by the military coup in Myanmar, Chen Hai, China's ambassador to Myanmar, told the country's media on February 15, two weeks after the Tatmadaw's surprise seizure of power.
Chen's interview came days after hundreds of pro-democracy protesters demonstrated outside the Chinese Embassy in Yangon, accusing China of backing the coup plotters.
In his interview (available in full here), Chen said that Beijing had no "prior knowledge" of the coup and insisted rumors it was helping install a firewall in Myanmar were "completely nonsense and even ridiculous."
"We have friendly relations with both the NLD and the military," said Chen. "The current situation is absolutely not what China wants to see."
By Beijing's usual standards, this is an unusually forthright criticism of the military takeover, which has resulted in the arrest of State Counselor Aung San Suu Kyi and leading members of her National League for Democracy (NLD) party, and prompted a surge of public protests against the new junta.
But Chen otherwise chose his words carefully, eager to preserve Beijing's posture of "non-interference" to avoid alienating the new coup government. He instead expressed a muted hope "that all parties of Myanmar could handle the current problem through dialogue and consultation properly and lead the country back on track as soon as possible."
The envoy also referenced the U.N. Security Council statement of February 4, which China supported, that expressed "deep concern" at the arrests of leading NLD members, and other restrictions on civil society groups and journalists, while also reaffirming its "strong commitment to the sovereignty, political independence, territorial integrity, and unity of Myanmar."
Since the coup, rumors of Chinese involvement have been aloft. This has been the case both in Washington, where many foreign policy analysts are inclined to view Southeast Asian developments through a China-tinted lens, and in Myanmar, where many anti-coup protesters have assailed China for actively supporting the coup.
Late last week, protesters gathered outside the Chinese embassy in Yangon, holding signs in English and Chinese with slogans such as "support Myanmar, don't support dictators" and "stop helping the military coup."
At the same time, Myanmar social media has seen a number of posts alleging that China was helping the military junta set up a firewall to prevent protesters from organizing online. Other allegations claim that Chinese troops were being infiltrated into the country on flights, or that "Chinese-looking" soldiers have been spotted around Myanmar's cities. (Some examples can be seen in this Twitter thread.)
The fear of China's hidden hand was only exacerbated by Sen. Gen. Min Aung Hlaing's February 16 announcement that the junta planned to restart a number of stalled hydropower projects. Many on social media speculated that this might include a resurrection of the deeply unpopular Chinese-backed Myitsone hydropower mega-dam in northern Myanmar, although the Myitsone dam was not expressly mentioned in the junta's announcement.
As has been pointed out in these pages previously, however, the coup is only likely complicate to China's pursuit of its core strategic interests in Myanmar. Chief among these is its long-held desire to open up an overland transport corridor from Yunnan province to Myanmar's coast on the Bay of Bengal.
The coup has returned to power the most anti-China institution in Myanmar, and wiped out five years of diplomatic investment in Aung San Suu Kyi and her NLD government. Under the NLD, infrastructure projects connecting Yunnan to the sea had moved forward under the aegis of the China-Myanmar Economic Corridor, created in 2018. As Yun Sun of the Stimson Center in Washington argued shortly after the putsch, "It was clear that China endorses the NLD government and was looking forward to working with it in its second term, especially in promoting the China-Myanmar Economic Corridor."
While China has no interest in promoting democracy in Myanmar (or anywhere else), this does not translate into a desire to actively promote authoritarianism – especially when it is likely to create political instability that will complicate Chinese plans. From Beijing's perspective, Myanmar's transition toward a carefully crafted system of "disciplined" democracy was working out quite well.
Chen's full interview avoided discussion of a number of important and sensitive issues, including China's relationship with the ethnic armed groups based along the Chinese border, but we can take him at his word that the Tatmadaw's February surprise was not to China's liking. Indeed, it has probably merely underlined the sense in Beijing that the Myanmar military is an unpredictable, volatile actor that frequently pursues goals that run contrary to its own apparent interests. (As it turns out, this is not worlds removed from the view of many Western observers of Myanmar's politics, few of whom had any reason to predict a coup.)
Nevertheless, it is clear that Beijing will be flexible, if cautious, in coming to terms with the new alignments of power in Myanmar, especially if the junta is alienated by the imposition of sanctions by the United States and other Western powers. Like all foreign governments with interests in Myanmar, China will be watching closely as the latest iteration of the country's perpetual crisis plays itself out over the weeks and months to come.