COVID-19 Has Widened South Korea's Gender Gap
As in many countries, the pandemic has had an outsized impact on women.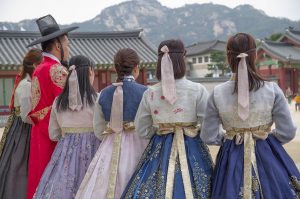 South Korea has been praised for its handling of the pandemic. Despite a rise in cases of COVID-19 in December, the number of infections and deaths from COVID-19 in South Korea still remains significantly below the toll in many Western countries and other parts of the world. The South Korean economy also performed better than many of its peers in 2020. However, notwithstanding South Korea's overall success in handling the pandemic, COVID-19 has had a disproportionate impact on women.
Women are on the frontlines of managing the pandemic and dealing with its consequences on a daily basis. As schools closed and family members became ill, the burden of caring for family members often fell on women. They make up a significant majority of South Koreans working in the healthcare sector, but are also employed in the parts of the economy hardest hit by the pandemic. Not only are their skills critical to dealing with the health challenge, but women working outside of the healthcare sector are often more likely to lose their jobs than men.
Women in the Labor Market Before COVID-19
Prior to the pandemic, women accounted for 43 percent of employed workers in South Korea. While there has been progress in integrating more women into the workforce, these figures are up only marginally from a decade earlier.
Women are also more likely to be part-time workers. South Korea has the fourth highest level of irregular workers among OECD countries; 24.4 percent of the workforce engage in temporary work compared to the OECD average of 11.8 percent. Women, however, accounted for 63.5 percent of the part-time labor in South Korea. These part-time jobs represented 20.8 percent of all employment for women in South Korea, whereas part-time employment only accounted for 8.9 percent of all male employment.
Irregular work is more prevalent among working mothers. Around 30 percent of South Korean mothers were irregular workers prior to the pandemic, while 10.2 percent of all working mothers earned below the minimum wage as irregular workers. For the South Korean workforce as a whole, 28 percent of female workers earn less than minimum wage, compared to 12.8 percent of men.
The high level of temporary work and the higher proportion of females that earn below the minimum wage likely suppresses wages for women and contributes to South Korea having the highest gender wage gap in the OECD prior to the pandemic.
Women also handle the vast majority of unpaid domestic labor. According to the OECD, prior to the pandemic men spent 49 minutes a day on unpaid household labor, while women spent 215 minutes.
In addition to bearing the burden at home, women are on the frontlines of healthcare in South Korea. While only 25 percent of doctors are female, women account for the vast majority of workers in human health and social work activities. In the healthcare sector specifically, 94 percent of paid healthcare workers are women, as are 96.1 percent of assistant nurses and 95.8 percent of registered nurses.
Women also account for the majority of workers in education, transportation, accommodation and food services, business facilities management, and business support services, while also accounting for a significant portion of workers in the retail and wholesale sector.
How COVID-19 Has Affected Women
The pandemic has had a disproportionate impact on women's family life, employment, and personal health.
During the first half of 2020, 56.3 percent of South Korean women reported an increase in work related to taking care of family from the pandemic and 62.1 percent of South Koreans that took family leave were women, according to a report by the Korea Labor Institute (KLI). Of those surveyed, 33.5 percent of women said that they were the only ones to do household work, while 17.2 percent said that their household work had increased an average of 2-4 hours per day.
While the report didn't give figures for the number of women who quit their jobs to take care of their families, those who did said that there was either no one else who could do the work, they could not find help, or that caregivers or housekeepers already employed had to quit because of COVID-19.
As responsibilities for women increased at home, they also faced increasing uncertainty in the workplace. An earlier KLI report indicated that in the early stages of the pandemic the employment rate for women declined at its quickest pace since the Global Financial Crisis in 2009, while job losses were concentrated in areas where women make up a significant percentage of the workforce such as education services, restaurants, and the retail and wholesale sector.
This resulted in a relative increase in the poverty ratio for women and declines in income relative to men.
As the economy improved into the fall the employment picture began to improve, but the most recent wave of COVID-19 has further impacted the prospects for women in the workforce. South Korea's overall unemployment rate was 5.7 percent in January, but for women it stood at 6.7 percent.
The impact on women can be seen in the shifts in permanent and temporary employment. While South Korea has added a small number of permanent jobs over the last year, 563,000 temporary positions have been lost.
The Bank of Korea's data on consumption show declines in recreation, education, and restaurants and hotels in all four quarters of 2020, with double-digit declines in all three categories in the fourth quarter. Correspondingly, the January job numbers show significant job losses in these sectors, which employ a significant proportion of women in South Korea.
More South Koreans are also becoming economically inactive and leaving the workforce. The most recent jobs data from South Korea indicates that 867,000 fewer South Koreans are economically active compared to January of 2020, an increase of 5.2 percent. Of the 476,000 newly economically inactive women, some 388,000 have shifted into housekeeping.
Beyond the workforce, there has been a disproportionate impact on the health of women compared to global averages. While South Korea's overall number of COVID-19 cases is relatively low compared to many other countries, 50.96 percent of COVID-19 cases through the end of January have been women. Based on U.N. data through mid-January, that is higher than the global average of women accounting for 49.1 percent of the world's cases. The mortality rate for COVID-19 in South Korea is also higher than the global average for women.
Suicide and domestic violence have also been an issue. Suicide is the leading cause of death for South Koreans in their teens, 20s, and 30s. Over the first half of 2020, suicides by women increased 7 percent overall but 40 percent for women in their 20s. Early data also suggests that the need for social distancing resulted in an increase in domestic violence against women.
The Costs of Growing Gender Inequality
From a societal perspective, gender equality in education and the workforce plays an important role in economic growth. The economic setbacks of women from the pandemic thus have longer term implications for South Korea's economic growth.
Among those between the ages of 25-34, South Korea has the highest level of tertiary education in the OECD. Nearly 70 percent of the population between 25-34 has at least a college degree, but among women that rises to 76.5 percent.
At a time when the size of South Korea's workforce is already declining and the total fertility rate has fallen to 0.84, women are an underutilized resource for the economy. A joint study by the Council on Foreign Relations and the McKinsey Global Institute concluded that if female participation in the labor force were to reach the best in the region by 2025 it would add 9 percent to GDP. Achieving gender parity in workforce participation would add 24 percent to GDP over the same period.
The IMF's more conservative estimate suggests that if female labor force participation rates reached that of men by 2035 it would add 7 percent to South Korean GDP.
The South Korean government has taken steps to deal with the economic challenges that women have faced during the pandemic. It introduced a subsidy and expanded leave for childcare to 10 days in the early stages of the pandemic. Indirectly, it has also placed an emphasis on supporting small and medium enterprises, which are less likely to be able to manage the economic shocks from the pandemic, and providing cash support to households.
These policies have likely helped reduce what would have been a more significant impact on women in the workforce. However, as the pandemic continues additional emphasis should be placed on helping women deal with the challenges from the pandemic that disproportionately impact them.
Without policies to help women cope, reaching parity in labor force participation will likely be delayed further at a time when the economy needs more qualified workers. That will have real consequences for South Korea's economic future. But the emphasis shouldn't just be on the economic challenges women face from the pandemic. Additional efforts should be put into dealing with the disproportionate health and family challenges that women have faced as well.