Discussing Kyrgyzstan's Political Drama with Kadyr Toktogulov
After a tumultuous 2020, Kyrgyzstan faces continued political and economic challenges in 2021.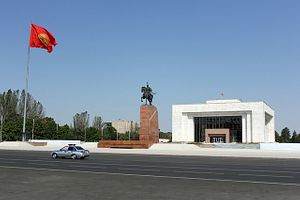 2020 was a challenging year for most countries due to the coronavirus pandemic and related economic troubles. In Central Asia, Kyrgyzstan had to contend with political turmoil, too, which saw the annulment of the results of the October parliamentary elections amid protests. Under pressure, President Sooronbay Jeenbekov resigned and Kyrgyzstan witnessed the ascendance of a new political power: Sadyr Japarov. In January Japarov was elected president while Kyrgyz voters approved his desired shift to a presidential system.
Kyrgyzstan faces another challenging year in 2021. To discuss the country's challenges and the regional context, The Diplomat's Catherine Putz spoke to Kadyr Toktogulov, who served as Kyrgyzstan's ambassador to the United States and Canada from 2015 to 2019.
Kyrgyzstan is no stranger to political drama. Do you see any common themes between the revolutions of 2005 and 2010 and the turmoil of October 2020?
It's clear that rigged elections were one of the main triggers for the dramatic events of October 2020 and the revolutions of 2005 and 2010. Also, in all the three cases the public was deeply unhappy over the government's failure to genuinely address the issue of corruption. We heard of some high-profile corruption cases that contributed to the outcry over the way the parliamentary elections were held in October of 2020. The U.S. sanctioned a high profile former senior customs official Raimbek Matraimov and his wife. He is widely seen in Kyrgyzstan as having benefited from his government job overseeing the customs service. He also was seen as having considerable political ambitions as he and his family were linked to a major new political party that won handily during the contested parliamentary elections last fall. 
We should also not forget that Kyrgyzstan has been hit hard by the pandemic and there are still important economic and healthcare issues that have to be addressed by the new government and new President Sadyr Japarov. 
Although there were common factors behind the events of October 2020 and the revolutions of 2005 and 2010, this time we witnessed quite a different course of events such as now former President Sooronbay Jeenbekov being forced out of office and still being able to remain in the country and retaining the immunity and privileges entitled to a former president of Kyrgyzstan. The first two presidents of Kyrgyzstan had to flee the country and now reside in Russia and Belarus. 
Given the results of the January 10 presidential election and referendum, in which voters chose Sadyr Japarov and a presidential system, what should we expect in the next few months?
It's always hard to predict political events in Kyrgyzstan. What is more or less certain is that Kyrgyzstan will likely be going through a couple of national votes, parliamentary elections and a constitutional referendum. And pretty much every national vote is a test of political and economic stability for Kyrgyzstan. So Kyrgyzstan will continue to go through challenges both political and economic in the next few months for sure. 
The next few months will also be important for President Sadyr Japarov as he continues to consolidate his power and advance his political agenda that aims to boost and cement greater presidential powers in the constitution. His efforts to return Kyrgyzstan to a presidential republic won't go without hiccups and stumbles. One of his main challenges will be to consolidate public support behind his rule as economic pressure and healthcare issues will be the main areas of concern for citizens of Kyrgyzstan.
How have Kyrgyzstan's major partners, like Russia and China, as well as its neighboring states, reacted to the recent chain of events?
Our main partners are always shocked by how fragile Kyrgyz leaders and governments can be and that they can be overrun by protesters. But at the end of the day everybody would like to see peace and stability in Kyrgyzstan. It was quite telling to see Russian President Vladimir Putin's comments on the October events in Kyrgyzstan. 
"Every time they have an election, they practically have a coup," Putin was quoted by news media as saying at the Valdai discussion club, a gathering of Russian experts. "This is not funny." 
All the immediate neighbors of Kyrgyzstan — China, Kazakhstan, Uzbekistan, and Tajikistan — always support stabilization efforts after public uprisings that overthrow governments and presidents. The 2005 and 2010 revolutions and the protests against the rigged parliamentary vote in October 2020 were clearly driven by genuine public anger against the government. Kyrgyzstan is fortunate to have neighbors that are supportive and always make it clear that they would like to see political and economic stability in the republic. 
Though I am concerned that prolonged political instability and economic crisis might weaken Kyrgyzstan's positions in negotiations over border delimitation with Uzbekistan and Tajikistan. 
The United States, which has recently gone through its own difficult political transition, previously warned of "organized crime" taking advantage of the situation in Kyrgyzstan and has not exactly embraced Japarov warmly. At the same time, the Biden administration ended a Trump-era travel ban on Kyrgyzstan on its first day in office. What are your expectations for the U.S.-Kyrgyzstan relationship under Biden and Japarov?
I don't expect significant progress in the U.S.-Kyrgyzstan relations as the U.S. continues to deal with its own domestic political and economic challenges. The end of the Trump-era travel ban was certainly a positive development, but it was not aimed to improve the Kyrgyzstan-U.S. bilateral relations in particular. 
I expect the Biden administration to be more vocal and critical on the issues of democracy and human rights. Such commentary and feedback to internal political events in Kyrgyzstan never boded well for the bilateral relations. 
It's also important to understand that much of the trajectory of Kyrgyzstan's relations with the United States and other Western nations will depend on the political will of the new leadership of Kyrgyzstan, led by President Japarov. Will there be enough bandwidth for more cooperation between the U.S. and Kyrgyzstan? Much of it will depend on President Japarov too. Will he be able to really develop a foreign policy that will allow for strong relations with Kyrgyzstan's traditional partners like Russia and China and its immediate neighbors? Will there be room for strong partnership with the U.S.? I don't have answers to these questions yet.
Amid all the political chaos, Kyrgyzstan is still grappling with the coronavirus pandemic, like much of the world. How has the pandemic affected Kyrgyzstan's economic, political system and the lives of people?
Like many countries in the world Kyrgyzstan has been hit hard by the pandemic. The October 2020 events that eventually led to President Sooronbay Jeenbekov's resignation is a clear political consequence of the severe economic hardships many people in Kyrgyzstan were going through. People have been suffering and have been anxious; many have lost their loved ones to the coronavirus. The burden that the new government and new president are facing is enormous. Trade and economic ties have been disrupted. Kyrgyz labor migrants have also been affected by closed borders, adding more pressure on the challenges the country faces. Political instability will make it much harder to bring about a quick economic rebound for Kyrgyzstan. A lot will depend on how soon the region of Central Asia, Russia and China will get back on their feet and leave the pandemic behind.