Indonesia Leading ASEAN Push on Myanmar Coup
Given its own history of transition from military rule, Indonesia is probably the nation best placed to lead the bloc's diplomacy on Myanmar.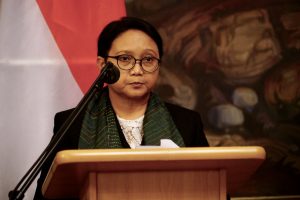 Indonesian Foreign Minister Retno Marsudi is spearheading an effort to get the Association of Southeast Asian Nations (ASEAN) to get more involved in resolving the political situation in Myanmar.
Retno flew to Brunei yesterday and is scheduled to visit Singapore today for talks aimed at building a consensus within ASEAN on unfolding political crisis inside the country.
Her visit comes just over two weeks after the Myanmar military, or Tatmadaw, seized power, arresting State Counselor Aung San Suu Kyi and abrogating her party's landslide victory at national elections in November. The coup has been followed by an escalating nationwide civil disobedience campaign that has brought the country's government to a standstill.
"Many countries, including Indonesia, have raised concerns," Retno said in a statement from Brunei. "Raising concerns is one thing, but the question is: What can Indonesia and ASEAN do to help Myanmar get out of this delicate situation?"
Her tour came after Indonesian President Joko Widodo and Malaysian Prime Minister Muhyiddin Yassin agreed to instruct their foreign ministers to talk to Brunei, this year's chair of ASEAN, about setting up a special meeting to address the political crisis in Myanmar.
The coup looms as an important test for ASEAN, which claims to occupy a position of diplomatic centrality in Asian diplomacy, but has often been sluggish in its response to regional crises. This is because of ASEAN's decision-making process, which is based on the principles of consensus – meaning that any ASEAN member state can veto a course of action – and an allergy to any hint of "intervention" in member states' internal affairs.
Nonetheless, despite these structural constraints, Retno said in her statement that her government believed that ASEAN "is the most effective mechanism to help Myanmar deal with this delicate situation," adding, "Indonesia will continue its efforts to contribute to finding the best solution for the people of Myanmar and for efforts to maintain regional stability, security, and peace."
While ASEAN's member states have shied away from condemning the coup in the same condemnatory terms as the United States and other Western governments, their reactions have been mixed. Vietnam, Cambodia, and Thailand have all refused to comment, saying that they would not interfere in Myanmar's affairs, presumably out of fear of outside interference in their own. Meanwhile, Indonesia, Malaysia and Singapore have officially registered their concern about the country's turn of events.
Ahead of his meeting with Retno today, Singapore's Foreign Minister Vivian Balakrishnan said he supported Indonesia and Malaysia's call to hold an ASEAN foreign ministers' meeting to discuss Myanmar, but acknowledged that this would require the consensus of ASEAN's member states, presumably including Myanmar.
"A meeting among ASEAN Foreign Ministers would be an opportunity for all ASEAN Member States to share their concerns and perspectives given the importance and urgency of addressing recent developments," he said this week in response to a question in parliament.
Balakrishnan added  all ASEAN Member States were "expected to uphold the purposes and principles enshrined in the ASEAN Charter and the ASEAN Human Rights Declaration," he said, but that the bloc "cannot compel" any member state to abide by them.
If ASEAN is to act, Indonesia is the nation probably best positioned to make it happen, given its traditional position of leadership within the Southeast Asian bloc and its own experience of transition from military dictatorship since the fall of President Suharto in 1998. Some observers have even identified former President Susilo Bambang Yudhoyono as a potential special Indonesian or ASEAN envoy to Myanmar.
Yet the tension between sensitivities about national sovereignty with the need to address serious domestic crises remains to a great extent baked into the way ASEAN conducts its business. To be sure, in the past ASEAN's non-interference principle has been interpreted in a flexible way, but the bloc faces the problem that perceived national interests increasingly override regional ones. Put another way, it's not clear that every ASEAN state believes in "ASEAN centrality," even as they preach it to outside partners.
Given political will and creative diplomacy, there is a decent possibility that ASEAN will convene a meeting on Myanmar. The question is whether the need for consensus will prevent it from achieving much when the time comes.