Myanmar Protests Reveal Burgeoning Regional Civil Society
The Myanmar coup has revealed the lack of democratic resilience in Asia, but also the growing solidarity and strength of the region's civil society.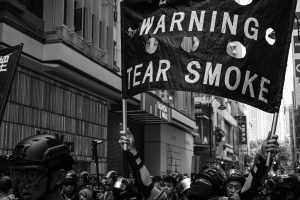 The February 1 military coup in Myanmar has precipitated large – and growing – nationwide protests. Hundreds of thousands have taken to the streets to express anger at the military takeover and the arrest of leader Aung San Suu Kyi, whose National League of Democracy (NLD) party won a landslide victory in national elections in November. By ignoring the recently imposed martial law to continue their protests, they have strongly signaled that they oppose military dictatorship and will not let their democracy erode quietly.
It is crucial for governments in East and Southeast Asia to notice that protests like these have become increasingly common in the region over the past few years, and reveal a growing trans-national civil society with the common anti-authoritarian orientation.
It is noteworthy that protestors have adopted the symbols, signs, and techniques used in previous political protests around the region. Protests have adopted the symbols of the 2020 pro-democracy protests in Thailand, particularly the three-finger salute that symbolizes a demand for accountability and democratic reforms, including to the country's powerful monarchy. Advised clothing and methods of protests have been shared on Twitter by Hong Kong activists, translated into Burmese. The same advice had earlier been shared with Thai protestors, who had also adopted protest signs from their counterparts in Hong Kong.
Moreover, as the Economist has reported, Myanmar activists have learnt from the experiences of activists in Thailand and Hong Kong not to release details about planned demonstrations too early, in fear of the authorities intercepting the information. An outpouring of solidarity from regional civil society has appeared on social media sites like Twitter, where pictures of the three-finger salute ubiquitous. Thai activists are now also arranging demonstrations to show their solidarity with Myanmar's struggle.
What we are seeing are no longer simply national protests, aimed at specific governments. Instead, the movements are now beginning to encompass a broader goal of anti-authoritarianism, and have extended beyond national boundaries to become a regional preoccupation. As Myanmar's civil society becomes incorporated into the "Milk Tea Alliance," we are witnessing the movement's gradual shift from a broad anti-China preoccupation to a movement against authoritarianism writ large.
While on one hand the coup reveals democracy's lack of resilience in the region, the protests and the regional solidarity show that regional civil society has become bolder and louder in demanding that democratic reforms do not backslide. Civil society is indicating that it will not tolerate dictatorship much longer.
While the background circumstances are different, it is worth comparing civil society's reaction to the coup in Myanmar to regional reactions to the May 2014 coup in Thailand. In 2014, there were little to no regional civil society movement that evolved in opposition to this event, and domestic protests peaked at around 1,000 protestors. This contrasts to 2021, where the response to the military coup in Myanmar has been considerably louder, with tens of thousands of protestors, and solidarity has reverberated around the region.
In the span of just seven years, the voice of civil society in East and Southeast Asia has grown considerably stronger. With the power of social media and youth culture, cross-border solidarity becomes fluent as peoples in the region under authoritarian governments draw from each other's experiences and symbols and articulate common goals.
How this regional civil society will develop and evolve is still an open question. There have been suggestions that we might be witnessing the birth of a "Southeast Asian spring,'" 10 years on from the Arab Spring. Seeing how the "Milk Tea Alliance" has spread now to encompass Myanmar, governments in the Asia-Pacific should not be complacent and instead keep a close eye on the issue, as it could be sooner rather than later that the movement reaches their shores next.
Moving forward, governments in East and Southeast Asia which are seeing their democracy backsliding or that are transitioning to democracy, should consider reacting to this growing trend by increasing their level of substantive engagement with civil society actors. This will ensure that their democracy remains resilient, or that a smooth and stable transition can be achieved. ASEAN states should consider moving from "controlled participation" of civil society to substantive engagement, allowing grassroots voices to be heard.
One concrete step that could be taken is to for ASEAN states to revert back to a "people-centered" rather than a "people-oriented" discourse. This can send the signal to civil society groups that their views will not be ignored, and that they are willing to engage with grassroots organizations and activists in shaping the future.
Quah Say Jye is a graduate student and student research assistant at the S. Rajaratnam School of International Studies (RSIS), Nanyang Technological University, Singapore.