Myanmar's Protest Movement Finds Friends in the Milk Tea Alliance
Transnational solidarity – including shared protest tactics and strategies – between Hong Kong, Thailand, and Taiwan now stretches to include Myanmar's anti-coup movement.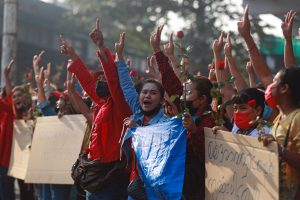 When Myanmar's military seized control of the civilian government and declared a year-long state of emergency, Ei San was shaken.
On February 1, the military arrested elected leader Aung San Suu Kyi and hundreds of other lawmakers, after declaring that a landslide election won by the National League for Democracy (NLD) party in November was fraudulent. In the days that followed, hundreds of thousands of people – particularly from the younger generations – have taken to the streets in protest, amidst an escalating crackdown by security forces.
Since the start of the civil disobedience movement, Ei San, a 27-year-old research assistant in Hong Kong who is from Myanmar, has been following the news from afar and worrying about loved ones back home. With others in the Myanmar community, she decided to form a solidarity group in the city. On February 9, they released a statement condemning the takeover as "illegal," demanding the release of detainees who were "unlawfully arrested," and calling for the international community to support the "fight against the military dictatorship."
"I remember my childhood growing up under the military regime. I don't want that for the future generation, for my nieces and nephews," said Ei San. "The protesters are fighting for their own future. Now, you can't be impartial. I'm going to be choosing my people's side."
As the protests continue to spread, transnational solidarities are being formed between activists in Myanmar, Hong Kong, and Thailand, where pro-democracy movements have been taking place amid police clampdowns and a pandemic. Many of the mostly young and digitally savvy protesters have united online under the hashtag #MilkTeaAlliance, named after the shared love for the beverage in Hong Kong, Thailand, Taiwan – and now, Myanmar.
The online coalition has allowed protesters to share tactics and amplify one another's messages. Protesters in Myanmar and Thailand have learned to use Hong Kong-style flashmobs, and adopted symbols such as the "Hunger Games" inspired three-finger salute, yellow construction helmets, and umbrellas.
In Thailand, the youth protest group Ratsadon also organized a rally with the banging of pots and pans – a practice traditionally associated with driving out evil spirits in Myanmar that has been taken up by anti-coup protesters.
"The flow of tactics is like water," said Netiwit Chotiphatphaisal, a Thai student protester and Milk Tea Alliance activist.
Ei San, who left Myanmar a year before the 2010 democratic transition to study and work in Thailand and Hong Kong, says that she is inspired by the exchanges between protesters in all three movements. She and other members of the solidarity committee hope to strengthen the Myanmar community in Hong Kong, as well as open more channels for dialogue.
Many Hong Kongers have reached out to her in solidarity, and activists in Myanmar have also asked her to share protest tactics from Hong Kong, she said. As of February 12, the statement has also been co-signed by more than 18 groups and individuals in Hong Kong, including the China Labor Bulletin, Civil Human Rights Front, and self-exiled pro-democracy activist Nathan Law.
"This coup has made me sympathize more with the Hong Kong youth. I thought: this must be what it feels like to lose hope for your future," Ei San said. "It's amazing that people in Hong Kong and Thailand and our neighbors are standing with people in Myanmar. It's a shame that it's a coup that brought us together, but now is the time for us to unite."