Restoring Ties by Restoring Monuments: Indian Diplomacy in Southeast Asia
Conservation of sacred sites is an important aspect of India's diplomacy toward Myanmar, Cambodia, Vietnam, and Laos.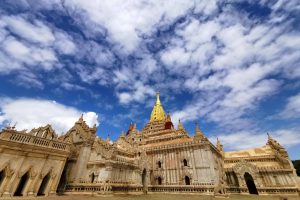 "Connecting with history," the spokesperson for the Indian Ministry of External Affairs tweeted in 2017, when Prime Minister Narendra Modi paid a visit to the Ananda Temple in Bagan, Myanmar. The more narrowly-defined context of the visit was that the temple had been restored thanks to the assistance of the Indian government. The wider context, however, is a history of centuries of cultural influence from Indian civilizations in Southeast Asia.
In the late Middle Ages, not just Myanmar, but most of Southeast Asia had very active relations with South Asian states, a process that included many aspects: from flourishing trade to strong religious connections. Buddhism and Hinduism flowed from India to the region, carried by priests and monks, becoming an important part of elite and popular culture, merging with local customs, and leading to the construction of many religious structures: temples, stupas, pagodas. A part of that mammoth (and only partially lost) heritage are the Buddhist temples of Bagan, one of which is the Ananda Temple that was restored by Indian conservationists. 
Soft power is an important segment of India's diplomacy and the above-mentioned history can certainly be tapped even further in an attempt to enhance New Delhi's relations with contemporary Southeast Asia. Conservation of historical Hindu and Buddhist sites remains one of the main tools of this approach, and India has been doing this for a few decades already. The work is being carried out by the Archeological Survey of India (ASI) and financed by the New Delhi government.
Moreover, Hindu culture and religion play a crucial role in the ideology of India's currently ruling party, the Bharatiya Janata Party (BJP). Given all of the above, it is worth looking at how active the current powers in New Delhi – BJP's government led by Narendra Modi – have been in this field.
In Vietnam, the ASI began the processes of chemical conservation of the My Son temples after an agreement signed between Hanoi and New Delhi in 2014. While the agreement was settled under Modi's watch, and work behind under his rule, earlier Indian governments prepared the groundwork.
In Myanmar, the ASI began the structural conservation of Buddhist pagodas in Bagan; they had been damaged in the 2016 earthquake. Work on five of the pagodas began in 2020, and India is set to restore 12 of the sacred buildings. This, again, is not a new field for Indian conservationists. The above-mentioned Ananda Temple has been restored under an agreement signed in 2010.
In Laos, the restoration of the Wat Phou Temple Complex began in 2009, after a memorandum signed in 2007, before Modi and the BJP government. I am unaware of any more recent conservation drives begun, or decided on, between New Delhi and Vientiane under the current Indian government.
With Cambodia, the current New Delhi government signed a memorandum "for restoration of some parts of Preah Vihear temple" in 2018. It should be noted that an earlier government led by the BJP – the Nationalist Democratic Alliance government of 1999-2004 – committed to conserve Cambodia's Ta Prohm temple. That agreement was signed in 2003, and the ASI came to Cambodia in December 2004 (until the government in New Delhi changed). The temple was restored later: A 2012 article, for India's Frontline documents what a challenge the project has been. Yet, the ASI's most notable achievement in Cambodia country remains the structural conservation of Angkor Wat, the famous complex of Hindu temples – a task completed back in 1992.
Members of the Rashtriya Swayamsevak Sangh (RSS), a Hindu nationalist organization that is the BJP's twin, were reported in 2019 to have great plans for Angkor Wat. They were, it was been said, planning to establish a Hindu shrine next to Angkor Wat and recognize the Cambodian temple complex as one of the sacred Hindu pilgrimage sites (dham). It is hard to confirm how successful these endeavors have been, however. Moreover, can they cannot be considered a restoration project nor does the Indian government seem to be formally involved.
Modi's government stressed that its foreign policy toward East and Southeast Asia will no longer be called "Look East," but "Act East," suggesting there will be more action. When it comes to the Archeological Survey of India's work on Southeast Asian monuments, however, it would be fair to conclude that the BJP government has indeed conducted important work but not necessarily on a higher level of engagement than previous governments. It should also be stressed that the ASI's work in Southeast India has seen continuity across the tenures of various governments in New Delhi, a clear sign that the idea of restoring monuments in that region receives bipartisan political support in India, and that this process is likely to continue.