Singaporean Withdraws From Myanmar Military-Linked Tobacco Venture
A week on, the military coup is exacting an increasingly steep economic cost.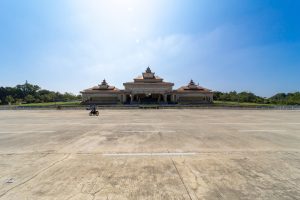 The Singaporean businessman Lim Kaling has become the latest foreign investor to cut his ties to Myanmar's military following the latter's coup d'etat on February 1.
Lim, the co-founder of Hong Kong-listed gaming group Razer, was a minority shareholder in Virginia Tobacco Company through RMH Singapore Pte Ltd, which owns 49 percent of the Myanmar firm. The rest of Virginia Tobacco is owned by Myanmar Economic Holdings (MEHL), one of two tentacular conglomerates run by Myanmar's military, or Tatmadaw.
In a statement issued Tuesday, Lim announced that he would divest himself of his holding in Virginia Tobacco because of "grave concern" over the political situation in the country. He added that he was "exploring options for the responsible disposal of this stake."
The local advocacy group Justice For Myanmar, which on Sunday launched an online petition calling on the Razer board to sack Lim unless he immediately divested himself from Virginia Tobacco, issued a statement acknowledging Lim's withdrawal. "This does not mean RMH Singapore is ending its relationship with the military regime," it said. "We call on Lim Kaling to stand with the people of Myanmar and persuade RMH Singapore to fully divest from their business with MEHL."
Human rights groups have long called on foreign firms to cut their ties to MEHL. Once described by an American diplomat described as "one of the most powerful and corrupt organizations" in the country, MEHL has tentacles in nearly every sector of Myanmar's economy, from the beer and tobacco business, to mining, banking, and garment manufacturing.
Lim Kaling's move comes after the Japanese beverage giant Kirin announced last week that it was pulling out of its own long-standing joint venture with MEHL after months of increasing pressure from activists. In a statement late last week, Kirin said it was "deeply concerned by the recent actions of the military in Myanmar."
These moves are indicative of the steep cost that the coup is likely to inflict on Myanmar's economy. Already battered by COVID-19, the military putsch is likely to lead to a reinstatement of Western sanctions, and has rattled foreign firms that entered the Myanmar market after the country's political opening after 2011. This is to say nothing of the mass strikes and protests, which continue to gather momentum inside the country.
All this is at odds with the message of stability that has been sent by Sen. Gen. Min Aung Hlaing, the commander-in-chief of the military, since last week's coup. In a televised speech late on Monday, the decidedly nervous-looking coup leader said that the current junta rule would be "different" and that all existing development projects would continue. "Foreign investments are also invited," he said. "No harm will come to foreign businesses who invest in Myanmar in accordance with the existing laws."
Min Aung Hlaing may be banking on the fact that most foreign firms (and governments) chose to maintain their connections with Myanmar despite the army's actions in outlying region of the country – particularly, the Tatmadaw's assault on the Rohingya Muslims of western Myanmar in 2017 – and would thereby accept a return to direct military rule in their stride.
If so, he seems to have underestimated how big a blow the coup has dealt to international perceptions of his country. "Myanmar's military are delusional if they believe their coup will lead to more foreign investment," one observer put it. "Investors have already started racing away from Myanmar. The coup will be economically disastrous."
The perception of Myanmar as a "democratic" nation, whatever the shortfalls in practice, has always been pivotal to the nation's international rehabilitation since 2011, even as myriad ethnic conflicts have persisted – even worsened – around the country's periphery.
This reflects its own problem: in particular, a Western tendency to elevate multiparty elections over a resolution to the fraught center-periphery relations that arguably underpin the country's history of military dictatorship. But it nonetheless is the case that the military coup has for many people marked a definitive end to Myanmar's era of political reform in a way that its chronic civil conflicts have not.
In particular, the coup has upset what foreign investors most desire: stability and predictability. While many firms may be reluctant to eat the costs of walking away from their investments in Myanmar, it is clear that doing business under the new military regime once again carries a burdensome reputational cost.