The Fight at the Front: Securing Rights for India's Rural Health 'Volunteers'
ASHA and Anganwadi workers play an extremely important role in India's villages. Its time they are recognized as such.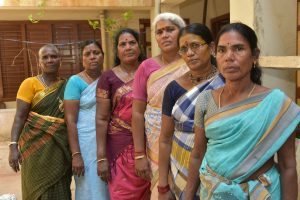 While frontline workers have been first in line to receive vaccines globally, community health workers in India continue their struggle for entirely different demands. Accredited Social Health Activists (ASHAs) and Anganwadi Workers (AWWs) employed by the Indian government as volunteers have been protesting across Indian states for the last few months. While the protests have emerged due to many workers not receiving their regular stipends since the COVID-19 pandemic began, their collective action draws attention to how the rural healthcare system is built upon the exploitation of these underpaid, undertrained and overworked rural health volunteers who are denied basic rights as workers.
In spite of the numerous and large scale of responsibilities given to these community frontline workers, they are still categorized as volunteers with limited employment benefits. ASHAs make regular household visits to provide a range of services: maternal and child health, immunization, family planning, nutrition counselling and monitoring key diseases like tuberculosis and malaria. They also play an important role in mobilizing women to go to anganwadi centers, where the AWWs teach and prepare meals for young children, alongside offering services for maternal health and immunization. Each worker covers an average of 1,000 households, with many having to cover up to 2,000. Inevitably, they work full time to fulfill these responsibilities even though as volunteers they are only expected to work 2-3 hours a day.
The pandemic revealed an intensification of these responsibilities, with ASHAs and AWWs risking their own lives to fulfill new duties of monitoring the COVID spread. Surveys conducted by Article 14 and BehanBox and Oxfam and partner organizations with these workers provide insights into the challenges they faced.
Duties of contact tracing and spreading awareness on COVID were thrust upon community frontline workers. Many of them went to great lengths to provide these services, and most workers had to do so without any protective equipment. Due to the lockdown, workers had to train themselves and faced difficulties while dispelling misinformation among communities. Thirty-three percent of ASHA workers surveyed by Oxfam discussed being subjected to some form of discrimination or violence while performing their duties during the pandemic.
The tipping point that led to ASHAs and AWWs protesting across states emerged when they did not receive months' worth of stipends since the pandemic began. Both sets of workers are paid a monthly honorarium that varies between 2,000 to 4,000 Indian rupees (between $27 and $54) depending on their state policies. Over the years frontline workers have received various promises of wages increases, but many had not received these increases and even raised protests before the pandemic began.
Apart from regular stipends, special COVID incentives announced by the central government for ASHAs and AWWs were meager and often not even disbursed. The recent Code on Social Security passed in September 2020 only further solidified the marginalization of these frontline workers by excluding them from being recognized as workers eligible for basic social protection and income security.
In this framework, minimal benefits like health insurance or pay increases are not seen as entitlements but special handouts of the state. Often these benefits also do not materialize or workers are not even aware of them, as found in the Oxfam survey where only 38 percent of ASHA workers surveyed were aware of the insurance cover of 5 million Indian rupees ($68,493) per person offered by the central government scheme specifically for frontline workers. Workers who were aware often had difficultly accessing their claims, with one protesting worker still owed money for an insurance claim made in 2017.
The NRHM's report of 2011 outlined that an ASHA worker cannot be effective without the motivation and encouragement of the system that supports her in her various duties. However, built into this healthcare apparatus are no means to motivate ASHA or AWWs, as instead there is a continuous exploitation of their labor without any guarantee of rights or pay. Being an all-female workforce, these barriers are discriminatory and stand in the way of the equal access to employment enshrined in international human rights conventions.
The marginalization of frontline workers speaks to the larger politics of care work, a sector overrepresented by women. Dr. Kate Bell explains that the "systematic undervaluing of women's work underpins the poor working conditions and pay of many of those performing essential work." In India women make up a large share of the informal sector, with 94 percent of Indian women reportedly engaged in informal work. This marginalization of the all-women workforce of ASHAs and AWWs is compounded by the fact that a large number of them come from socially-disadvantaged caste groups.
While the pandemic has only brought increased precarity for these women, the post-COVID world provides an opportunity to offer legal recognition to the work done by ASHA and Anganwadi workers. As volunteers, these workers are not even entitled to minimum wages. Given that many of these workers view their job as a key source of income to financially support their families, it is essential that to incentivize them they are provided with regular salaries rather than nominal honorariums.
Most importantly, these workers are a significant resource for the state to meet various sustainable development goals. As part of the GRTA–CHIRAG project, PRADAN (Professional Assistance for Development Action) is currently working with ASHAs and AWWs to recognize and build on the instrumental role they play in establishing sustainable food systems. Beyond their pandemic duties, ASHAs and AWWs offer crucial services to improve overall community health and nutrition.
By recognizing ASHAs and AWWs as formal workers and empowering them with rights and skills, the state can build an invaluable force fighting the most important battles of tackling malnutrition and poverty on the ground.
Ayesha Pattnaik is a research associate in the research wing of Professional Assistance for Development Action (PRADAN). She studied Sociology at the London School of Economics and Ashoka University, and her interests span human rights and citizenship. She tweets at @ayeshapattnaik.