UN Security Council Condemns Military Takeover in Myanmar
The U.N.'s top body condemned the military's seizure of power without explicitly calling it a "coup."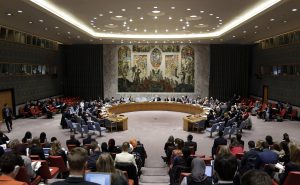 Russia and China have thrown their support behind a United Nations Security Council (UNSC) statement condemning Myanmar's coup d'etat and expressing support for the country's "democratic transition."
In a statement issued on Thursday, the U.N.'s apex body "stressed the need to uphold democratic institutions and processes, refrain from violence, and fully respect human rights, fundamental freedoms and the rule of law."
"The members of the Security Council emphasized the need for the continued support of the democratic transition in Myanmar," the council said in the statement, which referred to the military's imposition of a state of emergency without using the word "coup."
The statement also called for the release of State Counselor Aung San Suu Kyi, President Win Myint, and all others arrested during the military's seizure of power on February 1. The council expressed concern "at the restrictions on civil society, journalists and media workers" and encouraged "dialogue and reconciliation in accordance with the will and interests of the people of Myanmar."
The UNSC's statement also expressed its support for to the Association of Southeast Asian Nations (ASEAN), and welcomed a statement by its chair. Brunei, which chairs the 10-nation regional group, issued a statement encouraging "the pursuance of dialogue, reconciliation and the return to normalcy in accordance with the will and interests of the people of Myanmar."
The statement came after the UNSC failed to agree on a joint statement in a meeting on February 2, after China and Russia demanded more time to consult with their governments. While the statement is an important first step, unanimity in words unlikely to be matched by unanimity in action. As Western democracies including the United States threaten to impose additional sanctions on the new military government, China and Russia are likely to be resistance to any course of action that steps across the line into active intervention in Myanmar's politics.
The UNSC's statement came as the dust continued to swirl following the unexpected coup. On Thursday, police arrested Win Htein, 79, a longtime aide of Aung San Suu Kyi, on sedition charges. Before his arrest, the long-time political prisoner told the local publication Frontier Myanmar that the military takeover was "not wise," and that its leaders "have taken [the country] in the wrong direction."
According to the Assistance Association for Political Prisoners (AAPP), at least 147 people have been detained since the coup, including 133 officials or lawmakers and 14 civil society activists. At least three more people were arrested in Mandalay after holding protests against this week's coup – part of a developing campaign of civil disobedience among the Myanmar public.
In other news, Japan's Kirin Breweries announced Friday that it was canceling its joint venture with the military-controlled conglomerate Myanmar Economic Holdings Limited.
The military's actions were "against our standards and Human Rights Policy," the brewer said in a statement. "We have no option but to terminate our current joint venture partnership with Myanmar Economic Holdings Public Company Limited … We will be taking steps as a matter of urgency to put this termination into effect."
Human rights groups including Amnesty International and Justice for Myanmar had long called for Kirin to cut ties with the military, following its merciless assaults against the Rohingya Muslim minority and other egregious rights abuses. After Kirin's announcement, Amnesty praised the move but questioned why it took a military coup to achieve what an alleged genocide and other large-scale human rights violations seemingly could not.