Under Cover of Myanmar's Coup, Neighboring Countries Continue Crackdowns
Once again, Myanmar is the pariah state that relativizes the rest of the region's abuses.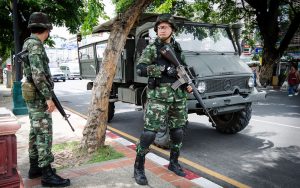 Last week's coup d'etat in Myanmar, and the upheavals that have followed, have come at a convenient time for the leaders of neighboring countries, sucking up international energy and attention right at the moment that they are intensifying their own crackdowns on dissent.
On February 8 and 9, Myanmar police used water cannon to disperse crowds of anti-coup protesters in several cities – scenes that were reminiscent of the Thai military's similar attempts in November to break up protests in Bangkok using high-pressure hoses.
On the same day as protesters faced off in the streets of Myanmar, the Bangkok Criminal Court denied requests for bail for four prominent activists charged with sedition and royal defamation, who have been at the forefront of Thailand's youth-led protest movement. Arnon Nampha, Parit Chiwarak, Somyot Pruksakasemsuk, and Patiwat Saraiyaem, who have now been dispatched to pretrial detention, are the first of a group of at least 55 people who are currently facing charges under Thailand's contentious Article 112, which outlaws any comments critical of the monarchy or the royal family.
Among them are the prominent opposition politician Thanathorn Juangroongruangkit, who was charged with lese majeste after criticizing a COVID-19 vaccine procurement plan involving a local company owned by King Vajiralongkorn. (This came after his popular Future Forward party was dissolved by the courts on a flimsy pretext.) The rash of lese majeste cases is a transparent attempt to halt a protest movement that has seen unprecedented public criticism of the Thai monarchy, and the yawning divides of wealth and power that the institution helps to sacralize.
The Myanmar coup has also distracted attention from the situation in Cambodia, where the government of Prime Minister Hun Sen continues its unremitting, years-long offensive against opponents of every stripe.
On February 5, as the first anti-coup protesters were taking to the street in Myanmar, the Cambodian authorities arrested five environmental activists in the Prey Lang Wildlife Sanctuary, a tract of protected land that is in the process of being hollowed out by logging operations.
They group included Ouch Leng, a forestry activist and president of the Cambodia Human Rights Task Force. In 2016, Ouch Leng was awarded the prestigious Goldman Environmental Prize for his undercover work aimed at documenting and exposing the corrupt networks responsible for Cambodia's colossal illegal logging problem.
Ouch Leng and his colleagues had been collecting evidence of illegal logging in an area adjacent to a concession operated by the Cambodian subsidiary of Think Biotech Co. Ltd., a South Korean firm. They also symbolically draped trees with Buddhist robes and posted educational signs urging people not to destroy the forest.
On February 8, the five activists were released from the provincial Forestry Office after being forced to sign a document pledging to cease their activities in Prey Lang without permission from the Ministry of Environment.
Environmental activists have been just one recent target group for Hun Sen's government. Since it outlawed the Cambodia National Rescue Party (CNRP), the country's main opposition party, in late 2017, and scooped up all 125 parliamentary seats at the next year's national elections, it has arrested dozens of opposition politicians, union leaders, and human rights defenders. The country is currently prosecuting a farcical series of mass trials involving around 130 defendants, including former senior members of the CNRP, some of whom have been accused of treason.
In addition to Thailand and Cambodia, Myanmar's lurching trajectory from military to superficially civilian rule and back again has also concealed the fact that the one-party dictatorships of Laos and Vietnam continue to squeeze what remains of their space for independent political organizing.
There is no evidence that the nations of mainland Southeast Asia have timed their crackdowns to the turmoil in Myanmar. Nonetheless, the latter's sudden and seemingly miraculous emergence from a half-century of military rule in 2011 prompted a recalibration of Western expectations about democratic progress in mainland Southeast Asia. It also brought increased scrutiny to bear on other countries, particularly Cambodia under Hun Sen.
But since international attention is finite, and outside perceptions are generally relative, the coup in Myanmar looms as a welcome distraction for the region's autocrats and generals. Once again, Myanmar is the pariah that relativizes the rest of the region's abuses.