Vietnam's Communist Party Chief Reelected to Third Term
The reappointment of Nguyen Phu Trong elevates the austere communist chief into the Party's upper ranks.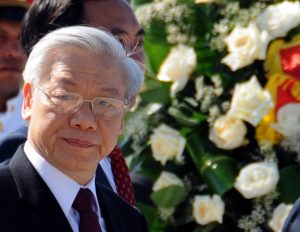 As widely predicted, Vietnam's reigning Communist Party chief Nguyen Phu Trong has been chosen for an unprecedented third term, the state Vietnam News Agency reported, elevating the austere leader into the ranks of Vietnam's longest-serving Party leaders.
The vote at the 13th National Party Congress took place a day earlier than planned, in order to lessen the threat from a sudden outbreak of COVID-19, which spread to the capital Hanoi late last week.
The quinquennial conclave, which began on January 25 and was originally scheduled to finish tomorrow, is an occasion on which the Vietnamese Communist Party (VCP) sets its political trajectory for the upcoming five-year term, as well as making appointments to key senior posts.
The election of Trong as General Secretary and the head of the VCP's 18-member Politburo elevates him into the ranks of Vietnam's most powerful and prominent communist leaders. He is now set to become Vietnam's longest-serving Party chief since Le Duan, who ruled after the death of Ho Chi Minh in 1969.
Trong's reappointment was anticipated in pre-congress leaks, but before then many believed that the 76-year-old would step away from the top job because of his frail health and relatively advanced age. (Vietnam has an official retirement age of 65, though in practice exemptions are often granted.) In April 2019, Trong reportedly suffered a stroke, and subsequently appeared frail and unwell at public events.
Trong rose to prominence after prevailing in a power struggle with former prime minister Nguyen Tan Dung at the last party congress in 2016. Since then he has consolidated his control over the party, embarking on a hard-driving anti-corruption campaign – known in Vietnamese as "blazing furnace" – which has netted dozens of high-ranking state and party officials, including many former allies of Dung.
Although the Party's selection process is opaque, some observers believe Trong had favored fellow Politburo member Tran Quoc Vuong to succeed him, but then sought to stay on when his pick could not attract sufficient support from the rest of the Central Committee. It is conceivable Trong could step down part way through his third term if a suitable consensus candidate is found.
Whatever prompted it, Trong's reappointment marks something of a break with the tradition of dispersed power that the Party implemented in the 1980s, at the same time as it began to open Vietnam's economy and introduce market-based reforms.
As Trong's prominence has grown, his tenure has been buoyed up by unusual levels of propaganda puffery. According to Reuters, in 2019, the party released a 600-page hagiography of Trong, which describes him as an "intelligent, brave, and pure leader" striving to bring Vietnam "shoulder to shoulder with the powers of the five continents, as Uncle Ho respectfully wished."
In an interesting parallel to the personality cult surrounding China's paramount leader Xi Jinping, a poem in the book describes Trong as "a noble man, sent by the spirits to purify the system," an apparent reference to his anti-corruption campaign. "Hammer and sickle in hand, he dispels gloom, waiting for the sunshine." As in the case of Xi, Trong's tenure has been marked by a severe tightening of the political space, and the arrest and imprisonment of numerous dissidents and independent journalists.