Why China's 'Island City' in Papua New Guinea is a Mirage
Australian security analysts can console themselves that the Hong Kong-based firm's plans will never eventuate.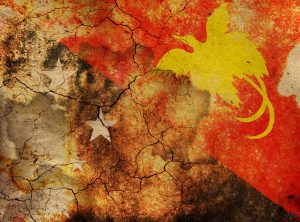 Here's a handy rule of thumb: any Asian development project claiming to be worth in the tens of billions of dollars stands little chance of ever being built.
This has now been all-but confirmed in the case of the $30 billion "city" that a Chinese firm was reportedly planning to build on an impoverished island off the coast of Papua New Guinea, close to the northern tip of Australia.
According to Australian media reports published in late January, the Hong Kong-registered firm WYW Holding Ltd. was planning to build a $30 billion city that included a seaport and industrial area on Daru Island, which lies in the Torres Strait, around 200 kilometers from the Australian mainland. The reports cite company letters send to the Papua New Guinea government.
According to the leaked documents, the proposal for the 100-square-kilometer "New Daru City" project included an industrial zone, seaport, business and commercial zone, along with a resort and residential area. In a letter addressed to PNG's Prime Minister James Marape dated April 2020, the Hong Kong registered company, WYW Holding Limited, said its "investment and development plan" included "broad ranging ideas" for the development of several areas of PNG's Western Province, of which Daru Island is a part.
Daru's proximity to Australia – it also lies 50 kilometers from Saibai Island, an Australian territory – naturally raised security concerns in Australia, tapping into broader concerns about China's growing interest in PNG and the South Pacific, long viewed as an Australian sphere of influence. Australian officials have also expressed concerns about the agreement that the PNG government signed in November 2020 with a Chinese company to build a $200 million "fishery industrial park" on Daru Island.
Whatever the fate of the fishery project, Australian security analysts can console themselves that the outlandishly ambitious "New Daru City" project will probably never be built. This week, the PNG government claimed that it had not even seen the proposal that was reported in the Australian press. As National Planning Minister Rainbo Paita told The Guardian, the government has not been presented with the proposal widely reported in the media. "We have no plans for any such zones for Western Province," Paita told the newspaper.
Late last week, Prime Minister Scott Morrison rightly downplayed the Daru Island plans. "I'm not surprised by it but I think at this stage it would be best to file it under 'speculation'," he told reporters.
The project was never realistic, and not only because its mooted price-tag eclipsed Papua New Guinea's gross domestic product of $24.83 billion in 2019. As Lauren Béldi of the Australian Broadcasting Corporation pointed out on Twitter, Daru Island struggles with drug resistant tuberculosis, which foreign donor governments have spent years trying to eradicate. Many parts of the island also lack access to clean water. This is to say nothing of the efforts required to actually negotiate the land transfers necessary to pave the way for such an outsized development. "If China built a city on Daru it would be a huge strategic problem for Australia," Béldi noted. "But China would probably have a better shot at literally building an island from scratch than going ahead with the project on Daru."