Facebook Removes Pages and Accounts Linked to Thailand's Military
The offending accounts targeted users in southern provinces that are home to a long-running Muslim separatist insurgency.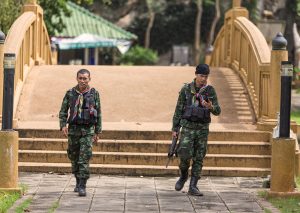 Facebook has taken down 185 accounts and groups engaged in coordinated information operations on behalf of the Thai military, the tech behemoth said on Wednesday, the latest example of a Southeast Asian government manipulating social media to political ends.
The social media firm stated that the accounts were part of a total of 915 Facebook accounts and 68 pages based in Thailand, Russia, Morocco, and Iran that were removed for violating its policy on "coordinated inauthentic behavior."
In Thailand, the company removed 77 accounts, 72 pages, and 18 groups on Facebook, as well as 18 accounts on Instagram. As Nathaniel Gleicher, Facebook's Head of Cybersecurity Policy, told Reuters, "This is the first time that we've attributed one of our takedowns to links to the Thai military."
The company said the accounts were linked to the Thai Military's Internal Security Operations Command and targeted audiences in the far south of the country, which has long been home to a simmering Muslim separatist insurgency. Around 7,000 people have been killed since 2004 as a result of the insurgency in the Malay-speaking, largely Muslim southern region.
According to Facebook, the network "posted primarily in Thai about news and current events including content in support of the Thai military and the monarchy, calls for non-violence, regional COVID-19 updates, alleged violence by the insurgent groups in Southern Thailand, and criticism of separatist and independence movements." Collectively, around 700,000 accounts followed one or more of the identified pages and about 100,000 accounts joined at least one of the groups.
While the military's influence efforts targeted the situation in Thailand's south, it can be assumed that it is employing similar tactics in order to sow disinformation about the ongoing youth-led protest movement that has issued taboo-shattering calls for reforms the country's powerful monarchy.
In October of last year, Twitter announced that it had suspended 926 accounts based in Thailand, for partaking in similarly coordinated operations on behalf of the Thai military. "Our investigation uncovered a network of accounts partaking in information operations that we can reliably link to the Royal Thai Army (RTA)," the company stated. It added that the accounts were engaged in "amplifying pro-RTA and pro-government content, as well as engaging in behavior targeting prominent political opposition figures."
Then, in December, the Thai government announced that it was launching legal action against Facebook, Twitter and Google for ignoring some requests to take down content that breached local laws.
All of these efforts hint at the Thai government's increasingly forthright attempts to extend its control over the country's networked public sphere. Perhaps more threatening than its rudimentary use sock puppet social media accounts is its growing ability to monitor what Thai citizens post online.
Between the military's "cyber warfare" unit and a Technology Crime Suppression Division run by the police, the Thai authorities now possess some of the most robust online surveillance tools of any nation in Southeast Asia. In particular, the Thai government has used these tools to identify critical discussions of the monarchy, some of which result in persecutions under the country's harsh lese majeste law.
As I have noted before, we can expect to see a lot more of these sorts of announcements from tech companies operating in Southeast Asian countries. The region boasts four of the world's top eight Facebook user bases, and given the importance of these platforms to pro-democracy activists, the region's governments have an increasing incentive to control and manipulate them to political ends.