How Are Thailand's Youth Protests Impacting Foreign Investment?
Thailand's protests have not yet caused a mass exodus of foreign investors. But continuing political unrest could drive multinational corporations away.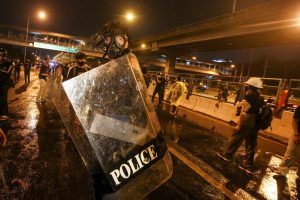 The anti-government protest movement which shook Thailand to its core throughout 2020 shows no signs of slowing down. Weeks before rioters stormed the capital in Washington, D.C., on January 6, tensions in Bangkok reached a similar crescendo in November 2020 when protestors surrounded the national parliament, leading police to use water cannons to disperse the demonstrators and allow time for MPs to flee in boats down the Chao Phraya River. Leaders of the largely decentralized student-led movement then declared a "pause" in December 2020, vowing to resume demonstrations in 2021 with "more intensity," according to Arnon Nampa, a rights lawyer and leading figure in the protest movement. The protestors made good on this promise, breaking COVID-19 social distancing orders to stage flash mobs and face off with the police in January and February of this year.
Thailand's current movement centers around three demands: the dissolution of parliament, an end to the harassment of dissidents, and the drafting of a new, genuinely democratic constitution. Demonstrators have also called for unprecedented reforms to the monarchy, something not seen before in the modern history of a country prone to political upheaval. As of today, none of these demands has been met by the government of Prime Minister Prayut Chan-o-cha. Instead, authorities have launched a sweeping crackdown on dissent, featuring a raft of prosecutions under Article 112, Thailand's notorious lese majeste law.
When the conflict first erupted last year, the scale of the unrest and the scope of protestors' demands appeared set to have a profound negative impact on Thailand's status as a foreign direct investment destination. But as the standoff drags on, the initial shock seems to have worn off and there are signs of returning investor confidence. That said, the current youth-led movement exposes Thailand's systemic political instability, something which could be a deterrent to foreign investors in the years and decades to come.
Much of Thailand's economic woes are largely due to the COVID-19 pandemic. For a country that depended on tourism for nearly 15 percent of its GDP, social distancing and travel bans have been a major economic blow. But Thailand's economic downturn, the biggest since the 1997-98 Asian financial crisis, is also intertwined with its political unrest.
Alicia Garcia-Herrero, chief economist for the Asia Pacific at French investment bank Natixis, summarized the situation on November 20, when she stated that "higher political risk is weighing negatively on investment" from both foreign and domestic sources. AMP Capital's head of dynamic markets Nader Naeimi added that "resurgence of the anti-government protests is concerning and suggests downside pressure in the short term, as well as a higher risk premium in Thai stocks than its Asian peers." Local analysts concurred, with Kobsidthi Silpachai, head of capital markets research for Thailand's Kasikornbank, who said that "recent political developments from demonstration turn outs to the declaration of a state of emergency for Bangkok are unsettling investors' nerves."
The protests appeared to be having a tangible impact on capital outflows in the third quarter of last year. As the Financial Times noted in September, "about $7.8 billion flowed out of Thai stocks in the year to the end of August, and another $2.3 billion out of bonds." It also noted that stocks had dropped more than 20 percent to that point of 2020. Dwindling investment was also evident in specific sectors. Analysts observed that mass protests were making it harder to attract investors into the country's renewable energy sector. The Thai Ministry of Industry released data in September 2020 showing a 2.75 percent contraction in the manufacturing sector over the previous year.
But the outlook for foreign direct investment may be improving, even as the political situation remains uncertain. In November 2020, foreign investors became net buyers on the Thai stock market for the first time all year. An independent study commissioned by Thailand's Board of Investment (BOI) announced in December 2020 that 96 percent of foreign investors operating in Thailand had plans to increase or maintain their presence in the country. Improvements have continued in 2021, with the Federation of Thai Capital Market Organisations reporting a slight increase in its Investor Confidence Index for January.
Many explanations have been offered for the apparent turnaround in foreign investment. For a country which depends heavily on the tourism sector, the rollout of COVID-19 vaccines has certainly helped investor confidence. Another likely factor are government incentive packages and the creation of special economic zones like the Eastern Economic Corridor (EEC). The BOI has offered a host of tax and duties exemptions to foreign investors, particularly those engaged in high-tech sectors like robotics and biofuels. Foreign businesses looking to take advantage of those incentives can set up operations in the EEC, which features recently upgraded infrastructure like airports, deep water ports, and railways.
Meanwhile, the Thai government has explained rising investor confidence by claiming businesses are accustomed to a certain amount of political unrest in the country. In October, Industry Minister Suriya Juangroongruangkit said that businesses understand the political climate of Thailand following similar disputes and protest movements over the past several decades and will not seek to leave the country over the recent student demonstrations.
While numerous multinationals remained in Thailand through the military coups of 2006 and 2014, it might be premature to claim that the current unrest is reflective of past experiences. Many observers have commented that the current protest movement poses an unprecedented challenge to the monarchy, and that the scale of youth involvement could have a greater impact on economics and politics than previous iterations of Thai street politics.
But even if Thailand can weather the current storm, it is far from unreasonable to ask why foreign investors would stomach the country's repeated episodes of political turmoil, especially when neighboring Southeast Asian countries — particularly Vietnam and Indonesia — offer political stability and attractive investment incentives.
For much of the past decade, Vietnam has topped the list for multinational corporations seeking an industrial foothold in ASEAN. While there are myriad reasons for Vietnam's economic success, one key factor has certainly been the political stability afforded by Communist Party rule. Since the 1986 doi moi ("renovation") reforms that transformed Vietnam into a market economy, the Vietnamese Communist Party (VCP) has focused on attracting foreign investment and shunned major political reforms that could distract from this goal. The VCP's 13th National Congress, which saw the reappointment of Party General Secretary Nguyen Phu Trong to an unprecedented third term and continuity in Politburo membership, is a clear indication that stability and economic growth remain the Party's priorities. Any incremental changes toward separating the role of the state from the VCP, let alone allowing multiple political parties, have been shelved for now.
Say what you will about the long-term sustainability of Vietnam's approach, the stable and single-minded focus appears set to deliver continued foreign direct investment for the immediate future. From the perspective of potential foreign investors, Gareth Leather, senior Asia economist at London-based consultancy Capital Economics, said the choice was clear: "if you're an investor looking to establish a factory in Southeast Asia, you look at Vietnam — it's politically stable, has low wages, and is near China — and then you look at Thailand, which has slightly higher wages, maybe doesn't have the same infrastructure links to China and sees periodic bouts of quite severe political unrest. You know, it's a no-brainer. Why would you choose Thailand?"
Indonesia, by far Southeast Asia's largest country in terms of GDP and population, could also lure foreign investment away from Thailand. Indonesia shares some of Vietnam's advantages over Thailand, including lower wages and a relatively stable political environment. Indonesia has witnessed largely peaceful transfers of power and fair elections since the beginning of the Susilo Bambang Yudhoyono presidency in 2004. Indonesia's appeal to investors may soon see a boost from the Omnibus Law on Job Creation, passed in October 2020, which increases the amount of foreign ownership of businesses in numerous sectors and revises a raft of onerous labor laws.
Thai officials are aware that continued foreign investment is necessary to sustain an economic recovery, and that addressing the underlying political discontent is key to achieving this goal. Reflecting on the better than expected economic numbers to close 2020, Danucha Pichayanan of the National Economic and Social Development Council said that "this year, apart from stimulating local consumption, we need to attract more foreign investment, so the political situation will be important to boost confidence." But if Thailand wants to remain competitive with Vietnam, Indonesia, and the other emerging economies of the region, it will need to find a sustainable resolution to the current youth-led protest movement that prevents opposing factions from taking to the streets once again just a few years down the line.
Maxwell Abbott is Head of Business Intelligence for Asia at The Risk Advisory Group, a global risk consultancy. Based in Hong Kong, Maxwell provides intelligence services in support of board-level decisions related to capital projects, strategic expansion, major competitive tenders and other opportunities.