Land Speculation Scandal Grips South Korea
Amid soaring housing prices, allegations that officials used insider information to grab land sparked public outrage.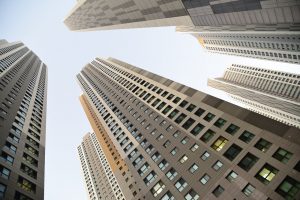 A growing scandal about land speculation has embroiled South Korea's top housing agency, with up to 20 workers under investigation for using insider information to snap up farmland near where a housing development project was on the horizon. The scandal hit home for South Koreans amid skyrocketing property and housing prices, and has now become a major issue in next month's by-election to elect the next mayor of Seoul.
The allegations emerged after civic groups accused current and former employees of Korea Land and Housing Corporation (LH) of inappropriate purchases beginning in April 2018. The investigation has since expanded, with police examining dozens of other employees and government officials.
The scandal has prompted President Moon Jae-in to apologize, and Land Minister Byeon Chang-heum – who also served as head of LH until December last year – has offered to resign.
Part of why the scandal has sparked so much backlash is because it hits a sore spot for South Korea, which has been grappling with soaring real estate prices for years. The problem of housing is so widespread it has even sparked a trend in reality TV, with shows like "There Is No House for Us in Seoul" following prospective homeowners who go outside of the packed capital region to build their own home.
So when the news emerged that some officials may have been able to use inside information to make money off of land speculation, especially related to a housing project, the public was outraged.
The news has prompted widespread scrutiny outside of just this particular case. This week, investigators gathered information on all current and former employees at both LH and the Ministry of Land, Infrastructure, and Transport dating back to 2015, aiming to root out any other cases of speculation. Although it started with only around 20 workers, now the number of potential cases to come out of this scandal so far includes 398 people, including three National Assembly members.
In the first active move related to a speculation case, on March 25, police sought the first warrant in a case where a local official is suspected of buying land and a building near where a train station will soon be built.
The scandal has also become a point of contention in the pivotal Seoul mayoral election, taking place on April 7. The candidates for both major parties – Park Young-sun of the ruling Democratic Party and former Seoul mayor Oh Se-hoon representing the opposition People Power Party – have used the topic to criticize their opponents during the short campaign period for the election that started this week. Park accused Oh of helping his family benefit in a major housing project during his previous term as mayor, calling that issue and the ongoing LH scandal "equivalent." For his part, Oh admonished the current Moon administration, and by extension Park, for its failed policies, including on housing.
In addition to the Seoul mayor's race, South Korea's major parties are also already gearing up for next year's presidential election. If this scandal continues to spread, and with housing prices still rising, these issues are likely to remain on the radar in South Korean politics for the foreseeable future.