US-India Relations: The Shift From Trump to Biden 
As Washington and Delhi seek stronger ties, three policy shifts underway in the Biden administration may limit cooperation.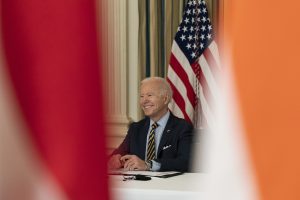 Against the odds, U.S.-India relations flourished under President Donald Trump. Shared concerns over China and a strong rapport between Trump and Indian Prime Minster Narendra Modi insulated the relationship from much of the chaos other U.S. partners experienced. Nevertheless, India welcomed President Joe Biden's "spectacular victory." Enthusiasm for Biden's win signaled a hope in New Delhi that the new administration would cement the gains made over the past four years and pave the way for a closer U.S.-India partnership. However, though both leaders seek stronger ties, three policy shifts in Washington may limit U.S.-India cooperation. 
First, Biden is likely to take a more nuanced approach to China, seeking avenues to cooperate in an otherwise competitive relationship. This multidimensional approach will create a more difficult geopolitical path for New Delhi, pushing India to once again balance relations with its northern neighbor. While Biden's approach to China will likely be similar to his predecessor's, even slight improvements in U.S.-China ties may impact India's strategic calculus. 
How the Biden administration approaches Pakistan could also limit U.S.-India cooperation. Biden may warm to Pakistan in hopes of receiving concessions in Afghanistan. Any rapprochement between the United States and Pakistan could elicit contempt from India and undermine Washington's reliability as a security partner in New Delhi's eyes. 
Second, Biden has promised to place a greater emphasis on values. Since his re-election in 2019, Modi has shown a willingness to transgress the democratic norms that underpin U.S.-India relations. Internet shutdowns, arrests of journalists, and police violence suggest a concerning decline in civil liberties. While the Trump administration was largely silent on these matters, Biden is expected to take a stand. Differences over values could not only impact the tone and pace of the relationship but, if unchecked, could raise doubts in the Biden administration over India's credibility as a strategic partner in the Indo-Pacific. 
Third, U.S.-India defense cooperation will need to effectively navigate the Russia factor. While India's defense relationship with Russia dates back to the Cold War, the United States fears Russian machinery will complicate interoperability with India. In January, India signaled willingness to risk U.S. sanctions for the purchase of a Russian missile defense system. Biden is expected to be tougher on Russia than Trump, which could cause friction as India seeks to maintain ties that date back to the Cold War. 
Certainly, enthusiasm for Biden's electoral win is not entirely misplaced. Biden has been a long-time friend of India. As vice president in the Obama administration, he made important contributions to bilateral ties and as a senator he worked to approve the U.S.-India civil nuclear deal in 2008. He has included more Indian Americans in his administration than any other U.S. president, including his vice presidential pick Kamala Harris, and called U.S.-India ties the "defining relationship" of the 21st century. Like his predecessors, Biden will look to deepen ties. 
One area his administration will look to cooperate with India on is borderless threats, particularly climate issues. In February, Special Envoy for Climate John Kerry called India a "red-hot investment opportunity" for clean energy and has set up a consortium of several countries eager to support India with funds and know-how to meet renewable energy goals. The United States and India have also teamed up under the Quad grouping with Australia and Japan to manufacture and deliver up to 1 billion doses of the coronavirus vaccine across Southeast Asia. Cooperation on these issues would not only achieve shared goals between the U.S. and India but would broaden the partnership beyond security issues.
Under Biden, U.S.-India trade relations may also get back on track. A de-emphasis on trade deficits and a return to more traditional rules of engagement may ease economic cooperation. That being said, a much-anticipated trade deal may not be on the cards given India's protectionist turn over the past couple years. Biden will be constrained by economic recovery at home. While issues in trade relations will likely persist, more liberal visa policies for Indian nationals may salve the sting of trade problems and broaden people-to-people ties.
With strong bipartisan support extending over four previous U.S. administrations and intensifying strategic convergence, bilateral ties between the U.S. and India were likely to deepen regardless of who won the election last November. These opportunities notwithstanding, enthusiasm for Biden's electoral win should not obscure policy shifts that may limit partnership. Unexpected gains during the Trump administration pushed cooperation forward. The extent to which ties can expand under Biden remains to be seen.