Why Did Thousands of K-Pop Songs Disappear From Spotify?
Kakao Entertainment and the streaming service were unable to reach a licensing extension — just as Spotify entered the Korean market.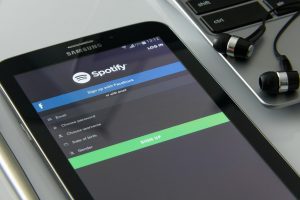 K-pop fans from around the world reacted in horror over the weekend as thousands of songs from dozens of Korean artists suddenly disappeared from Spotify's global music streaming service.
The problem stemmed from negotiations between Spotify and KakaoM — now known as Kakao Entertainment — the company in charge of distribution for many large Korean acts such as MonstaX, Mamamoo, and IU, whom they also manage. When the two companies were unable to reach a deal to extend their global licensing contract, songs from artists working with KakaoM vanished from Spotify's global platform.
On February 28, Tablo, the leader of hip-hop trio Epik High, called attention to the issue on Twitter: "Apparently a disagreement between our distributor Kakao M & Spotify has made our new album Epik High Is Here unavailable globally against our will," he wrote. "Regardless of who is at fault, why is it always the artists and the fans that suffer when businesses place greed over art?"
The next day, Tablo tweeted again, notifying fans that they were able to get their music back up on Spotify by working with a new distributor, although they were not able to restore their streaming numbers and it seems fans will have to re-add songs to their playlists.
Both Spotify and Kakao have released statements blaming the other side for the stalled negotiations. According to the Kakao statement, the crux of the issue is the way each side treats global and domestic licensing deals – Kakao said they wanted to negotiate global availability separately, while Spotify wanted to discuss both international and domestic South Korean licenses together.
The timing of this issue caused fans to speculate that the problem could be related to Spotify's entry into the South Korean market just over a month ago. The fact that Kakao owns Melon – South Korea's largest music streaming service and therefore a competitor to Spotify in the Korean market – did not go unnoticed. For their part, Spotify has denied that this issue had anything to do with their launch in South Korea.
Even if this particular distribution issue did not stem from Spotify's entry into the South Korean domestic market, that doesn't mean that the road is looking smooth for the global company. Without Kakao's large catalog of music available domestically, and with other local streaming services also stepping up their services, industry watchers were already wary of the Swedish company's ability to break into the South Korean streaming market.
This would not be the first time an international tech company faced difficulties trying to expand into South Korea. Uber faced strong backlash from local stakeholders – particularly taxi drivers – when it tried to open its service in South Korea back in 2014, to the point where the company's CEO was even indicted by Seoul prosecutors for "operating an illegal taxi service." The company officially pulled its Korean operations in 2015. The tech giant hasn't given up, though – in October last year they announced a plan to work with South Korea's SK Telecom to once again make a play for the taxi-hailing market, but this time with a domestic partner along for the ride.
Google has also famously struggled to provide its full Google Maps service in South Korea, with the Korean government repeatedly denying requests to review its policies toward the mapping service over security concerns about these maps revealing details about sensitive military and infrastructure areas publicly, including to North Korea.