Aizada Kanatbekova: A Young Woman Kidnapped and Murdered in Kyrgyzstan
"Bride kidnapping" is claimed by some to be a traditional practice. Others call it what it is: forced marriage, which sometimes results in murder.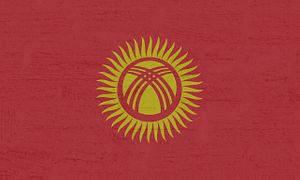 The kidnapping was caught on a closed-circuit camera. On April 5, a woman crossing a Bishkek street on a rainy spring day is approached by a man, his red Honda parked askew on the roadside. She tries to brush past him but he takes her arm. As she begins to struggle, two other men come into the frame. But they aren't there to intervene; instead they help the man drag the struggling woman toward the car. The woman is pushed into the car as another pedestrian crosses the street, umbrella in hand, and cars continue to drive by on the road.
On April 7, the car was found in a field in Chui region. A shepherd had seen it stuck in the mud on April 5 but only approached two days later. Inside was the body of the woman — 26-year-old Aizada Kanatbekova — strangled, and the body of a man, Zamirbek Tenizbayev, dead from apparently self-inflicted stab wounds.
Protesters outside the Interior Ministry in Bishkek on April 8 demanded resignations and accountability; they called for the police to finally take action to counter a practice that has been illegal since 2013 but nevertheless continues to occur: Ala kachuu, "bride kidnapping." The name does not do the crime justice, however. The women abducted are not brides; they are kidnapped to be forced into marriage and sometimes killed in the process.
In 2018, it was 20-year-old Burulai Turdaaly Kyzy. She was stabbed to death inside of a police station by a man who had twice abducted her. A mural was painted at the medical college where she studied, but without context it's simply a beautiful portrait. 
A core complaint of those protesting is that the authorities took no lessons from the Burulai Turdaaly Kyzy tragedy. 
The head of the Bishkek police department, Bakyt Matmusaev, offered condolences to the family and friends of Kanatbekova, as did Prime Minister Ulugbek Maripov, who promised an investigation. Protesters shouted "shame" as he left. 
Kanatbekova's kidnapping was caught on video, and her family reported it to the police. On April 6, 24.kg reported a close relative complaining that the police were not taking steps to find her. And on April 8, a senior Bishkek police officer said that they authorities had been in touch with Tenizbayev on the day of the kidnapping. They'd called his cellphone to ask him to come in but he said that he and Kanatbekova had been dating and wanted to get married. He then hung up. Kanatbekova also reportedly called her mother and said she'd be home soon, but never arrived nor called again. 
Writing about this incident for Eurasianet, Ayzirek Imanaliyeva concluded by quoting a comment posted under the video of the abduction on Instagram:
"Why didn't she resist?" one person wrote in a comment peppered with smiley faces. "I hope it's a happy ending. You can tell straight away that these guys are her acquaintances. The police probably know who and where they are. Let's wait for the good news."
While many of the other comments decried the kidnapping, that a person could watch it and not see Kanatbekova trying to pull her arm away, trying to stop the three men from dragging her to the car, is abhorrent. 
One of the accomplices has reportedly been detained.
In parliament, MP Aisuluu Mamashova of the Ata Meken faction said that outside the walls of parliament she does not feel safe. She complained, "We are all the time busy with politics, when are we going to deal with the economy and security of citizens?"
"[Kanatbekova] was stolen, like some kind of thing, and killed. And how many beaten, raped? How long will this last?"
Another MP, Zhanar Akayev, commenting on top authorities pledging to take the matter under their personal control said, "What's the point now that you or the president are taking personal control? One was killed, the other was killed. We'll talk for a couple of weeks and forget everything." Akayev said "long-term ideological work" was needed and proposed a bill.
In 2019, the U.N. Development Program estimated that around 14 percent of Kyrgyz women under 24 years old were married through some kind of coercion. Defenders of the practice call it "tradition." 
Kadyr Malikov, a Kyrgyz theologian, defined Ala kachuu as "kidnapping a girl and forcibly coercing her into marriage" in a Facebook post and decried the practice as a "great sin and a serious crime." He went on to write that the solution to the problem isn't just tougher punishment but education and changing minds.