Global Norms Are Under Attack in Post-Coup Myanmar
The world's action – or inaction – will have an impact far beyond Myanmar's own borders.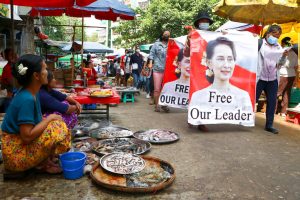 With Myanmar's post-coup crisis dragging into its third month, security forces commanded by the coup leader Sen. Gen. Min Aung Hlaing show no sign of abating in their brutal suppression of the anti-coup protests that have erupted across the country since early February. Despite their massive numbers, protestors have been highly disciplined and peaceful. It was only after the security forces began using excessive and lethal force that a small pocket of them resorted to handmade weapons such as Molotov cocktails and outdated hunting guns to defend themselves, with many more realizing that armed resistance was their only remaining option.
If the security forces have shown troublingly little respect for international norms in their treatment of civilians and activists, no less troubling has been the response from the international community in the face of what is fast becoming a "bloodbath," in the words of Christine Schraner Burgener, the United Nations special envoy to Myanmar. In other words, although the people of Myanmar are the ones at the receiving end of all these atrocity crimes, the fact that they are ongoing and the perpetrators remain undeterred points to a collective failure on the part of the international community to uphold the norms to which it has committed itself, and sends a very dangerous message to current and would-be strongmen. As many have now warned, with the ever-more-real possibility of the country being plunged into a full-fledged civil war, the kind worse than what we have seen in the past 70 years, time is fast running out for the international community to act.
The international community must wake up to the depth and extent of the reign of terror Min Aung Hlaing has unleashed in his ruthless attempt to crush opposition and assert his illegal and unconstitutional rule. His security forces have been given a free pass to kill unarmed civilians, to arrest and torture people at will, and to loot and destroy private property.
According to the monitoring organization the Assistance Association for Political Prisoners (AAPP), as of April 21, the junta's security forces had killed at least 739 civilians, some murdered in the most horrific manner. Among those killed are 50 children; the latest victim was a 7-year-old girl, who was shot dead at her home in Mandalay. As reported by the investigative journal Myanmar Now, there have been several documented cases in which an activist arrested overnight has turned up dead the next morning. In yet another but definitely not isolated incident, an armed police officer made a passer-by crawl on his hands and knees in a disturbingly dehumanizing manner.
So far, at least 3,331 people, including State Counselor Aung San Suu Kyi and President Win Myint and other elected MPs, politicians, student leaders and human rights activists, remain under detention, some in undisclosed locations. On March 27 alone, at least 114 civilians in 44 towns across the country were killed by the junta. Junta forces have gone so far as exhuming and dragging away bodies. On March 28, they burned a man alive.
Before the coup, U.N. investigators had found a genocidal intent in the crimes committed against the Rohingya people by the security forces commanded by the same general Min Aung Hlaing. During their so-called "clearance operations" in August 2017, at least 6,700 were killed, mass rapes and arson were committed, and more than 700,000 people were forced to flee to Bangladesh.
Furthermore, the U.N. Fact Finding Mission reported in September 2018 that the military has likely committed war crimes and crimes against humanity in Kachin, Shan, and Rakhine states, and in April 2020, the U.N. Special Rapporteur reported that "possible war crimes and crimes against humanity were ongoing in Rakhine and Chin States." Myanmar is today facing charges of genocide for the violence at the International Court of Justice in The Hague, Netherlands.
Due to ongoing aerial bombing and offensives targeting civilians and their facilities across the country, thousands of Karen people are fleeing to neighboring Thailand, where there has arisen an urgent humanitarian situation.
All this is to say that Min Aung Hlaing and his State Administration Council (SAC) are fast turning Myanmar into a "human rights ground zero." From mass murder to torture to arbitrary arrests to killing children to shooting at medics providing emergency care to the wounded, almost every article in the Universal Declaration of Human Rights is being violated or is under threat. In the borderland areas where ethnic armies have been fighting for their right to self-determination for the past 70 years, aerial bombings by his forces are deliberately targeting civilian populations and facilities, adding to the war crimes and crimes against humanity against minority peoples, and the genocide or ethnic cleansing against the Rohingya people that the military has already committed.
For those foreign states claiming that they have a policy of working with only "states" as opposed to "governments" – if they mean by any chance that the SAC is the state in question – they must get their facts right. The SAC cannot even fulfil its basic duty as a state, namely, to provide security to its people. Nor can it provide basic services like healthcare with many civil servants having joined the Civil Disobedience Movement (CDM) to protest the military's illegal, illegitimate, and increasingly bloody coup.
So far as Ming Aung Hlaing's coup regime is recognized as Myanmar's de facto or de jure government, it must also be recognized that it is actively committing mass atrocities against its own population. Therefore, for foreign nations to recognize the SAC as the "state" would make a mockery of their commitment to uphold human rights and international law, as the latter is showing absolutely no respect for these. On the other hand, the newly formed National Unity Government, which it is imperative for the international community to recognize as the legitimate government for no other reason than that it receives overwhelming support from the people, cannot yet protect the people.
Thus, the onus is now on the international community to protect the civilian population in Myanmar before the forces of SAC commit further atrocities against them, and sink the country deeper into chaos. What is lacking for urgent international intervention, whether in the form of R2P or otherwise, is not evidence on the ground but political will at the U.N. and in the capitals of the most powerful nations on earth.
As part of their "statement diplomacy," foreign missions based in Myanmar have joined a chorus of other diplomatic voices in calling for restoration of democracy among other things in the country. With so much emphasis being put on restoration of what existed before the coup, it should be clear that what the pro-democratic forces inside Myanmar want is not a status quo ante in which the military enjoys a privileged role in politics without being accountable to the people or any elected body. Differently put, what we had pre-coup was a military dictatorship with some democratic characteristics. In the meantime, as another massacre in Bago in which junta's forces have killed more than 80 protesters shows, Min Aung Hlaing is in no way backing down. Furthermore, letting the generals off the hook for the most atrocious crimes would make a farce of global justice, and more importantly, would utterly fail the people of Myanmar in their search for justice.
Meanwhile, the pro-democracy protesters remain as determined as ever to see the end of Min Aung Hlaing's illegal and brutal reign. Many of those we have spoken to have told us that they are prepared to fight until the end using every means at their disposal. Sanctions, with their ineffectual record from the past, imposed by the U.S., U.K., and EU on the junta's top generals and its economic complex are failing to deter them. As Min Aung Hlaing's forces continue to commit mass murders and carry out summary arrests at the sites of urban protest and his bombs rain down on villages in the borderlands, friends of the Myanmar people might have to prepare themselves to contemplate more coercive measures, such as arming the resistance movement, including the ethnic armed organizations that are already in the fight. As the former U.S. ambassador to Myanmar Scot Marciel wrote recently on his Twitter account, "the Tatmadaw is beyond reason. I see no value in dialogue with them until and unless they recognize they cannot win and make clear they are looking for a way out."
The people of Myanmar have shown their bravery, but will the rest of the world rise to the occasion? The clock is ticking.