The Hambali Problem in ASEAN-US Relations
The Hambali case is emblematic of larger failures in U.S. security cooperation, in both substance and tone.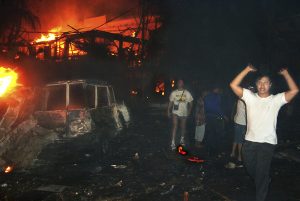 In February, without much fanfare, the Pentagon announced it would bring charges against Riduan Isamuddin, the alleged mastermind of the 2002 Bali Bombings in Indonesia. It will mark an anti-climactic conclusion for a man once called "the Osama bin Laden of Southeast Asia." The Guantanamo Bay detainee was last prosecuted in 2017, but the Pentagon ultimately rejected the case for still unknown reasons. Isamuddin continues to bedevil the United States as a reminder of the Bush-Cheney legacy of CIA black sites and torture, but also for its role in complicating the United States' relations with the Association of Southeast Asian Nations (ASEAN). His case remains a warning to the United States to work with ASEAN on an equal footing, especially on tense issues of regional security. 
Riduan Isamuddin, better known by his nom de guerre Hambali, was once Osama bin Laden's top lieutenant in Southeast Asia, and the head of operations for the al-Qaida-aligned Jemaah Islamiyah (JI), the largest Islamist terrorist group in Southeast Asia. From a modest farming family in West Java, the Indonesian traveled for the first time in his life to join the Afghanistan jihad against the Soviet Union from 1987-1990. Although Hambali arrived late to the conflict, he met bin Laden and Khalid Sheikh Mohammed there, forming friendships that would grow into future working partnerships.
After returning from Afghanistan, Hambali met with JI leaders in Malaysia, and became the international face of the organization. He planned and attended the 2000 al-Qaida Summit in Kuala Lumpur, a gathering of top leaders intended to plan for the funding and execution of upcoming attacks including the bombing of the U.S.S. Cole, the 9/11 Attacks, and the Bali nightclub bombings.
The 2002 Bali Bombings, which killed 202 people and injured nearly the same number, brought Southeast Asia to the forefront of the War on Terror. Leaders in the United States declared the region had become a "Second Front," with extremist ideologies fueling the growth of terrorist safe havens in less governed spaces like the southern Philippines and much of Indonesia. These concerns were shared by Southeast Asian leaders, who from Jakarta to Manila viewed a rise in religious violence as an existential threat to their carefully crafted economic and political stability.
Already, the member states of ASEAN had met in Brunei in 2001 to agree to a joint statement in the wake of the 9/11 attacks, which espoused a united stance against terrorism and in support of regional intelligence sharing. In 2002, in the wake of the Bali Bombings, the organization took an unprecedented step again in Brunei to sign a U.S.-ASEAN Joint Declaration that promised to strengthen "exchange and flow of information, intelligence and capacity-building" on an equal and cooperative footing.
The joint declaration was a major shift in ASEAN's security policy. ASEAN is an organization designed to find regional solutions to regional problems. Cooperation with the United States was a clear indication that ASEAN welcomed an expanded U.S. presence in the region, seeing it as a valued security partner, and not a threat to the development of an ASEAN-centered security community. It also underlined a significant shift in U.S. Asia policy toward placing greater value on cooperation through existing regionally based frameworks rather than pursuing U.S. interests bilaterally or through U.S.-built forums like the Asia-Pacific Economic Cooperation (APEC).
The first apparent success of this new counterterrorism relationship came in 2003, when a joint operation between the Thai and U.S. governments successfully captured Hambali. He'd been hiding in a safe house in southern Thailand, a historically restive and Muslim-majority region. The capture required intelligence sharing between the Thai, Lao, Cambodian, Malaysian, and U.S. governments, and was carried out with a combined Thai-U.S. force. Clearly, ASEAN-U.S. cooperation was effective at tackling the mutual security threats faced by both parties.
However, this budding ASEAN-U.S. security partnership was overshadowed by the increasingly secretive, legally contested nature of the War on Terror. The United States unilaterally extradited Hambali to a series of secret prison sites around the world, refusing to share information on his whereabouts with any other state. Eventually, three years after his capture, the United States acknowledged that Hambali was being held in Guantanamo Bay, Cuba. Almost immediately, the Indonesian government requested access to their citizen in order to ensure his access to a fair trial, but that request was repeatedly denied. Similar demands by Malaysia, the Philippines, and even Australia were also denied, creating a regional perception that the United States was not seriously committed to cooperation as equals, despite the 2002 joint declaration.
In other words, the reality of the ASEAN-U.S. security partnership confirmed the organization's worst fears. Ultimately, Washington needed ASEAN to help it find terrorists, advance the War on Terror, and pursue its broader security interests in Southeast Asia. It did not need ASEAN to become an ally or an equal partner, leaving the perception that ASEAN was simply a tool of its global counterterrorism strategy.
This unequal relationship only continued to create acrimonious tensions across the Pacific. At the urging of Australia, then-U.S. Attorney General John Ashcroft visited Indonesia in 2004 to meet with then-President Megawati to smooth over the Hambali issue. There, Aschroft implored the ASEAN countries to redouble their cooperation on counterterrorism issues. But when pressed about Hambali by Megawati, Ashcroft concluded he was "not able to give a time frame" for when Indonesia could obtain consular access. Yet in 2005, Washington urged Indonesia to heavily prosecute terrorist suspects and sympathizers fearing that Jakarta would only give light sentences. This seemed to contradict their own supposed partnership: ASEAN states were expected to put terrorists on trial but without obtaining any access to those detained by the United States.
It may then come as a surprise that ASEAN countries have expressed little interest in Hambali now that he is again on trial. Indonesia indicated as early as 2016 that it prefers not to receive Hambali, given that his return could revive domestic terror networks at a time when the country is battling new cells inspired by the Islamic State (IS). According to his Indonesian lawyer, Jakarta claims Hambali is also technically stateless as he was captured without an ID card. For his part, his lawyer maintains they would like to see Hambali returned to Indonesia. Malaysia has shown even less interest; its counterterrorism chief recently supported the new trial, calling it a "good move" by the U.S. to give Hambali his day in (of course, military) court.
This contemporary disinterest in Hambali is likely motivated by domestic pressures. Trapped between attempting to develop their economies and respond to a growing Islamic conservatism across the region, leaders like Indonesia's Joko "Jokowi" Widodo simply do not want to deal with long-forgotten terrorists like Hambali. But his saga remains instructive about the future of ASEAN and ASEAN-U.S. policy.
On one hand, the Hambali case demonstrates that ASEAN needs the U.S. as a partner to support its regional security interests. Washington has the unique ability to help develop the domestic security capacity of ASEAN member states, and even coordinate complex operations, such as Hambali's capture. Without U.S. intelligence and operational support, it is unlikely that any ASEAN-only operation would have been able to find or successfully capture Hambali. Thus, the U.S. does have a positive and important role to play in helping ASEAN form its own security community. 
At the same time, the Hambali case is emblematic of larger failures in U.S. security cooperation in both substance and tone. The U.S. built up a strong, crucial security partnership with ASEAN after 9/11, then allowed it to be practically discarded after refusing to cooperate on Hambali's case. For ASEAN members, Hambali is a constant reminder of the possibility that the United States is disingenuous in its stated goals of genuine cooperation with ASEAN. While interest in Hambali specifically may have disappeared, it left a dangerous precedent in the region that could easily apply to critical security threats like China's military build-up in the South China Sea and attempts to control the Mekong River. If the U.S. cannot treat ASEAN as an equal after a single counterterrorism operation, how can ASEAN expect the U.S. to treat it as an equal in what it claims to be a multi-decade great power competition?
Ultimately, the Hambali case demonstrates the need for a reformulation of ASEAN-U.S. policy. ASEAN countries want the United States to be deeply involved in Southeast Asian security, just on more equitable terms. Washington must be cognizant of that fact. If the Biden administration truly wants a cooperative approach to Asian security built upon its "allies," then it will need to give ASEAN an equitable share in any security partnership. ASEAN must be included if the U.S. hopes to advance its regional security agenda.