The US Must Help Afghans Who Helped It
While working for a sustainable peace, the U.S. must also recognize that withdrawing from Afghanistan should not mean abandoning the many Afghans who supported its mission.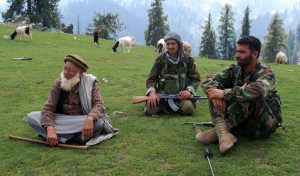 During U.S President Joe Biden's March 25 press conference, he signaled that his instinct is to not stay in Afghanistan for a long time. "We will leave," he said. "The question is when we leave."
We believe that the discussion about the future trajectory of the U.S. posture in Afghanistan must be expanded to account for the humanitarian implications of our decisions. The current debate has largely avoided this issue, but the reality is that if the United States leaves without a political settlement in place, the Afghans who helped us over the last two decades and their families may face grave risks.
This is not an argument for staying militarily or for withdrawing U.S. troops. Rather, what happens to the many Afghans who helped us over the last 20 years and continue to aspire to build a freer, more pluralistic Afghanistan, if U.S. and NATO forces leave without a sustainable peace settlement?
For two decades, tens of thousands of Afghans worked directly for or supported the U.S. military and civilian presence. In 2009, Congress created a Special Immigrant Visa (SIV) program to permit a narrow subset of that group to immigrate to the United States. But the process has been slow and difficult to implement. Only a little over 18,000 of these applications have been approved over the last decade. Today, there are another 18,000 SIV applications waiting to be processed.
A further concern involves the fate of Afghans, particularly women and children, who will be at greater risk in territory dominated by the Taliban. Afghanistan is one of the youngest nations in the world. More than half of Afghans alive were born in the era of the international intervention post 9/11. Many more came of age during a massive, internationally supported expansion of educational opportunities, under a constitution that promoted democratic values and in a free media environment that the U.S. and its partners fostered.
These smart, energetic, and dedicated young men and women are emerging as leaders, within the Afghan government, the private sector, and civil society organizations. Many other Afghans gained vocational and technical skills working with the United States and other international actors in Afghanistan.
When we leave Afghanistan, what will happen to the remarkable generation of Afghans who bet that with the help of the United States and its partners, they could build a better future?
What Happens Next?
Because of continued violence and slow negotiations among Afghans over the peace process, the Biden administration and NATO allies are considering an extension beyond the May 1 deadline set by the February 2020 U.S.-Taliban agreement. Much remains unsettled in how this may play out, but without a political settlement among Afghans, it is very likely that the conflict will become more violent, potentially generating more chaos, wider civil war, and many refugees.
Today, Afghanistan is one of the most violent, poorest, and corrupt nations. The toll of civilian casualties and journalists killed is among the very highest in the world. According to a recent survey published by the World Economic Forum, Afghanistan has the widest gender gap of any country in the world in terms of economic opportunity and educational attainment.
It took 20 years to get to a point where Afghans might be able to talk among themselves about the future of their country. Enmity runs deep. We cannot assume that everyone will want to be part of an Afghan state that integrates bitter enemies with starkly different views of Afghanistan's future.
If there is not a political settlement, and the civil war worsens, the U.S. and its partners need to offer viable paths to those who are credibly threatened by that reality and who wish to escape the conflict. Offering an alternative home for those who feel threatened may even help moderate opposition to a peace process.
If the United States leaves immediately, or if we leave soon without a peace agreement, the conflict is likely to worsen. A recent assessment published by the Combating Terrorism Center at West Point concluded that the presence of U.S. forces in the country since 2014 had slowed the losses of Afghan forces, but not stopped them. Without U.S. air cover and logistical and technical support, Afghan forces are likely to lose ground. The U.S. intelligence community reportedly reached similar conclusions and those continue to fuel debates within the U.S. government. One can foresee a range of scenarios where the Afghan dream for peace, freedom, and prosperity, which the U.S. helped foster, will face near impossible odds.
During the Afghan civil war in the mid-1990s, millions of Afghans sought refuge in Iran and Pakistan. According to World Vision, 2.7 million Afghans remain refugees, facing very difficult circumstances in some instances. After the Vietnam War, millions of Vietnamese fled on boats into the Yellow Sea. These so-called "boat people" needed urgent rescue.
We should not be caught unprepared if a similar emergency emerges in Afghanistan. Helping those who helped us is our clear moral responsibility. We need a serious debate about what the United States owes to Afghans who took to heart our messages about building a modern Afghanistan with democratic values and respect for human rights, if they face a return to fundamentalist rule or chaos.
A Call to Action
While U.S. diplomats work hard to pursue a long-shot diplomatic resolution to the conflict, the U.S. government and Congress must also plan for the worst. The following urgent steps are needed to begin planning for the humanitarian implications of our pending withdrawal from Afghanistan.
First, expedite processing and decision-making related to the existing SIV applications, and if possible, fully utilize the remaining 4,000 or so visas available under the existing cumulative cap of 22,620 set by Congress in the 2021 National Defense Authorization Act.
Second, review the existing quotas on admittance, and consider raising them on an emergency basis if the U.S. withdraws. On February 4, as part of a broader executive order on immigration related policies, Biden directed agencies to conduct a 90-day review of the SIV program. This review can address a potential surge in demand as the United States withdraws, both in terms of numbers and requirements, and also by establishing procedures for processing Afghan applicants at U.S. missions in other countries should they have to flee.
Third, Congress should consider taking emergency action to create an admissions pathway for additional Afghans who are especially vulnerable in the post-withdrawal environment, such as those who were educated in the United States or individuals who worked for non-governmental international organizations and those who worked in Afghan government agencies that partnered closely with the United States.
Fourth, the State Department should conduct a rapid assessment, coordinating with international partners, on the potential humanitarian implications of a withdrawal and plan responses. The Biden administration should take up these issues with NATO allies and other partners on the way forward and encourage the adoption of similar admittance policies. Our European allies are particularly sensitive to the risk of expanded migration from Afghanistan, given the steady flow of Afghans who have attempted to enter Europe since 2014.
While working for a sustainable peace, the U.S. must also recognize that withdrawing from Afghanistan should not mean abandoning the many Afghans who supported our mission or whom we helped along the way. Welcoming more Afghans to the United States as refugees is not only the best way to honor our commitments, but also the best way to reassert our values as a nation of immigrants.