The Women That Upended Samoa's Politics
Following last week's election, Samoa's long-time ruler could be displaced by the country's first female leader.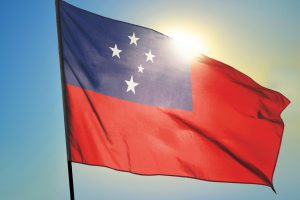 Samoa is home to one of the world's longest serving leaders. Prime Minister Tuilaepa Sailele Malilegaoi has been in power since 1999, while his political party, the Human Rights Protection Party (HRPP), has dominated Samoan politics for 40 years.
Despite being 75 years old, Malilegaoi is seeking another term. But the election, held on April 9, with ballot counting ongoing, has upended that and has brought a powerful band of women to the forefront of Samoan politics.
A former ally of Malilegaoi, having served as his deputy prime minister up until last year, Fiame Naomi Mata'afa, defected from the HRPP, claiming it was "sliding away from the rule of law."
In the year since, she and her largely female advisers have forged the most effective opposition party in the country, which now threatens the long-time leadership of the HRPP.
According to current polling, Mata'afa's party, Fa'atuatua I le Atua Samoa (FAST party) has won 25 of the 51 seats available, while the ruling HRPP party also holds 25, with independent candidate Tuala Iosefo Ponifasio holding one seat, leaving him as the potential "kingmaker."
Ponifasio told the Samoan Observer that he's in no rush to make any decision but that his top priority is effecting change in Samoan politics, which political observers assume means supporting Mata'afa.
In an interview this morning with TVNZ, Mata'afa said while she expects Ponifasio to side with her party, her success sets a good example for women in Samoa regardless of his decision.
"I've been a very strong advocate of women's participation in politics," she said. "I don't think it's just being prime minister – I think in any field where women have trailblazed – so I think I've always been conscious of the fact about being a role model."
Renate Rivers, editor of the Samoa Observer, said if after the final count, FAST are announced as the majority seat holders, then "Mata'afa's victory will go down in history."
"Any woman who manages to break through a male-dominated political field deserves respect, so those who have made it through this time have done well."
According to preliminary results, five women will be elected to government, just one more than in the 2016 election, but nonetheless a victory, said Papali'l Mele Maualaivao, the U.N. Women Coordinator in Samoa.
"Women have not only been significant as candidates but as fund raisers, advocates, and voters too. While it may be considered a more traditional and less public role for women here in Samoa to support their husband or male relatives' effort to run for office, we have seen women band together to promote women running for office as well as promoting voters to support female candidates," she said.
In 2016, 24 women ran for a seat in parliament with four being voted in and one being brought in under a legal measure to ensure at least 10 percent of seats are held by women.
This year, with five women poised to take up positions in parliament, the amendment will not need to be enforced. In this election, there were 167 male candidates to 21 female candidates in the race.
Rivers said regardless of whether Mata'afa takes the highest seat, "she's already won."
"Her election as a leader, and the fact that the current unofficial results show FAST with the same seats as HRPP indicates that voters trust her leadership. This is a good thing for women in politics," she said.
"If the alii ma faipule [village council] see that a woman has been elected as leader, and she has delivered such stunning results, then it becomes harder [for men] to dismiss women as simply the support system they rely on to keep engines running in the background."
Not only will the outcome give women a larger voice, but it will also see Samoa have its first effective opposition party in nearly three decades.
Adjunct Professor Leasiolagi Dr. Malama Meleisea from the Centre for Samoan Studies at the National University of Samoa said his dream of Samoa having a viable opposition has been fulfilled.
"The faint hope I had for democracy is now not faint anymore," he told the Samoan Observer. "It seems that people have cast their vote, for whatever reason and for whoever encouraged them. I am happy democracy seems to be working well."
Despite the successes, Maualaivao said there's still a long way to go.
"There are still many structural impediments that exist here that make it difficult for women to run for office. 19 villages still do not recognize women as matai [village chiefs] which is mandatory in order to run for Parliament…Only 11 percent of registered matai are female," she said.
"So having a voice and being heard in your community is key to moving into the political arena, which is a major challenge if you are female and from a village that does not let you participate in decision making. If your village doesn't endorse you, you can't run for Parliament."
Fiame Naomi Mata'afa not only smashed through the barriers in Samoa, but if elected, she will be the second female ever elected to be prime minister of a Pacific Island nation.
The election has also brought the seat reservation quota for women into the limelight. Samoa is the only country in the Pacific that has a constitutional amendment mandating 10 percent of seats in Parliament be held by women. The rule was introduced on the logic that given the opportunity, women would prove to voters that they could lead and would in turn be voted in instead of having to have an amendment guarantee their position.
Maualaivao said the Samoan election has proven that the amendment works.
"We have promoted [this amendment] to other countries in the Pacific because the method does not 'force men out of their seats' but creates more seats in Parliament to guarantee women's participation," she said.
With Tonga holding its election later this year and Fiji and Papua New Guinea voting next year, women across the region will be following Mata'afa's victory closely.
Maualaivao said she hopes that not only governments in the Pacific but women across "our blue continent" are inspired to reach higher.
"We still have some of the highest rates of GBV [gender-based violence] in the world (2 out of 3 women experience GBV in their lifetime compared to the global norm of 1 out of 3) and we need more women in decision making roles to not only promote these issues but address them," she said.
"Without women at the table, contributing to the solutions, there is no end in sight. We must be the light at the end of the tunnel, from village to Parliament."